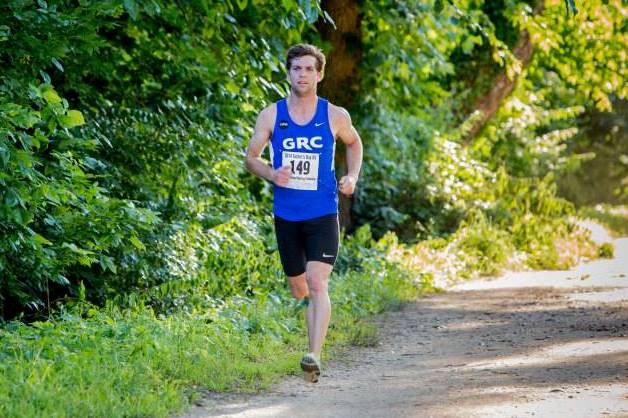 Ryan Witters was a little rusty, but muscle memory took over and powered him to his fourth consecutive Father's Day 8k title on the C&O Canal Towpath in Georgetown.
He captured the title in 26:20 — smoking his nearest competitor, Matthew Deters of Arlington, by a full 50 seconds. Although slower than last year's first-place finish of 25:38, Witters was happy with his performance.
"I was a little less in-shape than I was in previous years," he said. "Normally, I just try to go out and run hard and fast. This year was a little different for me. I'm taking classes for my master's degree at Maryland and spring semester really beat me up this year. I basically took all of spring off whereas normally I'm coming off of a track season. The strategy was just to go out there and finish it. Try to run as hard as I could."
Fresh off a second-place finish at the Collegiate National Trail Running Championship a week before, George Mason alumna Bethany Sachtleben finished first in the women's race, clocking 28:26. The recent George Mason grad finished a full two minutes ahead of Megan Haberle, of Washington, who, like many of the participants on Sunday, struggled with the heath and humidity of the summer solstice.
"I did well. I had pretty low expectations given the heat," said Haberle, who finished second in 30:26. "I'm not a very talented heat runner, so I think I was just out there to survive the day. Just try to run a good race and push myself through it."
For Alex Eversmeyer, of Ashburn, the heat gave him an opportunity to work on mental strength as much as finishing time as he gets back into racing following a knee injury.
"It was rough. But it's a good challenge. I've been a very mentally strong runner in the past. I have it up here, it's just a matter of applying it," said Eversmeyer, who finished fourth in the men's race in 29:38. "I am a strong mental runner, but the heat will take it out of you no matter who you are."
For many runners, the Father's Day 8k was a chance to get outside and spend some time with their families. The roles were reversed for Sachtleben on Sunday when she was the one cheering on her father, Doug Sachtleben, as he crossed the finish line.
"This is probably our once-a-year [race]. We follow her around and cheer her on when we can," said Doug Sachtleben, who admits running doesn't run in the family. "We were just looking for a summer race to do together."
Chevy Chase native Catherine Beal ran the race for the second time with her father, Ashby Beal.
"It's more than just the race," she explained. "When I get home from college, we spend a month and a half training for it almost every day. So it's a nice way to kind of hang out and spend time together."
"I used to run when I was younger. And then I think I got older and thought my body couldn't take it," Ashby Beal added. "But with Catherine as my trainer and doing shorter runs and more realistic runs for my age, it's actually kind of fun."
Other participants return to the Father's Day 8k year after year as a way to honor the memory of their fathers.
"My dad died 3 years ago unexpectedly. He was involved in a freak accident. I got that late night call everyone fears," Jaime Andrews, of Washington, wrote on the event's Facebook page. "On this day, I get a lot of anxiety. Seeing families celebrating and photos all over social media. This race has provided me a focus, an outlet and a way to celebrate my father each year. I enjoy the course, the community and intimacy of the race."
The race also marked the end of National Men's Health Week and Men's Health Network was on-site to offer several health indicator tests.
"We want to tell men that they really need to pay attention to their overall health," said Zak Hines, of Virginia Beach, who is attending American University for the summer and interning with Men's Health Network. "One of the biggest things you can do to improve that health is exercise. Running is a great way to do it."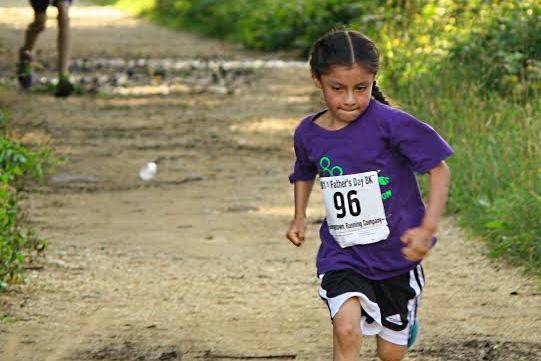 Recent Stories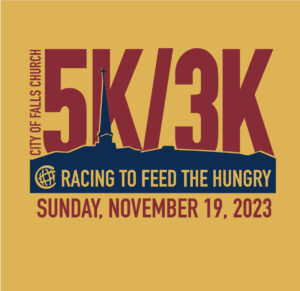 The out and back Falls Church City 5K/3K course is mostly flat on the W&OD Trail starting and finishing at 103 Columbia Street. Overall male and female winners earn free shoes and medals are awarded to all categories. Great family