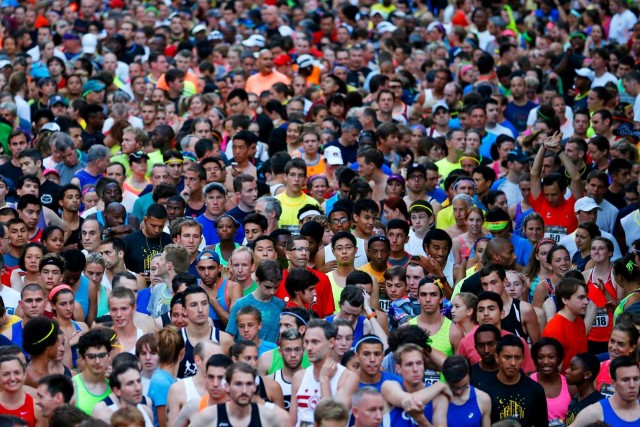 Emerging from the Metro station felt different this year to the 1,700 runners who turned out for the Crystal City Twilighter 5k Saturday. Even before the sun went down, cooler, drier air prevailed over a course that once boasted 98 degree temperatures during the 2011 race.
The favorable conditions were lost on many of the top-tier runners who didn't return, which affected the race's depth. The 28 men who finished faster than 16 minutes in 2014 was cut to 10 in 2015.  The 10 sub-19 minute women from 2014 held steady.
[button-red url="http://www.zippyraceresults.com/search.php?ID=5099″ target="_self" position="left"] Results [/button-red]Arlington's Chris Kwiatkowski repeated as the men's winner, running 14:56, just enough to win over Baltimore's Andy Weaver four seconds back. Arlington's Clint McKelvey trailed Weaver by three seconds.  Last year, Kwiatkowski won in 14:37, with four other following under 15 minutes.  His margin put the Pacers Elite team comfortably ahead of the Georgetown Running Club in the team competition.
Emily Potter, of Alexandria, won the women's race by two seconds over Shauneen Werlinger, finishing in 17:55. Katie Kieran, of Arlington, was third in 18:06.
"I didn't really have a plan, except not to lead early," Potter said. "After the first mile, the crowd started to thin out and I could see where the other women were, and I started picking it up after the second mile mark. I didn't want to have to sprint too hard right at the finish line."
Werlinger, Kieran and fifth place Sarah Bishop, all part of the winning Georgetown Running Club team for the women's division, had some pacing held early on from Bethesda's Craig Shearer, a member of the Northern Virginia Running Club.
"I thought I was on pace to run a little faster, the humidity caught up with me a little," he said. "I was right on for the first two miles, but I lost my momentum at the turnaround."
Pelvic stress fractures have kept him out of racing for about three years, and this was his fourth race in that span.
Though she was off her typical 5k pace, the race was a triumph for D.C.'s Mary Grace Pellegrini. Two months removed from a torn ACL, she ran 22:22 but most importantly, breezed past the soccer field on Long Bridge Drive in miles two and three where a recreational soccer game put her in the hospital.
"It felt a lot better to be running by instead of lying on the ground," she said.
Ann Mazur traveled from Charlottesville to race, but over the last six days had come a lot farther than that. She started Monday at her family's home in Pittsburgh, traveled to Charlottesville, then took the train to New York City and back on Thursday.
"I should have known it was a little ambitious, but the racing scene up here is worth it," she said. "It's flat, it's just fun racing in DC and a change from the Charlottesville scene."
Her 18:37 finish was off of her 18:12 time the year before, when she took the lead and "fell apart quickly."
"I fell apart again, just not as dramatically," she said.
Jodie Patrick of Vienna didn't run for a time, but she felt like it was "a PR race."
Her husband, Dick, who once covered track and field for USA Today, paced her for a mile and a half before going off on his own.
"I really enjoyed the whole thing, it was much hotter last year," she said. "I realized when they did the ages I was going to be on the younger end of the 55-59 group and I ended up winning."
Recent Stories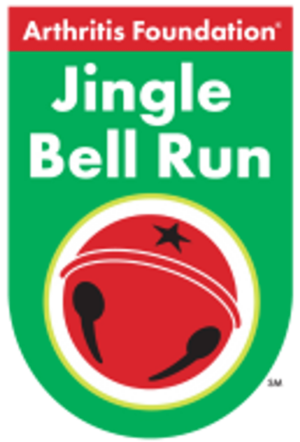 Be part of the original festive race for charity and signature Arthritis Foundation holiday event! Wear your favorite holiday attire and together, we'll jingle all the way to a cure! Register as an individual or bring a team of friends,