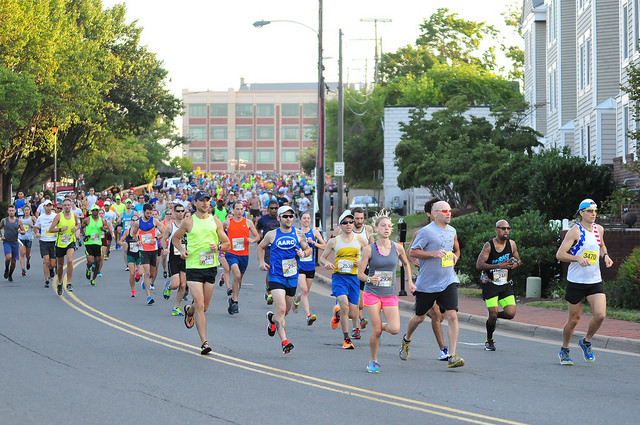 At the finish line in quaint Leesburg under clear blue skies, recent-graduate and former George Mason University runner Jimmy Luehrs threw a jubilant fist-pump in the air after taking first place overall in the 27th annual Leesburg 20k in 1:07:20.
Winning the women's division of the race in 1:15:32 was Bethany Sachtleben, another recent George Mason graduate, former George Mason runner, and friend of Luehrs'.
The 22-year-old Luehrs, having run at George Mason for four years, was well-prepared mentally and physically for the rigors of the race.
[button-red url="http://www.zippyraceresults.com/search.php?ID=5157″ target="_self" position="left"] 20k Results [/button-red]"I wanted to pace myself and I took it easy for the first two to three miles.  I then started to pick it up at around the five-mile mark," he said.  "At the nine-mile mark, I was really hurting but near the finish line the world started to slow down a bit, and I was so glad to get the win."
This past spring after receiving a Bachelor's in Earth Science with a concentration in Atmospheric Science, Luehrs took on work with the National Oceanic and Atmospheric Administration.  On the side, he's an assistant coach at his alma mater, Herndon High School.
Jerry Greenlaw finished in second place with a time of 1:10:17, and Miles Aitken got the bronze with a time of 1:14:25.
[button-red url="http://www.zippyraceresults.com/search.php?ID=5158″ target="_self" position="left"] 5k Results [/button-red]Homeschooled her whole life until she enrolled at George Mason, 23-year-old Sachtleben's second place finishes in the 5k and 10k at the Atlantic 10 outdoor track championships helped George Mason win the championship.  Though 10k was generally the limit of her long-distance racing in college, she had run a half marathon, in Prince William Forest Park, prior to the 20k and she made it clear that she prefers the longer distances as opposed to the speed-intensive 5K.  "I love this distance and this race never really hurt," she said.  She started the race going at 6:20 pace and then gradually went down to 5:40 pace.
Since finishing her finance degree, Sachtleben is looking into professional running.
Emily Potter took second among women in 1:18:13, and Shauneen Werlinger's with a time of 1:19:04 rounded out the top three.
The race was certainly not short of variety; the competition pool consisted of a number of different countries-of-origin, academic backgrounds and race resumes.
Deedee Loughran, 57 , was born and raised around London.  "I've been here in the states for 20 years, and came here because of my husband's business," she said. Especially impressive was her ability to run through a hamstring injury in route to winning her 55-59 age group in 1:30:37.  She's been running for about 17 years and is no stranger to the 20k distance, having run 10 of them.  Not only is she a regular participant in Reston Runners but she's also on the Potomac River Running team which had a significant presence at the race — the local chain sponsors the race.
Sergey Yudkovsky, 40 years old, was born in Ukraine.  He finished in 43rd in the men's division with a time of 1:27:24.
Now, it's not often that someone is progressing towards a third degree while working full-time at a major corporation and finding the time to run…. But this is how to describe Mike Iserman.  Iserman, 43 years old, went to University of Maryland – Baltimore County for a B.S. in computer science, then went to Loyola University (also located in Maryland) for an M.B.A.  Now, he's pursuing another higher degree at Johns Hopkins University; the degree will relate to computer science.  While pursuing the degree, he holds a job at Oracle as a sales support associate and yet still finds the time to run.  "It's the first thing I do every day," he said.  He was clearly prepared from a nutritional standpoint, noting that prior to the race he had a hearty meal of oatmeal, protein powder, and blueberries and during the race he had a UCAN sports drink.  "It's not sugar based, so it's not a cause of a blood sugar spike," he added. He finished in 2:02:25
While the weather in Leesburg at the 7:30 a.m. start of the race was a cool 64 degrees, the temperature rose steadily throughout, and at 8:30 a.m. shortly before the first runners came in the temperature went up to 70.  With an hour to go before the course closed at 10:30,  the mercury hit the high 70s.
Relatively speaking, the weather conditions were mild for the 914 runners who ran a course primarily consisting of W&OD trail running.  Speaking to the overall experience, race director Mike Kiernan offered some invaluable insight into the history of the race.  "In the past it's gotten really hot; the temperature has risen to the high 80s and low 90s towards the end of the race," Kiernan said.  He added that "while the race is now mainly on the W&OD, it hasn't always been that way.  There used to be more running on the streets around here."
In addition to the runners, the neon-green-shirted finish line volunteers, and Commonwealth Race Management which can be credited for race logistics, a number of organizations were present including YMCA Loudoun County, INOVA Mobile Services Rehab, Run Ashburn, and Sport-and-Spine Rehab.
Certainly one of the unsung heroes of the race experience was Officer Mark, with 29 years of experience.  Mark has now helped with traffic management of each of the 27 Leesburg 20k races, including this year's edition.  "Some people thank me, and I enjoy being out here," he said.
Recent Stories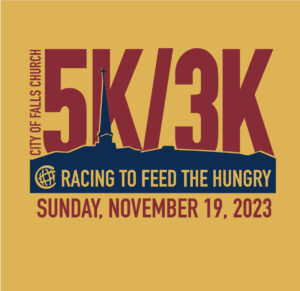 The out and back Falls Church City 5K/3K course is mostly flat on the W&OD Trail starting and finishing at 103 Columbia Street. Overall male and female winners earn free shoes and medals are awarded to all categories. Great family