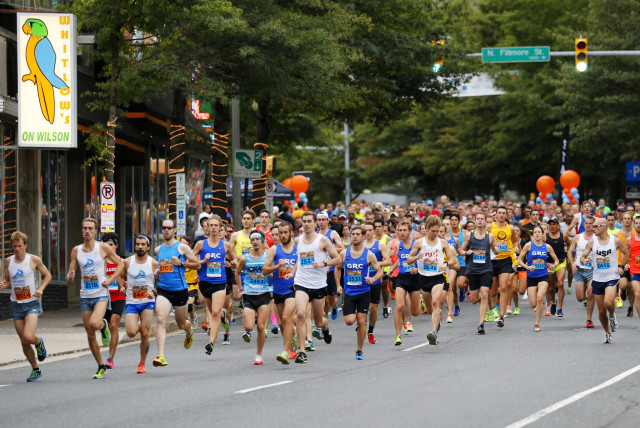 The midpoint between a mile and a marathon is more than a little beyond the 5k, but that didn't matter to Sam Penzenstadler and Kieran O'Connor.
[button-red url="http://www.zippyraceresults.com/search.php?ID=5256″ target="_self" position="left"] 5k Results [/button-red]The pair of Arlingtonians battled to the Clarendon Day 5k finish line with Penzenstadler, a 3:58 miler, edging marathoner O'Connor by a second in 14:34. The competition, not to mention a downhill first mile that early leader Tyler Andrews, also of Arlington, passed in 4:35, helped O'Connor score a 40-second PR, though Penzenstadler was off of his 13:58 track PR best. But, it was enough for the new Pacers New Balance runner to break Landon Peacock's one-year-old course record by three seconds. The race starts in Clarendon and heads down Wilson Boulevard and turns at the Arlington Memorial Bridge before finishing in Rossyln. The 10k turns at I-395. Both feature dramatic net downhills.
[button-red url="http://www.zippyraceresults.com/search.php?ID=5257″ target="_self" position="left"] 10k Results [/button-red]"I wanted to kick it in and win it in the last mile," Penzenstadler said. "I'm new to racing on the roads, so I wanted to hold back and see how the race played out. I wasn't even sure where the finish line was, but once we turned that corner and saw the finish, I put in a little move."
It was enough to gap O'Connor, who started a late push before the two mile mark.
"I don't have a kick, so if I wanted to win, I was going to have to get ahead early," he said. O'Connor had added up 35.5 miles of racing the last three weekends, with second place finishes in the Parks and Navy-Air Force half marathons.
His second place didn't break his spirit, because he headed back up Wilson Boulevard to join other 338 runners who doubled in the 10k. He won that race in 31:42 over Georgetown Running Club teammate Mike Franklin, who was second in last year's 5k. The pair ran together through four miles.
Andrews, another marathoner, surged to the front of the 5k shortly after it started.
[button-red url="http://www.zippyraceresults.com/search.php?ID=5259″ target="_self" position="left"] Double Results [/button-red]"I was getting antsy," he said. "I raced here because I knew it could be fast, but we were bunched up early on and I was clipping heels, so once we hit that big downhill I went to the front."
He's running the Hartford Marathon in October in preparation for the U.S. Olympic Marathon Trials, but hadn't backed off of his 150-mile weeks. That weekly total helped him keep his ugly last mile in perspective.
"When it got bad, I knew I just had one mile to go," he said. "I wanted to see what my top-end speed was, and I definitely felt like I was red lining earlier than usual."
Katie Kieran, of Arlington, won the women's 5k by 46 seconds over Leah Congrove of Greensboro.
"I just wanted to keep my breathing controlled and let my legs go at a natural rhythm down the hill," she said. "I was through the mile a little slower than I expected, but that just gave me confidence that I'd have more to give at the end of the race."
That, and company from NOVA Running Club teammate Craig Shearer.
"It was excellent, I had him to keep me on pace," she said. "I didn't feel my momentum break after the downhill stopped."
Women's 10k winner Emily Potter, of Alexandria, is easing back into winning the late-August Edmonton Marathon (in 2:42:56), and didn't stress too much on her way to a 37:49 finish.
"Did a long warm up, wore my training shoes, just wanted to get a long race in, ease back into it," she said. "There were a lot of people in the first two miles, but it thinned out after that. Somehow it always feels windy in both directions out there."
Behind her, D.C.'s Kerry Allen (second in 39:40) is training for the California International Marathon and chose to race when she was shut out looking for company on a long run.
"All my friends are out of town or stabbed themselves in the foot, so I was on my own today," she said. "I found a good group of guys to run with. But the wind seems to come from all directions out there."
D.C.'s Jess Martin and Arlington's Alex Rosenblatt both doubled, at Martin's suggestion. The pair stuck together for the 5k in 22:00, but Martin went ahead in the 10k (43:50) while Rosenblatt enjoyed his first-ever 10k (47:57)
"I have a knack for making bad decisions," he joked, admitting he enjoyed the race. "I've run that far, just never in a race."
D.C. resident Taurean Barnwell made his third attempt at the 5k, but was slowed by a knee injury.
"It didn't hurt, but my range of motion was limited," he said. "I had a good time anyway."
The thing about Barnwell is that he doesn't train to run. Basketball makes up most of his exercise, but his girlfriend runs daily. He chooses the races, they both run them.
Springfield's Edith Roscoe ran the 5k race side-by-side with her friend Aziza Avant of Woodbridge, who was attempting her first race after participating in a color run last weekend. Roscoe was a little more experienced, having run the Nike Women's Half Marathon, but with that race having been 17 months ago, she was admittedly off of her training peak, but focused on helping her friend.
"We've been talking about it a lot," Roscoe said of Avant. "She's been saying she can't do it, but I told her I knew she could. Now, she has the running bug. We've already made up our minds that we're going to run the double next year."
"I really liked the downhill and talking to other runners, learning about what they're running for," Avant said. "I was a sprinter in high school, but I always wanted to do long distance races and get more endurance. Now, I'm doing that at 35."
Sure enough, training three times a week with Roscoe has helped make 40 minute runs a lot earier. They breezed through 12-minute miles, and even when they faced a slight uphill in the last mile, they took it as a challenge to improve on their weak points.
Avant is finding that time to herself to run at 5 a.m. is giving her more energy, which comes in handy corraling her 4-year-old, the youngest of her five children.
"Running is the only time I reserve for myself, no children, not husband, and I'm so glad I do it," she said. "When I come back, then I'm ready to go."
Recent Stories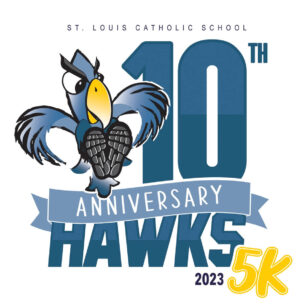 2023 will be the 10 year anniversary of the St. Louis Hawks 5K and Fun Run for Health & Wellness. The USATF certified course runs through the historic Hollin Hills neighborhood in Alexandria, VA.
The Hawks 5K goal, in conjunction