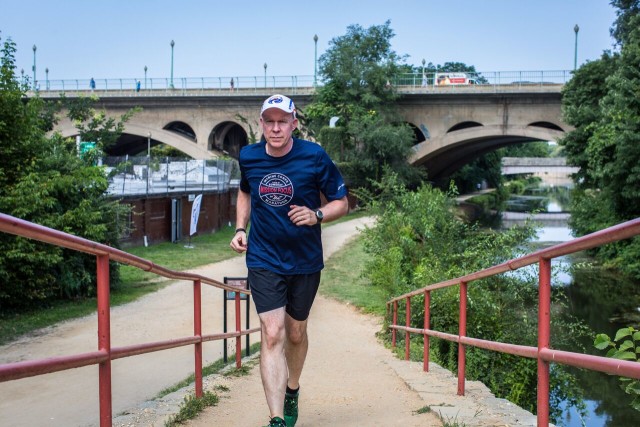 Joe Divel took the enthusiasm that guided his training with him on marathon day.
"We tell the first timers, just enjoy it, it's your first time," said First Time Marathoner Coach Conroy Zien.  The goal of the group's six month training process is to gradually build up runners to marathon mileage, and give them the resources and support to get to the start line healthy.  Zien, a veteran marathoner, and the other pace coaches, are personally invested in each runner getting the opportunity to experience the elation of completing a marathon.  The plan paid off for Joe Divel, and many other FTM members at this year's Marine Corps Marathon.
Divel can remember the cold morning last spring when he showed up to an elementary school gym for the FTM orientation.  He approached the new challenge with trepidation. "I was scared.  Am I too old, am I going to fail, am I going to fit in," Divel said.
Divel found in that group not only a love of running but a camaraderie in their shared pursuit of a common goal that has been a source of wonder and inspiration to him since the beginning.
Fitting that the first meeting took place in a school.  Divel was a student of running from the very start.  Incorporating the recommendations of his coaches as well as his fellow runners, Divel focused on training to finish – maintaining a steady, comfortable pace, paying attention to his stride and posture, staying hydrated and nourished, and sticking faithfully to the training plan.
The enthusiasm Divel feels for his group flows both ways.  Milling around the hospitality room at the Holiday Inn in Rosslyn after the race, the FTM coaches were as excited as the runners were about their accomplishments. "To see them finish, it doesn't get any better than that," said Audrey Fincher, FTM co-director.
Divel's favorite part of the marathon was the Blue Mile on Hains Point.  As the crowd ran by the flags and names and pictures of fallen soldiers, "Everyone got quiet. It was an honor to run it."  He was overwhelmed by the crowds all over the course, "I never through so many people would come out and cheer us on.  There were crazy signs, and bluegrass bands, costumes – everything was so moving," Divel said.
Another point that stuck out in his mind was the stretch through Crystal City.  His niece had come out to cheer him on.  He saw her at mile 22, right around the time Divel realized he was actually going to complete the marathon.  He gave her a hug and said, "I'm gonna finish this thing!" She sent Divel off with a "damn right you are!" Being so close to his goal gave him an extra burst of energy for the remaining miles.
The final challenge was at the end.  "At mile 24.5 it got really tough.  But I told myself, you got up at four a.m. so many times, you showed up at the track so many times, you made all those Sundays, and dang it if I didn't go up the hill," Divel said.
He crossed the finish line hands held aloft with his pace group coaches Serey and Sophal Kiman.  Then he moved through the chute to receive his medal from a Marine Lieutenant.  "The marine shook my hand and said congratulations, I was really emotional, I said no, thank you.  That was my diploma," Divel said.
At the banquet held the day after completing the Marine Corps Marathon, Divel brought his wife along to meet the people who have become not just training partners but lifelong friends. She, like Divel, was struck with how genuinely nice the crowd is.
Divel plans to keep up with running over the winter, meeting with members of his running group until the formal program starts back up in the spring.  He told his teammates "you guys are my friends for life now, this isn't a bond that breaks at the end of the marathon," Divel said.
When asked what he will share with the next crop of marathon newbies, Divel pauses for just a moment and rattles off the following:
"Listen to the coaches ; soak up as much as you can from fellow runners; don't wear cotton t-shirts; don't be afraid to ask questions, no matter how stupid you think they might be; learn from mistakes, yours and others; and finally: pace yourself."
Divel's joy after completing his marathon was effusive, but it was in keeping with his attitude toward running, training, and being a part of the close-knit community of runners in his FTM group.  He was excited about training runs, about track workouts, about stride mechanics.  He carried the same unfalteringly positive perspective that guided his training to the start line of the Marine Corps Marathon, and had a great day.  Though Divel is the kind of person it's difficult to imagine having a bad day.
The trek to the finish line of the Marine Corps Marathon was not Divel's first long road.  He lost over 70 pounds starting in 2014 through a daily commitment to changing his eating habits and adding exercise.  He had an eye on the goal of running a marathon even then, and looked at losing the weight as a first step towards the marathon.
Finally completing his first marathon (and there will be more, he knows) was more than a fitness goal, or a box to check off.  All those early mornings, all those miles, the commitment and the sacrifice it took and the relationships that were built out on the trail changed more than the muscles in his legs.  It expanded what he considers himself capable of.
"The reward isn't just the marathon.  It's an inner courage and sense of accomplishment that I never thought I had before.  It makes me think, what other exciting things are out there that I didn't tackle before because I thought it was out of my reach?" Divel said.
Recent Stories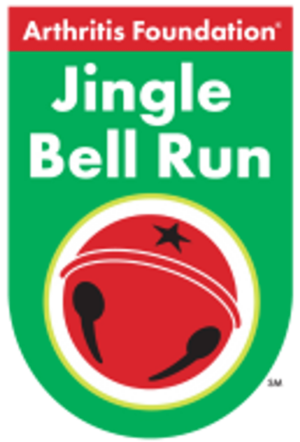 Be part of the original festive race for charity and signature Arthritis Foundation holiday event! Wear your favorite holiday attire and together, we'll jingle all the way to a cure! Register as an individual or bring a team of friends,