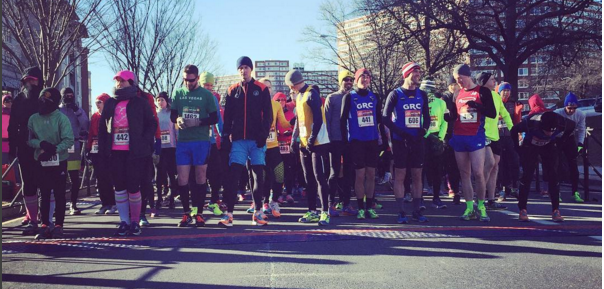 Although more than 1,000 runners signed up for the seventh annual Love the Run You're With 5k, bone-chilling temperatures shaved that number in half as a polar vortex ripped through the area over Valentine's Day weekend.
But those who braved temperatures that barely peaked at 20 degrees were treated to another festive and exciting installment of the popular February race began at Arlington's Pentagon Row and concluded at Champps, which also served as the race's home base.
[button-red url="http://www.zippyraceresults.com/searchrwt.php?ID=5572″ target="_self" position="left"] Results [/button-red]Kyle Wagener (15:55) snagged top race honors as he breezed through the 3.1-mile course. Wagener, a member of the Georgetown Running Club, recently moved to the Washington area after graduating from St. Olaf College in Northfield, Minn., where he ran collegiately for the school, topping off 22 years of acclimation to winter temperature that might have given him an edge Sunday.
"Days like today aren't the average Minnesota winter day, but we get a lot of weather like this so it definitely probably helped a little bit," Wagener said. "I did a race in high school on New Year's Day where it was 0 degrees. So this wasn't the coldest race I've ever run."
His familiarity with sub-zero temperatures propelled him over second-place finisher Stewart Reich (15:57) of Frederick, Maryland.
Laurel Le Moigne (18:41) of Springfield earned first-place honors among female runners, 13th overall. Le Moigne said she was originally scheduled to run the GW Parkway 10k Classic on Sunday, but race organizers cancelled that race because of the cold.
"I was just really motivated to race today because in my training plan I knew I had to," Le Moigne, 30, said. "We were about a mile and a half in and I figured I was probably going to win so I was motivated by that. I also kept thinking about the Olympic Trials yesterday and while this was miserable weather on one hand, the runners out [in Los Angeles, California] were out there passing out during a marathon in 80-degree weather. I figured I could sure as heck finish a 5k in 10-degree weather; it motivated me."
Julie Dickerson (19:33) and Caitlyn Tateishi (19:33) tied for second overall among female runners.
The early year race attracted an array of runners ranging from seasoned veterans like Le Moigne to 10-year-old Braydon Fahle (27:40), who ran alongside Dasha Hermosilla (29:58) and her friend and fellow Moms Run This Town teammate Jennie Apter (37:06).
Fahle place
d
first in his age group. And despite the brutal temperatures, he was quite pleased with his finish.
"After the first mile my legs started to get cold," he said. "The last downhill part of the race was fun and the course was pretty cool because I liked being next to the highway on the way back. It felt really good to finish first."
James Parks (30:21) celebrated his 60th birthday on Saturday and scheduled this year's Love the Run You're With 5k to coincide with a 60-hour birthday party that spanned five cities.
"I was looking for something to fit into my schedule of 13 events in five cities," the District resident said. "It started on Friday and went from Philadelphia to New York to D.C. to Richmond to Atlanta."
After the race, Parks serenaded diners in the packed restaurant with his rendition of Stevie Winder's famous 1980 "Happy Birthday". Parks is an avid runner who ran three marathons last year. And while he considers himself to be quite the competitor, he said events like Sunday's highlight the camaraderie between fellow runners.
"I don't necessarily have to know all of the runners, but I know their hearts," he said. They're good people. Runners are the most wonderful kinds of people you can find in the world. And when you really get out there, you recognize that you're not running against other people, you're running with other people and they're all cheering you on. It's a beautiful thing."
Recent Stories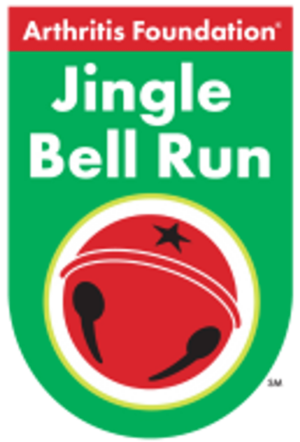 Be part of the original festive race for charity and signature Arthritis Foundation holiday event! Wear your favorite holiday attire and together, we'll jingle all the way to a cure! Register as an individual or bring a team of friends,