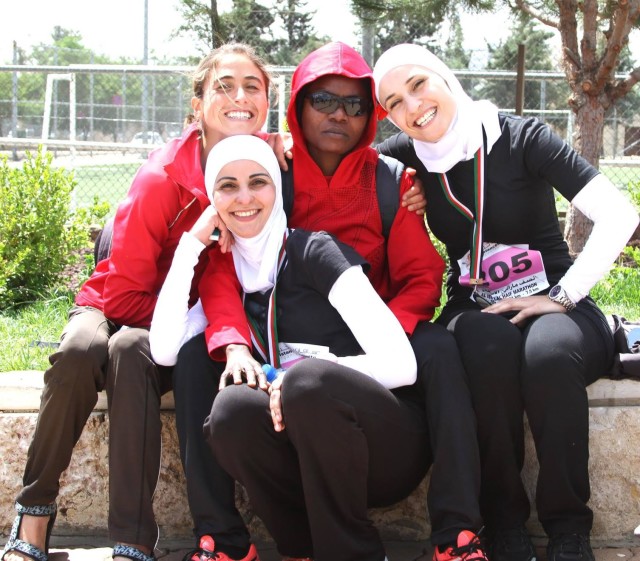 Ibrahim Abu Asbeh was driving on a sunny day in Amman, Jordan, when he first saw Nina Brekelmans running.
"Wow, she is really good," the running coach thought to himself. "I need to know her."
Seeing a female runner in that country was rare, something Nina hoped to change.
She was in Jordan through the Center for Arabic Study Abroad while a graduate student at Georgetown and Abu Asbeh just happened to see her during one of her training runs along Amman's Sport City trails. After picking up running at the insistence of a friend, she had competed for Dartmouth and kept it up after moving on to grad school.
As the General Secretary of the Jordan Athletics Federation, Abu Asbeh became a valuable resource for Nina when she looked to connect with the local running community, coaching her during her year abroad. She returned to D.C. in 2014 to finish her masters, but planned to work with her friends researching Jordanian women's distance running under her Fulbright fellowship. Sadly, they never had the chance.
That excitement turned to grief when Brekelmans was killed in June 2015 in an electrical fire in her building near Dupont Circle.
But her work is still far from complete.
Also in Amman, Nina's advisor from Georgetown, Fida Adely, discovered that the news of her death was already spreading among Nina's friends at Georgetown. Adely had coached her through the Fulbright application.
"She wanted to learn more about the experience of Jordanian distance runners, especially women," Adely said. "She was hoping to put this knowledge toward programming for females and running in Jordan and beyond."
Nina's proposal was simple: to interview female distance runners about their experiences as women and as runners. But she wondered if, in the end, it would be substantive enough.
"We talked about how her interviews with these runners could be a step toward designing some kind of program or project for female runners in Jordan, " Adely said.
Finding Jordan
Nina's interest in the Middle East largely stemmed from her passion for languages, which grew from her family's move to Mexico while she was in high school, according to Nico Brekelmans, Nina's father.
"In Mexico she realized that you need to learn the language to really appreciate
the local culture," he said, noting that her interest in Arabic also took off quickly. She took Middlebury College's summer language program in 2010 and spent a semester abroad in Alexandria, Egypt, that fall.
Nina often told friends how she was happiest when she was studying abroad in the Middle East. In one email from her time in Egypt she casually listed visiting a mosque with orphans, playing Scrabble in Arabic, and cooking with an Egyptian chef as "cool things I've done."
"Time flies and I'll be on a plane heading home before I know it," Nina wrote in an email to classmate Elizabeth Harmon at the end of her trip. "But I'm already trying to figure out when/how I'm coming back!"
She didn't have to wait long. After her first year in Georgetown's Arab Studies masters program, she was back in Egypt — this time in Cairo, but it was short-lived. As Egypt crumbled from a military coup, travel warnings from the State Department meant Nina's federally-funded scholarship wouldn't allow her to stay in Cairo, so she finished her year in Jordan.
"She was definitely upset to leave Cairo," her brother Robert said. "I remember proofreading a long-winded, three- or four-page note to her senator, pleading that this program was ideal for her goals and that it was totally safe for her to stay."
But she made the most of her relocation, and started putting down roots. She met her new contemporaries in the capital Amman, and continued her dedication to cultural immersion, speaking Arabic as much as possible. Michael Brill's first conversation with her in English was at a classmate's dinner party, several months after they had met.
"She was so smart that she made it hard for the rest of us to keep up," Brill said, noting her intensity and frustration when her classmates didn't keep up was mainly in the interest of pushing the quality of learning higher for herself and others.
On top of that, she was still running.
"She'd be out the door at sunrise. Her ability to brush aside the harassment, the heat, and the pollution and just focus on her running was extraordinary," said study abroad classmate Alice Gissinger.
Nina ran in baggy capris pants instead of shorts, out of respect for the culture's dress norms. Her options for running, in both Egypt and Jordan, were limited. But she got in enough training to win the Dead Sea Half Marathon.
"Nina always said it was her best day in Jordan," Gissinger said.
She noted the cultural dissonance.
"I am a bit of a tourist attraction here," Nina wrote to Harmon while in Egypt. "A few catcalls and some creepy stalker-like types here and there, but nothing I can't handle."
"Nina and running were inseparable,"Robert said. "It was never really a question whether she would take running with her to the Middle East. Nina naturally made connections and friends in the local running community in Amman just by proactively exploring for her own routines."
In Jordan, passions for running and Arabic culture blended, giving her and friends a roadmap when they were ready to work to preserve her memory.
As news of her passing spread, in Amman, Abu Asbeh arranged a small run with friends and classmates at the trails she loved most. Back in D.C., friends gathered to search for their direction going forward.
The group, which included Mary Grace Pellegrini, Brill, and Gissinger, started to talk about a running camp in Jordan for young girls. The idea evolved over time, but with the help of Nina's family and Abu Asbeh, it grew. The funding came from the Fulbright's own memorial fund to commemorate Nina.
"We are striving to continue the work that Nina began in Amman and to honor her legacy of commitment to and support for women's empowerment through running," said Summer Forester, a Fulbright fellow in Jordan working with about five other fellows to plan the camp.
According to Abu Asbeh, the camp is designed for young girls between the ages of 8 and 14 to not only encourage them in athletics, but also teach them about health and teamwork. The camp will meet on Saturdays for five weeks for practice and presentations by guest speakers, culminating in a kids race the same weekend as the Dead Sea Ultra Marathon in early April, the same race where Nina won the half marathon in 2014.
When they needed a coach to lead the camp, Abu Asbeh called Mohammad Sweity, a premier Jordanian distance runner. Within five minutes of hearing their idea, he agreed to help.
Abu Asbeh sees the camp as a fitting tribute: "Nina would have loved to teach the girls how to be strong and determined because that was Nina. She was mentally very tough."
"Nina was one of us," Abu Asbeh said.
Her humility and kindness, along with what he described as her amazing ability to speak Arabic, broke barriers between her and the runners in Jordan. "I saw her exercise daily with the army athletes in the mornings, and every one considered her Jordanian!" he said.
In addition, the Nina Brekelmans Scholarship at Georgetown will fund an Arab Studies masters student who demonstrates interest in promoting women's empowerment in the Middle East.
"We hope to support a student with this interest in a summer language program, internship, or research project that might not otherwise have been possible," Robert said.
"These were Nina's goals, and she was always keeping busy in her summers with language programs or internships, and always looking for funding to do so."
Contributions to the fund poured in through Georgetown's website from all the different communities Nina's life had touched.
BicycleSPACE collected donations for four months after her death, according to staff from Georgetown's Center for Contemporary Arab Studies (CCAS). Nina, ever full of energy, had been a regular patron. CCAS also worked with Nina's former running club teammates to organize a 5k race on campus this spring on March 19, the proceeds of which will support the scholarship.
Throughout her life, Nina's activities were difficult to keep track of. She volunteered with Girls on the Run, interned at the Muslim chaplaincy and worked with Georgetown Women in International Affairs during her Masters, she served with Reclaim Childhood — an organization promoting sports activities for young lower-income girls — in Jordan.
"Nina was quite humble and served others without seeking recognition," said Pellegrini, one of Nina's best friends and teammates. "Much of her volunteerism in Jordan was revealed to me after her passing."
"It's been amazing to hear from other friends of Nina's just how involved she was in other fields of her life," Gissinger said. "I first learned from Nina's running friends that she had walked onto her college team.
Everyone around her in Jordan assumed she'd been running since high school. It wasn't necessarily because she was a born Olympian that she stayed on the team, it's because she trained hard as heck."
Back in the US, Brill and Nina shared a course in the 2014 fall semester. Nina was often the one wearing running shorts in class.
They kept in touch during spring, meeting at cafes just like they would during their time in Amman.
The last time Brill saw Nina was over cups of tea less than a week before the fire.
Nina had graduated Georgetown and was deciding how to spend her summer before taking off for Jordan again in the Fall. "Relax" wasn't exactly in her vocabulary, so it was odd for Brill to hear her describe travel plans in Europe not for work or academics, but for vacation.
Gissinger, too, met up with Nina that week. "When she saw me, she did her usual greeting to good friends of screaming: 'HABIBTI!' ('my friend!' in Arabic) and giving a bone-crushing hug."
They talked for hours. Nina, energetic as usual, was excited about going back to Jordan, but a little unsure about what would happen after her Fulbright.
Thanks to the friends she made when she gave herself to her pursuits, her work abroad continues.
This article originally appeared in the Spring 2016 issue of RunWashington.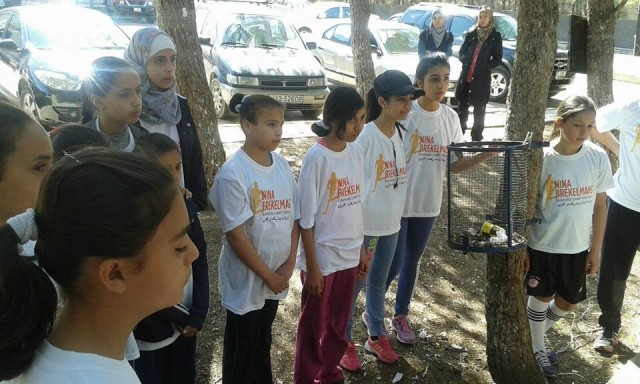 Recent Stories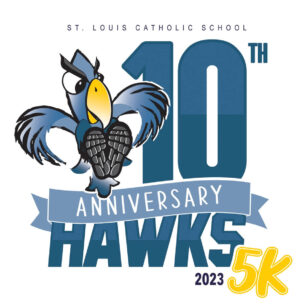 2023 will be the 10 year anniversary of the St. Louis Hawks 5K and Fun Run for Health & Wellness. The USATF certified course runs through the historic Hollin Hills neighborhood in Alexandria, VA.
The Hawks 5K goal, in conjunction