Reset the counter on that "years since Cherry Blossom had an American winner" sign. 
[button-red url="http://results.xacte.com/?kw=cucb" target="_self" position="left"] Results [/button-red] Sam Chelanga's one-second victory over Silas Kipruto gave him that distinction, which had been out of use since Chris Fox won in 1990. His time of 48:25.1 was slowed considerably by winds gusting to 40 miles per hour, as recorded at Ronald Reagan National Airport, which forced race organizers to make several changes to race infrastructure and routine, including forgoing the traditional advanced start for elite women.
The race started slow for the men, affected, naturally, by the headwind that really made a mark in the second mile, across the Arlington Memorial Bridge and back.
"Everyone was scared to go to the front," Chelanga, 31, said. "Someone would go to the front and come back a few seconds later. I tried seeing what it was like but I tucked back in there.
During mile six, that pace picked up dramatically, eighth-place finisher Christo Landry estimated it to be about a 4:20 mile, which broke up a pack of nine into three groups of three.
"That took us down to a pack of three," Chelanga said. "Then it was just two of us, pushing into the wind," with Martin Hehir trailing.
Miles 7.5 through 9.5 were into a strong headwind, but toward the end, Chelanga felt Kipruto start to lose his edge.
"With a  mile to go I felt tired, but I could tell the other guy was more tired," he said. "He started to hang behind me and he was giving me a lead, I just had to keep it."
He put a little larger of a gap on at the top of the hill with roughly 300 meters to go.
The windy forecast didn't phase Chelanga, who credited college cross country, while running at Liberty University, with giving him a taste of bad weather after coming from his native Kenya. He now lives in Tucson.
"You just have to protect your ears and fingers," he said. "I wore a long sleeved shirt and that was all I needed.  I wasn't going to change much of my strategy, I just had to do the race. "
Chelanga raced in the D.C. area most recently in November, when won the .US National Road 12k Championships in Alexandria. He was naturalized as a U.S. citizen in August 2015, and competed in, but did not finish, the U.S. Olympic Marathon Trials in February.
Chelanga had a short turnaround after finishing third at the New York City Half Marathon two weeks prior, where he averaged 4:42 on a By comparison, he averaged 4:50 for 10 miles at Cherry Blossom.
Two seconds behind Kipruto, Hehir, the second American, was running his longest race, after finishing sixth at the Gate River Run 15k, also, at the time, his longest race. He stayed a Syracuse for a fifth year to run on what became the NCAA cross country Division I team title, but has finished his eligibility. The team is by Fox, the last American winner.
Women's winner Veronicah Nyarurai Wanjiru, of Kenya, made her debut at 10 miles
"At four miles I started speed up, and every (second place finisher Buze Diriba) caught up to me I sped up," she said. "I figured I could make it alone."
She did, running 53:11.6 to Diriba's 53:20.
Wanjiru, 27, a 10k specialist, is interested in moving up to the marathon, with plans for a half marahton debut in 2017, but first wants to make a Kenyan Olympic team.
While the winds scared some runners off, it attracted a few of the top finishers.
Maegan Krifchin and Serena Burla were scheduled to do a long run on the C&O Canal Towpath, but coach Isaya Okwiya thought better of it when the women's advanced start was cancelled. Typically, the elite women start 10-15 minutes ahead of the rest of the field to let them compete in their own race, where order of finish, not chip time, determines prize money.
If they ran on the towpath it would have been wind in their faces half of the time and that wouldn't have done them any good," he said. "It was better to do a warmup and get a hard run here."
And it was a good move, with Krifchin, of Silver Spring, finishing third overall as the first American and Burla, of Stafford, finishing sixth as the second American.
"The wind was pretty brutal, I got blown around, but it made it a more exhilarating," Krifchin said. "It takes the pressure of time off and gives you an opportunity to just race tough."
The last time she faced those conditions, and her last race, was at the Olympic Marathon Trials, where she finished seventh and Burla finished eighth.
Like Wanjiru, Krifchin didn't let any women hang off of her. And like Hehir, she ran at Syracuse.
"It helped having the men along because there was always someone to run with," she said. "If we had the advanced start, I'd have been out there along a lot more."
Landry, a Falls Church native, said the head wind forced runners to pack up when they otherwise would have run their own pace, just to endure the resistance.
"I saw a 25 minute split at five miles," he said, "that's what I'd hit in a 50 minute tempo run. I saw my splits in the last few miles between 5:15-5:20; the last time I ran this I averaged 4:40s."
With the Olympic standard in hand for the 10k, Landry, now living in Charlotte, will focus on the Olympic team trials in early July.
Pacing wasn't any easier farther back in the pack. Meb Keflezighi,  a visitor from San Diego, planned to help pace the 6:00 group, but that was no sure thing, even for the four-time Olympian and winner of the Boston and New York marathons.
"I went out in 6:39 for the first mile," he said. "I knew I had to make it up, people were expecting me to run six-minute pace."
After three miles, he started to whittle away at the pace deficit and finished up in 1:00:41, a 6:04 pace.
"I encouraged people to lean forward, try to use their momentum," he said. "I've only felt wind like this at the 2014 New York City Marathon. It was very difficult, so I knew what people were fighting against today. It was hard for people who wanted to run their best time, but they'll be stronger the next time."
Keflezighi spoke to a packed house Thursday night at Potomac River Running's Arlington store.
Recent Stories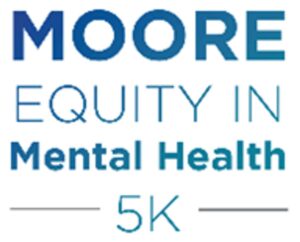 About APA's MOORE Equity in Mental Health 5k
The APA's Division of Diversity and Health Equity invites you to join us in combating mental health inequities facing young people of color and in honoring mental health advocate Bebe Moore Campbell.