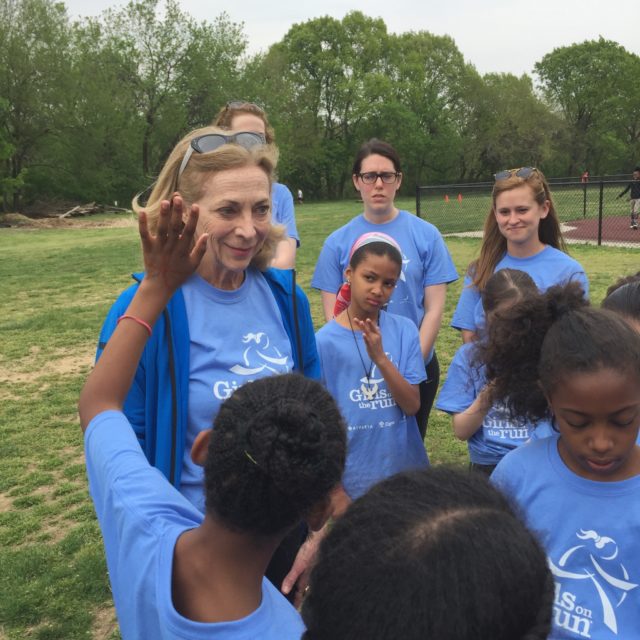 Running legend Katherine Switzer visited the Girls on the Run group at School Without Walls at Francis Stevens April 21 and part of the D.C. chapter's 10th anniversary. Members of the 12-percon group that were at practice that afternoon had the opportunity to ask questions about Switzer's experience at the 1967 Boston Marathon and her career as an athlete, journalist and women's running advocate.
Q: How did you feel about the man (race official Jock Semple) grabbing you at the Boston Marathon?
A: Well, it was terrible. Talk about bullying, really. He was shouting at me, pulled at me, trying to rip my bib number off. But I prevailed anyway, and I finished the race. My boyfriend pushed him, but I was going to finish anyway. I was glad he pushed him afterwards, but not at the time because I'm not a confrontational person. You have to think that some of those bad things in life are also good things because that guy inspired me to make change. I knew we had to change things for other girls and women.
Q: How many medals did you win?
A: I don't know, an awful lot, but you have to remember that in the old days, when you were running, you didn't get medals all the time, and when I started organizing races for women and girls, I said everybody gets a medal. I have a box of them. And you know what I do with them? I hang them on the Christmas tree.
Q: When is your birthday?
A: Why do they always ask that? It's Jan. 5, 1947. Yesterday a young girl just like you asked me that question.
One of the coaches interjected: There was a lot of talk about what month your birthday was in, but I don't know why.
A: I'm a Capricorn. We're supposedly really determined, really focused, we climb up hills.
Q: Where you scared when you ran the marathon?
A: I wasn't scared before the race because I trained really hard. If you prepare for something, you're less afraid. Preparedness prevents intimidation. what you want to do when you get ready for a race, a test or a speech,  you should be as prepared as possible when you get there. you"ll be a little nervous when you get there, of course, but that's adrenaline.
After practice, Switzer reflected on how her experience as a young runner, training one mile a day for conditioning for the James Madison, McLean and George C. Marshall high school field hockey teams in northern Virginia, differs from school-aged girls today. Last year, Heather Holt,  a then-freshman from Switzer's alma mater, Marshall, won the Virginia 5A cross country title and the girls' team has made two consecutive state championships appearances.
"There's a reason 58 percent of runners in the United States are women these days," she said. "It isn't because they want to get faster or lose weight, it's because they feel empowered. That's something we didn't always have before, and these girls are going to grow up with that victory under their belts. Women's running is a social revolution now."
Recent Stories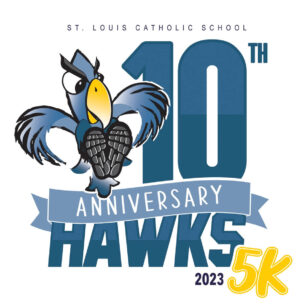 2023 will be the 10 year anniversary of the St. Louis Hawks 5K and Fun Run for Health & Wellness. The USATF certified course runs through the historic Hollin Hills neighborhood in Alexandria, VA.
The Hawks 5K goal, in conjunction