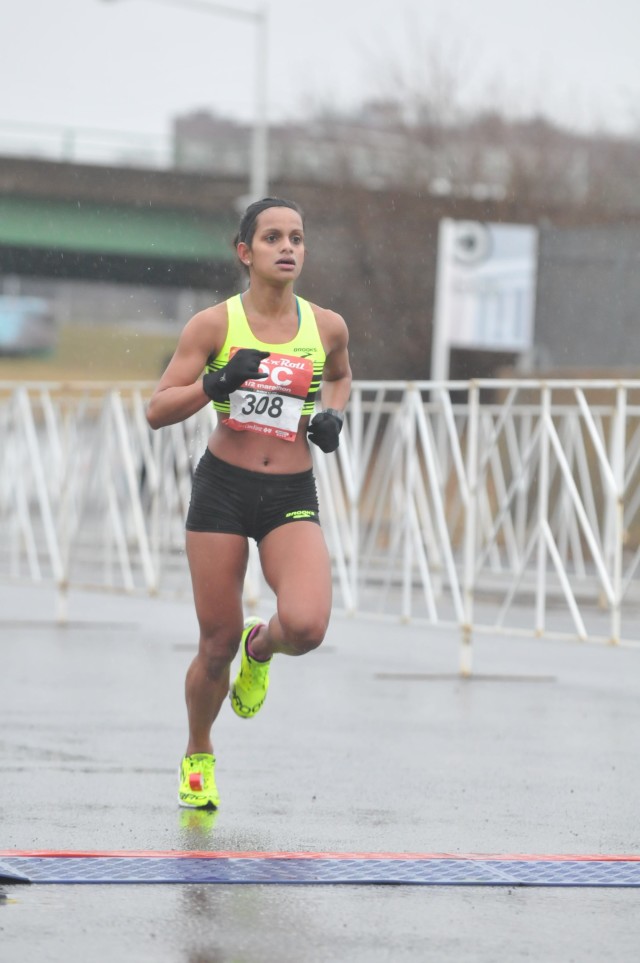 For Hiruni Wijayaratne, the last six years have been a whirlwind adventure. The track star — who won a 3,200m state championship as a junior at Herndon High School — is now eyeing the chance to represent her native Sri Lanka at the IAAF World Championships in Beijing this August.
Although her career at the marathon and half marathon distances has been brief — only spanning about six months — it's been wildly successful. Last October, she was the first-place female finisher at the Evansville Half Marathon in Indiana. A month later, her debut marathon in Indianapolis — where she clocked 2:43:35 — was just seconds shy of making the marathon trials-qualifying cut for the 2016 U.S. Olympic Trials. It was fast enough, however, to qualify to compete as part of the Sri Lankan national team.
But the excitement of qualifying has been somewhat clouded by immigration regulations both at home and in a country nearly 9,000 miles away. Like millions of other immigrants, Wijayaratne renounced her native citizenship upon becoming a U.S. citizen last year. Now, to solidify her place on the Sri Lankan World Championships team, Wijayaratne needs to become a dual citizen of Sri Lanka — which has been an extensive process.
"The Sri Lankan government was willing to consider me a 'special case' and accept a request for dual citizenship. Then the Sri Lanka elections occurred [in January], a new president stepped into office and, since, the political agenda and regulations have been a mess," she explained. "They are now requesting double the application fee — which is a lot of money — and to summon a special committee to review any application, which is taking a very long time."
Wijayaratne has spent the last 15 years away from the country, making her a relatively unfamiliar face in the Sri Lankan athletics scene. She has several Sri Lankan national records pending in the half-marathon, 15k and 10k, and did receive positive press when a national newspaper, The Sunday Times, wrote about her stellar performance at the Monumental Marathon in Indianapolis. But her best chance to make the team is to do well at her first Boston Marathon appearance on April 20, when she'll toe the start line with the elite women.
"I hope to run fast enough in Boston for my 'net worth' in athletic terms to increase, which should lead to an expedited [dual citizenship] process," she said, adding that she expects to know the Sri Lanka Athletics Association's final decision shortly after the Boston Marathon. Despite the high stakes, Wijayaratne is thrilled just to be competing in the iconic race.
"Boston will be my first time in a race of that caliber," she said. "I'm in the elite field and I'm ecstatic. I don't know how that happened."
Wijayaratne humbly credits her success as "beginner's luck," but Pete Sherry, her coach at Herndon, knew she had the potential to be a great runner since she took her first lap around the track back in the fall of 2005, when she was just a freshman.
Sherry, who won silver in the World University Games in 1991 and qualified for the U.S. Olympic Trials three times, credits her success to talent and consistent training. He coached her for four years in high school and, since then, they've stuck together. Sherry now coaches her via phone from her new home in Evansville. Although it comes with challenges, Sherry believes their decade-long relationship serves them well.
"I know her so well that we've clicked. I get her," Sherry said. "Not being able to see her work out is the only real issue. There are times during training I may have given her more or less depending on how she looked. She is incredibly driven. To be able to handle this training, work full time and live in Evansville is amazing."
Wijayaratne, who also received her MBA from the University of Kentucky in 2014, works approximately 60 hours each week as an executive team lead at Target, which she said is a demanding job, both physically and mentally. She spends roughly 90 percent of her workday on her feet. Couple that with running 80-100 miles a week and the lack of quality training facilities in Evansville, and Wijayaratne has a tough workload.
"This is where Pete Sherry excels," she said. "He understands I can't train like a professional marathoner because I'm not one. So we have figured out a way to squeeze in workouts wherever and whenever. There are days I run just before midnight to get the miles in that day! But, hey, what's success without a little sacrifice?"
She and Sherry make it work, shifting workouts and rest days depending on her schedule each week. Wijayaratne logs 10 to 12 miles three times a week, with strength training and treadmill work on Thursdays. Her long runs of 16-22 miles typically land on Tuesdays — a bit "unorthodox," she said, but allow her to get the recovery time she needs. Wijayaratne works every other weekend, so on her Saturdays off, she gets in a second workout.
Despite Wijayaratne's unconventional schedule, she's confident she'll perform well in Boston later this month. Her goal is simple: just run faster than she did in Indianapolis. From there, she's gunning for a spot on the 2016 Olympic marathon team in Rio de Janeiro, when she'll be 25.
"I think the goal is feasible," she said. "I've already run under 2:44 for the Sri Lankan team. But if for some reason it isn't in the plan for this coming Olympic games, then Tokyo [in 2020] would be one of my last and best chances either for Sri Lanka or the U.S."
Recent Stories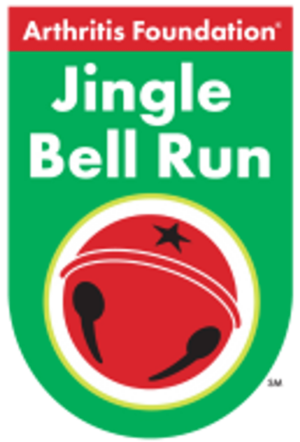 Be part of the original festive race for charity and signature Arthritis Foundation holiday event! Wear your favorite holiday attire and together, we'll jingle all the way to a cure! Register as an individual or bring a team of friends,