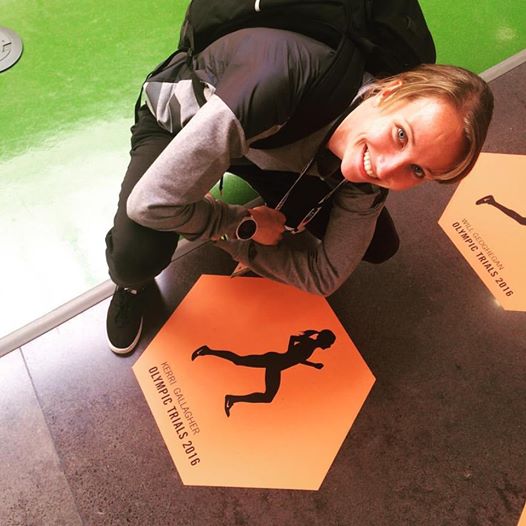 Franklin Field looked a lot different when Arlington's Kerri Gallagher crossed the finish line June 25.
Still to come
Kerri Gallagher, Lake Braddock student Kate Murphy and Georgetown alumna Rachel Schneider race the opening round of the 1,500 meter Thursday at 9:26 EDT Semifinals are Friday at 8:03 and the finals are Sunday at 8:00. Murphy made the world junior team for the 3,000 meters.
Broad Run High School alumna Stephanie Garcia races in the 3,000 meter steeplechase final Thursday at 10:48 EDT.
Chantilly alumnus Sean McGorty runs in the 5,000 meter final Saturday at 8:30 EDT.
The stadium in Philadelphia was nearly empty. She saw two women finish ahead of her. It sure wasn't the Penn Relays.
On top of that, her 4:26.66 1,500 meter time was slower than what time she ran for the full mile — 109 meters longer — indoors in late February.
She was tuning up for the Olympic Trials at the low-key USATF National Club Championships, the only athlete representing her sponsor, Nike, because a month and a half earlier, she just started to run again following a four-week layoff after her emergency appendectomy. It was, understandably, not the way a member of the 2015 U.S world championships team wanted to do things, certainly not even a year after a spectacular break-out season that saw her run 4:03.56.
"The timing was less than ideal, but these things happen," she wrote from Eugene, days before her first trials race. "The pain was manageable after the surgery and only really hung around for a couple of days.  I was able to go about my normal day to day after about four days, minus the running of course.  That was probably the most frustrating part, that I felt completely normal and knew I had to be patient and let my body heal."
She first felt some stomach pains in early March, which took her out of the US indoor national meet and remained a mystery once she got to the emergency room, but antibiotics seemed to help. But more than a month later, the pain was back.
"I knew this was the real deal," she said.  "As a runner, I don't like to waste time when something is off.  This kind of stomach pain was not in any way normal and I knew I needed to get to a doctor right away."
Losing the meat of early spring training time meant an accelerated buildup to thee-round 1,500 meters contest at the trials. Gallagher's training volume and intensity came back quickly, but she emphasized recovery.
Local results thus far
Men's 800m first round
20.Joseph White (Georgetown) 1:48.68
(qualified for semifinal but DNFed)
Men's 10k
15. Christo Landry (Thomas Jefferson High School) 29:27.15
Women's 10k
2.Emily Infeld (Georgetown alumna) 31:46.09
12.Serena Burla (Stafford) 33:19.89
18.Lindsay Flanagan (Silver Spring) 34:17.25
Women's 3k steeplechase semifinal
3.Stephanie Garcia (Broad Run High School) 9:35.95
(qualified for Thursday's final, 10:48 EDT)
Men's 3k steeplechase semifinal
19.Darren Fahy (Georgetown) 8:44.43
Men's 5k
16.Sean McGorty (Chantilly alumnus) 13:52.16
(qualified for Saturday's final, 8:20 EDT)
21. Thomas Curtain (Loudoun County High School) 13:55.57
"I doubled up on my normal massage and physical therapy and was very disciplined in my recovery routines — ice baths, stretching, foam rolling."
But there was no "cramming," she said. "We kept the routine and took it day by day."
Her coach Matt Centrowitz was there throughout her comeback, helping her regain her confidence and supporting her through physical and mental barriers. And his son, Matthew, served as a role model for her. He recovered from mid-April knee surgery in 2012 to not only make the Olympic team, but raced to a silver medal in the finals.
"(He) could relate to the situation I was in," she said. "He also came back from a setback this spring and was very encouraging and reassuring throughout this comeback.  I gained a lot of confidence in hearing about his training and racing successes this season."
Add to that his best friend and Gallagher's fellow assistant coach at American University, Chris Kwiatkowski.
"(Chris) was also a big help to me in the last couple of weeks, pacing me through some key workouts," she said. "He put his own training aside to work with me and was a huge support, talking me through some of the tougher intervals.  I have an amazing group of people around me."
When she is not with those people, though, she has remained calm about the situation, even when she wasn't running less than two months before she was due on the track.
"The appendectomy was definitely an athletic setback, but throughout the experience I have really grown in my faith and been reminded that it is God's will and plan we should strive to fulfill," she said. "I've always understood that, but this was kind of a 'put your money where your mouth is' kind of situation.  It's given me peace and confidence that if I put my all into using my talents for the glory of God, it will turn out the way it should, whatever that means.
"…It's a blessing and was definitely against odds that I'd get back to a place where I am ready to compete at the Olympic Trials."
Recent Stories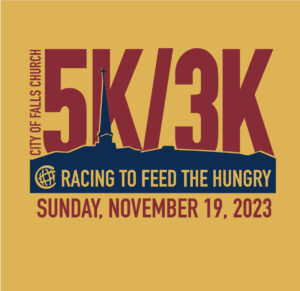 The out and back Falls Church City 5K/3K course is mostly flat on the W&OD Trail starting and finishing at 103 Columbia Street. Overall male and female winners earn free shoes and medals are awarded to all categories. Great family