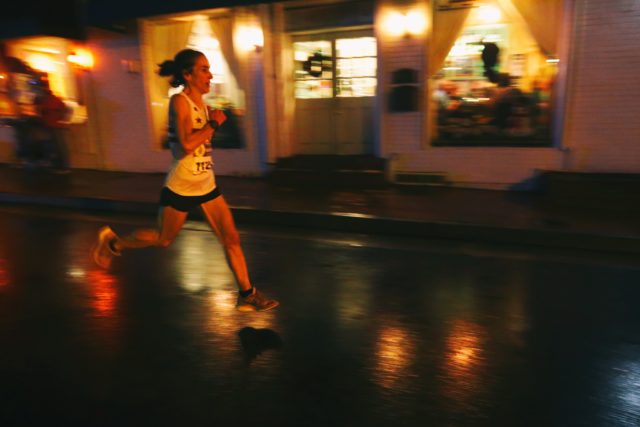 Jen Maranzano is an attorney who writes a little on the side, starting with RunWashington in 2016. She stopped being an attorney for a little last year while to train full time. Read more of her writing here.
Name: Jen Maranzano
Self-described age group: masters
Residence: D.C.
Occupation: Attorney by day, runner by day and night
Volunteer roles in the running world: (as applies) Work with the elite athlete coordination for the Cherry Blossom ten miler
Why you run: I like the challenge of trying to get the most out of myself, and seeing the results of hard work and discipline. And I love how the process brings people together and creates such strong bonds. Plus, running gets me outside every day.
When did you get started running: High School
Have you taken a break from running:  I've had a lot of injury imposed breaks. Other than that, I always take a couple weeks after a marathon to rest, recharge, and do little to no running.
Training shoe: I'll wear anything that fits for training. For racing, only the vaporflies will do!
Coach or training group: Dojo of Pain
The hardest race you've ever run: I returned to my college for a x-country race that pitted the alumni against current students. Because I usually won x-country races while in college, I started the race hard, determined to recapture my glory days. And then I was struck with the reality of being 20 years older. It was a long 3 miles!
Most adventurous decision you've made with your running: Doing a trail race in New Zealand. Technical and terrifying, but an unforgettable experience.
Running mentors: Alan Pemberton
My favorite place to run in the D.C. area is:  Hains Point (also my least favorite)
Favorite local trail:  Towpath
My best race was: Chicago marathon
Favorite local race: Cherry Blossom
Ideal post-run meal: egg and avocado sandwich with a (very large) cafe au lait
Favorite flavor of gel, gu, etc: I hate gu! But I do think Maurten's may have some magic in it.
Pet peeve: black ice
Goals: To run for as many more years as possible.
Your advice for a new runner: Be patient. Getting better is all about consistency.
Favorite running book: Running with the Buffalos
Song in your head during a run: It's always changing. Most recently: Truth Hurts.
Have you dealt with a major injury: Way too many to describe in this format.
Running quote: "Keep showing up." Des Linden
Why is the D.C. area a great place to be a runner:  The running community!