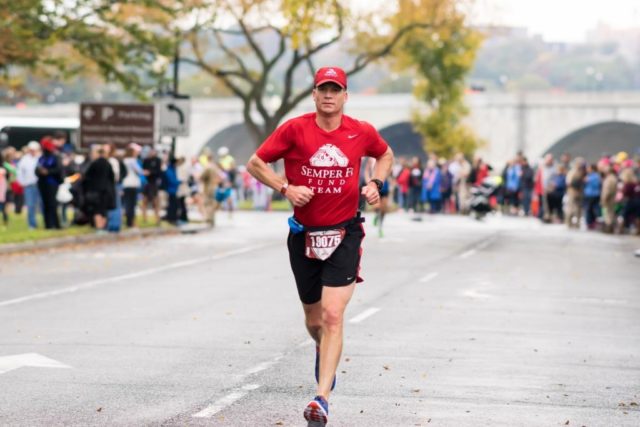 Being a runner never mattered so much to Alex Hetherington until he was doing it all alone.
Throughout high school in Buffalo and college at Kenyon, he put in the miles and raced with his classmates, and liked it. But where his connection to the sport meant the most was when those teams were gone and he was adjusting to his new life after college. In the Marines.
"It gave me an identity beyond being a Marine," he said. "You think being a Marine is an identity in and of itself, but you're in a squadron with a bunch of other pilots who are just like you. That's who you work with day in and day out, and running was sort of a way to be a little bit different. It was my persona."
And it continued to be, up to the point where he was a credit to the branch of service.
Over a 20 year career, Lt. Col. Hetherington was on the All-Marine Marathon Team 11 times, and captain eight times. Enlisting in 1990 was a professional deferral, like going to grad school as a way of dodging a career choice.
"I had no idea how I would make my history major into a profession," he said. "I figured I would do the initial commitment and that would be it. It would be a good place to start. Then I enjoyed it and stuck around."
But not only did he stick with it, retiring in 2010 after several deployments in Afghanistan and Iraq as a twin-engine attack helicopter pilot; he still works at Quantico as a consultant. These days, he's developing gender-neutral training standards for integrating women more completely.
"Previously, the Marine Corps didn't have occupation-specific standards, they just had basic fitness and combat fitness tests," he said. "They involved high strength requirements, which were disadvantageous to women but also unnecessary for what they were doing in some of these jobs."
The end result, Hetherington and the Marine Corps hope, will be women who are matched well for jobs who can avoid injury and have full careers in the military.
While in the service, Hetherington competed on All-Marine teams, racing 20 Marine Corps Marathons, finishing as the first Marine finisher three times. It wasn't an assisted athletic career; nothing like the Army's World Class Athlete Program.
"The Marine Corps doesn't have those kinds of athletes anyway," he said. "And the Marine Corps isn't going to tolerate that kind of approach. You have to be productive in your career first. You're here to be a Marine first. You do your running on your own and if you're good, they'll send you to competitions."
Work did end up playing to Hetherington's advantage in 1998, when a posting in boiling hot Okinawa, Japan left him acclimated for an unseasonably warm marathon Oct. 30, where he was the inaugural Inter-Service Marathon champion.
"The other services quickly found much faster guys" to compete in later years, he said.
He also enjoyed the cross country races he ran in England as a guest of the Royal Navy/Marine Corps.
"You'd run straight through the woods, through chest-high water crossings and on beaches with rocks the size of softballs," he said. "Some of those races were 20 miles long."
Running helps him stay in touch with his active military days, particularly at the Marine Corps Marathon. He's a 2009 inductee in the race's hall of fame.
"It's like a reunion at this point, seeing people from all walks of life who show up to this race year after year," he said.
One of the old friends is Air Force Reserves Lt. Col. Mark Cucuzzella, now owner of the Natural Running Center in Shepherdstown, W.V.
"I probably raced him in 15 Marine Corps Marathons, and we usually end up running together for at least part of it," he said. "It's neat to have that, year after year. That kind of competition makes it really fun, especially when you stop thinking about your overall finish and start focusing on your age group finish."
Hetherington lives in Vienna now, and maintains a robust racing schedule. He won 2015's Runner's Half Marathon of Reston in March and the Navy Federal 5k in October. And his wife Karen works as a senior case manager for the Semper Fi Fund, an organization that provides financial assistance to wounded marines.
"I was fortunate to not suffer any kind of injury like a lot of marines, but the work my wife does reminds me of that all the time," he said.
This article originally appeared in the Spring 2016 issue of RunWashington.
Recent Stories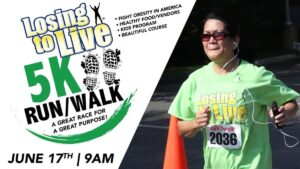 WHEN Saturday, June 17, 2023 at 9:00 am WHERE This convenient location is just minutes from your house located 1/2 mile inside the 1-495 Capital Beltway at exit 51. Spectators are welcome to watch and cheer on the runners. Capital