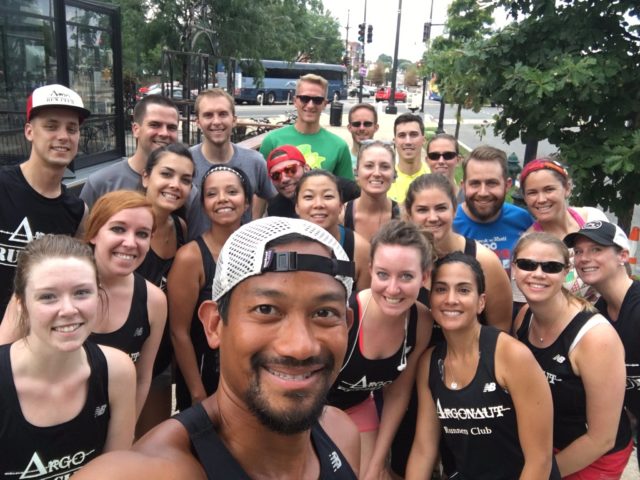 The Argonaut has been closed since mid-July, but the club has been meeting at Liberty Tree, at 1016 H Street NE, in the meantime. Find out more on the club's Twitter page.
On a cool, overcast Friday evening, the Argonaut Running Club gathers outside the new patio bar of its namesake and sponsor. The club is a week past its six-month anniversary, and the weather has finally cooled, so the group is a little bigger than in summer. Several runners wear their Argonaut Running Club shirts, awarded after five runs with the group, and more ask about the trucker hats that are  about to become available.
Organizer Ariel Laguilles welcomes runners one by one, by name, asking about training or injuries and marking their attendance. "That's the teacher in me," he says, paging through his packet to a waiver that he asks me to sign. Runners  introduce themselves to me, too: Leah, who has only run with the group once before; Marissa, Laguilles's wife; Stephen, a colleague of Laguilles's. Have I run with the group before, they ask. Do I live in the neighborhood?
Most of them do. The club draws runners from the H Street Corridor, where a few chain sporting goods stores carry the basics, but specialty running stores and their corresponding running clubs are a few miles away. Even social clubs are limited: the H Street Runners, formed in 2012, meet a little more than once a month. More than a few top search results for "running" and "H Street NE" mention the one thing in the neighborhood that doesn't run: the streetcar. (Editor's note: this story was published in late 2015)
The club was born on a snow day last February when Laguilles overheard the owners and managers discussing activities for the upcoming season. "I was just
eavesdropping," he admits. "I mean, I was alone." But when co-owner Shaaron Pine asked his opinion, he floated the running club he'd been missing. The restaurant had become an institution in the neighborhood, rallying the community after a devastating fire five years ago. "It was a no-brainer having a brick-and-mortar spot to meet every week, a consistent time," Laguilles says. "Every Friday at 6, everyone knows that we're going to come and run, whether it's two or three of us to 15, 16 of us, there'll always be people to run with and then hang out, socialize with." With some social media and signage around the bar, the club was born.
Stephen Szolosi has lived nearby for five years and works with Laguilles at Gonzaga High School. He originally joined the club to support his friend but he stayed for the sense of community it built. The club, he says, is made up of "people who are part of that [H Street] community and want to get to know others and end up getting to know people who live a few blocks away and then enjoy the running on top of that and the happy hour to boot." Leah Loloyan reiterates this, saying, "Especially since a lot of the people are from this neighborhood, I feel like I'll see them randomly running."
It's Friday evening after a challenging week. Working at a Catholic high school means Laguilles, Szolosi, plus Catholic University students Matt Gatti and Emily Thompson, have been caught up in the visit of Pope Francis. With the dozen others gathered, the group collectively eschews its four and six-mile routes for an easy two around the neighborhood.
Pine snaps a group photo before we take off down Maryland Avenue. We settle into loose pace groups. The route itself is very nice: flat, mostly on brick sidewalks, stopped by few stoplights, and greeted by neighbors as we pass. "Whoa, Argonaut has a running group?" marvels a man walking his bicycle down G Street.
Over and over again, the Argonaut runners talk about the welcoming atmosphere and sense of community the group has developed. Loloyan is here for the second time ever, impeded by a travel-heavy work schedule. "I did come back," she exclaims. "And I will continue to come back whenever I can because everyone's so friendly and you meet new people." Her boyfriend has joined her at the bar and he jokes, "She's here because I don't run."
Sara Betancurt agrees, commending Laguilles and his wife, Marissa McInnes:  "They always remember you, they always say hi, they always ask about your day. They don't forget you, even if you're gone for three or four months." She was part of a group from the club that ran the Capitol Hill Classic in May, where they debuted their team shirts, and she recently returned to the club after being injured.
First timers Gatti and Thompson caught the group a few blocks into the run, having started their day running with the nonprofit Back on My Feet and coming straight from delivering meals to the homeless in McPherson Square. Gatti is a former student and current co-coach with Laguilles who had been meaning to come down from Brookland for a while. Finally having seen it for himself, he smiles as he says, "It's a great experience, great people, great running, great happy hour, good beer."
"After the craziness of this week, I feel like a nice easy two mile run and a drink after was just right," agrees Thompson. "Definitely necessary to unwind."
Upstairs at the Argonaut, Laguilles lights up to talk about the future of running in the neighborhood. "One of our goals also is to work on that and bring people out here to Northeast and bring the running community from other parts of D.C., Maryland, Virginia to H Street," he says. "We just had a big festival [the annual H Street Festival]. It's a hot spot and people know it but I think it's time for the running community to lay a stake here in this area."
He dreams of a 5k or even a mile race in the neighborhood, maybe taking advantage of the nearby National Arboretum or Anacostia Riverwalk trail. "There's tons of untapped potential in terms of running in this area," he says.
"It'd be great to share that with everyone and people from other parts of D.C., bring them over here."
The Argonaut Running Club meets Friday evenings at 6 p.m.
This originally appeared in the Winter 2015 issue of RunWashington.
Recent Stories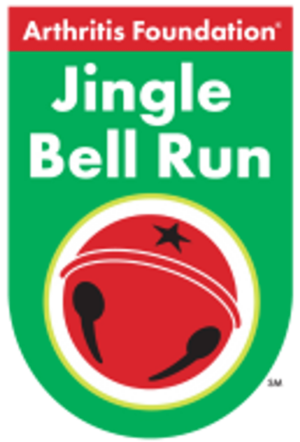 Be part of the original festive race for charity and signature Arthritis Foundation holiday event! Wear your favorite holiday attire and together, we'll jingle all the way to a cure! Register as an individual or bring a team of friends,