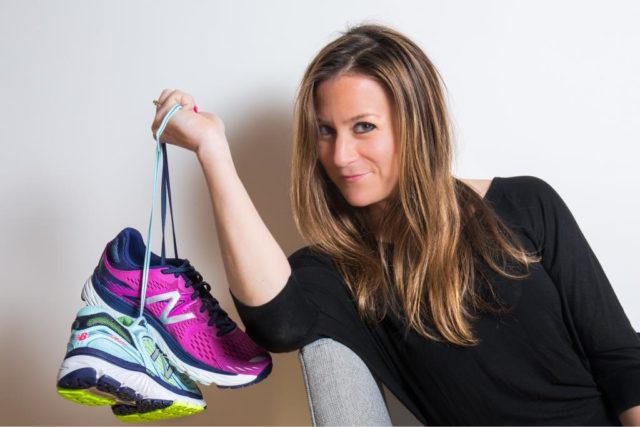 She's Got the World on a Shoestring
The stories of women's closets bursting at the seams with pair after pair of shoes of every style and color are legendary. Sex and the City's Carrie Bradshaw made the lust for Manolo Blahniks or Jimmy Choos standard household fare. Sexy, stylish and always a fashion statement, shoes are not just a wardrobe staple. They are an expression of who the wearer is and where the wearer is going.
To Claire Wood, a native Virginian, shoes are as important in her life as they ever were to Carrie.  It's just a different kind of shoe – and a different life.  From high school on, running shoes, not heels or espadrilles or sandals, have been a defining factor in Woods' existence.  Earlier in life, she wore them and then sold them, and now, she makes them. Wood is the senior footwear product manager in Performance Running at New Balance in Boston and is as happy as Imelda Marcos checking out the 3000 pairs of shoes in her closet.   
A serious field hockey player at Oakton High School, a young Wood had visions of becoming a collegiate field hockey player. Running was nothing more than an afterthought. She ran indoor and outdoor track to train, and she worked at Footsteps of Reston part-time to make money. Running and shoes were simply side interests that she never thought in her wildest dreams would amount to anything.
Things began to change during her senior year in high school. Terry Weir, her coach her senior year of high school and now coach at George Washington University, strongly encouraged her to pursue a running career in college, instead of her intended goal of playing field hockey. Confused and unsure if she was ready to change her mind, she agreed to visit some colleges with strong running programs. She got the bug. Wood ended up walking on for cross country and track at James Madison University, and her fate was sealed. She was a runner.
"I ended up a full-blown runner, running 80 miles a week," Wood said. 
As her collegiate running career in college blossomed, Wood's transformation to a running shoe aficionado unfolded. The transformation was an organic one. Wood's job at Footsteps kept her working over breaks and during the summers. Owner of the local running shop, Paul Zink, was also an assistant coach at the time helping out surrounding schools, including Oakton. Zink was impressed by Wood's great attitude and curious nature about running and shoes.
"I would teach her about the shoes and she picked up things quickly, like how the shoes worked mechanically," Zink said. "I would let her sit on shoe presentations when reps came in each year and she would ask a lot of questions."
Her experience from the running store began to seep into her track and field life and her track and field life seeped into how she looked at the shoes she sold. From all her time working in running stores, and running on tracks, roads and grass, she became more and more curious about running shoes and how they served the people that wore them. Wood wanted to know why shoes were made the way they were made. Her coach at JMU, Dave Rinker, capitalized on Wood's unique set of talents and he began having her watch other teammates run and give them tips for shoes that would be best suited to the individual's needs.
"It was sort of this cheeky thing," Wood described, "but I loved it, I was obsessed with shoes."
As her collegiate career as a runner came to a close, Wood began pondering if running at American University with her NCAA  red shirt eligibility would be her next step, but in the end, she chose to defer. Still working in the running store, Footsteps of Reston, as her collegiate running career came to an end, Wood found herself with numerous connections and friends both in the world of runners and in the running industry. The path she chose to follow her heart into a career in running shoes was as natural to her as stilettos to a runway model.
Wood's first gig in the running industry was as a technical representative with Mizuno.  While learning this facet of the runner's shoe world, Wood realized that she eventually wanted to work in product design. She is the person who closes her eyes and envisions what a good, stylish running shoe will look like and how it will work.
She eventually got a job with Brooks Running and started selling product in Seattle, Washington as a marketing representative. Finally, in 2009, she moved to New Balance, where she's been now for the last seven years.
"I work with designers and engineers to create our global performance running shoes. If I'm the visionary, they're the creators. Products that I was selling in high school hadn't changed much, then this running boom hit and that is still continuing to happen. People are so curious and want information, and they expect information. It's created a resurgence of freshness which everyone is enjoying."
As the senior footwear product manager in performance running, she remains very close to the sport. She works with professional athletes who give honest feedback on the shoes and how they feel and perform. And that's exactly where Wood found her passion, connecting New Balance to performance running.
"What I love the most is the fusion of real performance with art."
All we runners see when we look at a new shoe on the shelf is its function and, if we're lucky, it's beauty.  If it's by New Balance, it's very likely a shoe that Wood had her hands on. What we don't see is the hard work and creativity of the process.
"It's always difficult. Runners are vocal and sensitive people," says Wood, "If you change something [in a shoe], you better change it for a reason."
Wood believes that while runners want a shoe that looks good on their feet, they're more interested in how it supports their running. "We're creating a product that's rooted in performance. If created a little wrong, you could risk injuring them. It's a lot of pressure to make sure you really know you are updating for the right reasons. You don't change something to change something; you change it to make it better."
Wood is not done with running or shoes by a long shot.  Now she runs to clear her mind and for fitness, wearing shoes she had a hand in creating while she goes. There is no doubt the pounding of feet against pavement is inspiring her next creation.   
Recent Stories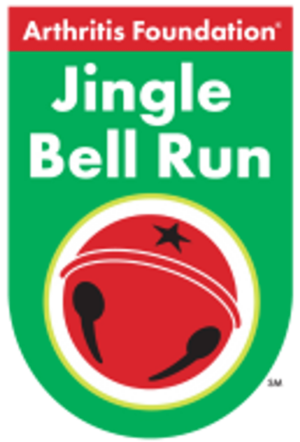 Be part of the original festive race for charity and signature Arthritis Foundation holiday event! Wear your favorite holiday attire and together, we'll jingle all the way to a cure! Register as an individual or bring a team of friends,