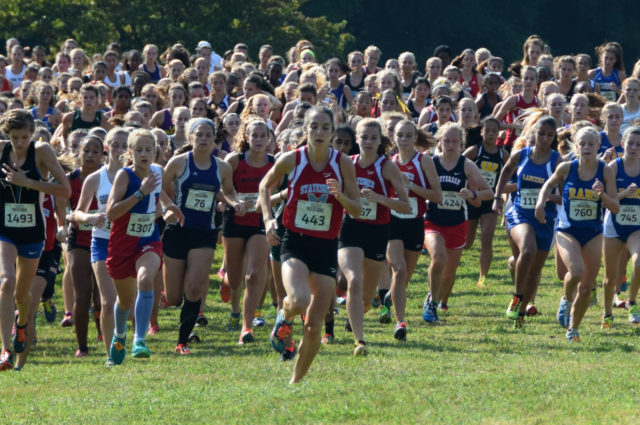 Nearing two miles at the Monroe Parker Invitational, runners emerged from the shade that protected them for most of the course at Burke Lake.
If they didn't already feel the stifling humidity, they certainly felt the sun beating down on them, and the times for the 2.98 mile race reflected that. Those conditions combined to first move the varsity races earlier and on race day prompt the cancellation of four junior varsity races. The freshmen races went off before the varsity races. 
Lake Braddock won both the boys' (five finishers in the top 40) and girls' (five in the top 19) varsity races.
Though George Marshall junior Heather Holt improved on last year's 17:44 to hit 17:27, the 16 girls who dipped under 19 minutes dropped to three. The boys likewise had 16 under 16 minutes during the rainy, cool 2015 race, down to eight this year. 
But, as Thomas Jefferson's Saurav Velleleth noted, times mean ultimately mean little in the actual cross country races, and although he was slower than in last year's race, he scored a close victory over Lake Braddock senior Conor Lyons, 15:29 to 15:30. Velleleth was third last year, and the top returner.
"I definitely wanted to win," he said. "My plan for most races is to stay with the front pack and then see what I have in the last mile. Conor threw me off a little when he made his move coming out into the sun but I took a shot a little after the second mile."
Compared to some of his longer training runs this summer, the heat didn't demoralize Velleleth.
"I just kept telling myself 'It's not that bad,'" he said. "I had to focus on that last mile, and a lot of it was in the shade. There's a single-file trail before you hit the last straight and I knew I had to get ahead before that."
John Mackay from T.C. Williams took the race out, knowing he wouldn't keep it, but wanting to work on his tenacity.
"I knew people would catch me, but I wanted to stay with them when they caught me," he said. "I was proud of being able to take the lead at the beginning and still finish strong, that's showing me how much the training is working. I was proud to be able to take the lead at the start, I just felt stronger."
Mackay was fourth, edged by Tuscarora's Derek Johnson in 15:40, and that's a large improvement from 31st last year. He anticipated the heat all week.
"I just tried to drink as much water as i could beforehand," he said. "I didn't really feel bad during the race."
Johnson, on the other hand, got an idea pretty quickly about how rough the conditions would be.
"I didn't know exactly what to expect, how much it would impact the race, but after warming up and being just drenched in sweat, I knew it was going to factor in. I still didn't want to adjust my expectations."
Then, as the varsity boys lined up, Johnson saw one of the freshmen girls loaded into an ambulance.
"She had just run until she was totally done," he said.
Zach Lindsey, from West Potomac, edged James Madison's Zach Holden for seventh, an arrangement that worked out in his favor.
"I heard people cheering for Zach and I wasn't sure if it was for me or him, so I just acted like it was all for me," he said. "That made up for how hard it was to climb that hill (before the second mile mark) and come out of the shade into the sun."
Holt repeated as the girls winner, starting fast from the gun and burying the rest of the field to win by almost a minute over Sarah Daniels from Lake Braddock.
"I just wanted to go out early and focus on myself, not the competition, " Holt said. "I don't really lift my knees that much, so I'm leaving a lot of momentum out there. I need to use my arms more."
While she feels like her performance on the Burke Lake course has improved, she still has to work on downhill running.
"After a half mile, Heather was so far ahead of my and the chase pack was so pretty far back," Daniels said.
Fairfax junior Chloe Tran made her cross country comeback after a year of injury. While she was gad to be back, she didn't take it easy on herself, despite finishing third.
"I feel like I could have done better, those hills killed me every time I hit them," she said. "This is a big change from track."
The heat crept into her race, too, but she managed to keep her composure through the finish line.
"My breathing was getting a lot more labored, but I just kept going," she said. "If I can make it through the season injury free, I'll be pretty happy. And I think I'll have a chance to run under 5:00 in the mile."
The Robinson duo of sophomore Seneca Willen and Lia Hanus made the most of the race even though the heat cramped their style.
"It was okay until halfway, then it was just hot. That's the best way to describe it," Willen said. "I tried really hard in the last half mile and one of my teammates and I tried to pass a few girls but it just didn't happen."
Hanus didn't plan to take the race too seriously because of the heat, but in the end, she managed a good race for fifth place.
"Hearing the temperature shocked me a little," she said. "It was worse than I thought."
Willen said the team was prepared, though, and recognized the danger.
"Our Facebooks are covered in 'drink water,' 'drink water,' 'drink water…,'" she said.
James Madison coach Craig Chasse said his team seemed to be among the teams best acclimated to the heat.  The Warhawks finished second to Lake Braddock's boys and girls.
"We practice at 3;30 every afternoon, so it's hard to find time that's much hotter," he said. "We look at this as mental toughness training: nobody should be their fastest now anyway, so its a chance to see how strong we are."
Recent Stories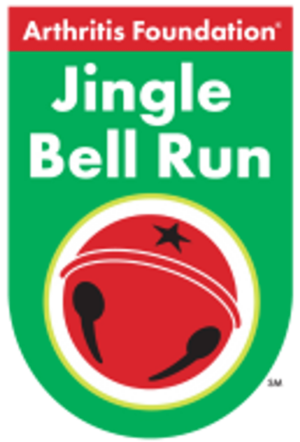 Be part of the original festive race for charity and signature Arthritis Foundation holiday event! Wear your favorite holiday attire and together, we'll jingle all the way to a cure! Register as an individual or bring a team of friends,