In its short life, the Woodrow Wilson Bridge Half-Marathon has been dealt some tough hands. In 2013, it was the first race put off by the government shutdown, though able to postpone by five weeks but seeing half of its registrants defer until the next year. Two years later, a hurricane forced a cancellation before missing the region entirely, an outcome that disappointed runners and organizers alike.
Race director Steve Nearman feels a little bit jinxed at this point. "I felt like a salmon going upstream ever since [2013], so it's been tough," he admitted after the race.
Wilson Bridge Half Marathon
Oct. 2, 2016, Alexandria, Va.
As this year's event approached and another federal shutdown loomed, Nearman began activating Plan B, calling the many municipalities with jurisdiction over his course. Congress averted the shutdown late Wednesday night, but rain fell for the rest of the week. By Sunday, the fates relented, and on a cloudy and swampy morning, nearly 1,000 runners welcomed the race, the half and a 6k, back to Alexandria.
"I love it and I'm glad it's back. I hope it'll grow," said Alex Hetherington of Vienna.
Ultrarunner, Sugar Shack owner, and former Virginia  delegate Rob Krupicka is training for the JFK 50-Miler in November and has run this race each year. He too welcomed the race back to the city.
"I think it's nice to have a race that connects Fairfax and Alexandria and gets you over the bridge a little bit too," said Krupicka. "It's nice and compact. It's a really accessible race. Lots of people can do it."
The race isn't exactly as it was, as many returning runners noted. In prior years, prize money drew fast competitors, but Nearman couldn't afford the purse this year. "I'm not saying that we have eliminated it for good," he clarified, "but we just had to eliminate it this year for budgetary reasons."
Hetherington noticed. He entered the race hoping to break 1:22, but he didn't expect to place. "In fact, it was sort of a surprise result for me," he said. "In the past, this race has had prize money, so it usually had a pretty fast field. So I didn't know what was going on at the beginning of the race."  Hetherington eventually bested Matt Boyd of Fredericksburg to take third overall in 1:21:13.
The rest of the podium consisted of new faces. Colin McGrath dominated his debut race in the DC area, finishing in 1:13:30 with seven minutes on his closest competitor. McGrath moved from Philadelphia to D.C. with his girlfriend two months ago while he works on his dissertation.
While others found the course hillier than expected, McGrath called it cool and interesting. On the George Washington Parkway, he noted, "it's either going up a little bit or going down a little bit but it sort of messes with your head because you can't really tell what the grade is. It's nice. At no one point can you totally check out because something's happening."
Behind him, Ron Gage of Houston came within a minute of his PR to finish in 1:20:32. A friend invited Gage to the race, and the trip appealed to Gage and his wife, who had not raced in the area before now. "It's hot and humid down there, so this is a nice change," Gage said of the slightly less hot but still very humid morning.
The women's race, too, saw its pace slowed by humidity and changes to the field.
The Georgetown Running Club's Kerry Allen echoed her victory on much of the same ground as the GW Parkway Classic, finishing in 1:25:16. She ran about half of the race with teammate and recent Clarendon Day 10k medaler Keely Eckberg (1:26:02).
"Then it got hard," Eckberg said with a laugh.
Allen agreed, "Things sort of fell apart."
Stephanie Cario (1:25:30), a former Virginia Tech cross-country runner and triathlete, crept between the two and managed to shave ten minutes from her finish time at the Parks Half Marathon last month.
"I thought it was going to be a lot flatter than it was," she said. "And the humidity didn't help." She said she enjoyed the downhill portions of an up-and-down race and Allen and Eckberg agreed.
"Since we're all training for marathons, I'm sure we're all in the same boat, doing high mileage this week. Legs were feeling a little heavy, might be the consensus,"  Allen said.
—
Nearman does get emotional about two aspects of his race. First, he wants to revive the Visually Impaired Championship that he built with Bethesda's Joe Aukward (2:07:47), a two-time Paralympian who still holds four Indoor Track & Field records with the Association of Blind Athletes. Nearman is Aukward's longtime guide in distance races, and Aukward ran the course today.
In the past, after the out-and-back along the George Washington Memorial Parkway, runners crossed the Wilson Bridge to a finish festival at the National Harbor, then rode shuttles back to the parking zones in Alexandria. Unable to secure event permits at National Harbor this year, organizers changed the bridge portion to an out-and-back and moved the finish festival to the base of the Wilson Bridge. Though logistically easier on the whole, the change narrowed the pathway along the bridge considerably.
"I wasn't sure how that was going to work with the out-and-back on the bridge, running two abreast," Nearman said. "It was more out of concern for their safety this year because we didn't have the whole bridge."
"Every year I always get feedback, 'I was really hurting at 12 miles and I went behind these visually impaired people and I thought, wow, if they can do it, I shouldn't be complaining!" he recalls. "They're very motivating. They're a really nice component of the race. We do hope to bring it back."
Finally, this year the race also introduced the Nicole Mittendorff Memorial Award in honor of the Fairfax County firefighter whose disappearance and suicide in April garnered national attention. Mittendorff completed the race in 2013 and 2014, and when Nearman learned of the connection, he knew he wanted to do something. At the finish line, Nearman presented an engraved firefighter's axe to Mittendorff's husband, mother and father, who ran the race with their #MilesforNicole campaign for suicide awareness and prevention. "It was very emotional," says Nearman.
Although the axe went to Mittendorff's family today, Nearman plans to present it to the first female firefighter to finish future races.
"We want to keep her memory alive for as long as this race is alive," he said.
Recent Stories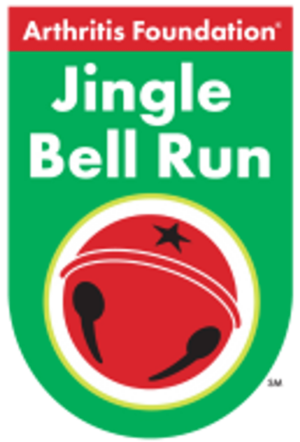 Be part of the original festive race for charity and signature Arthritis Foundation holiday event! Wear your favorite holiday attire and together, we'll jingle all the way to a cure! Register as an individual or bring a team of friends,