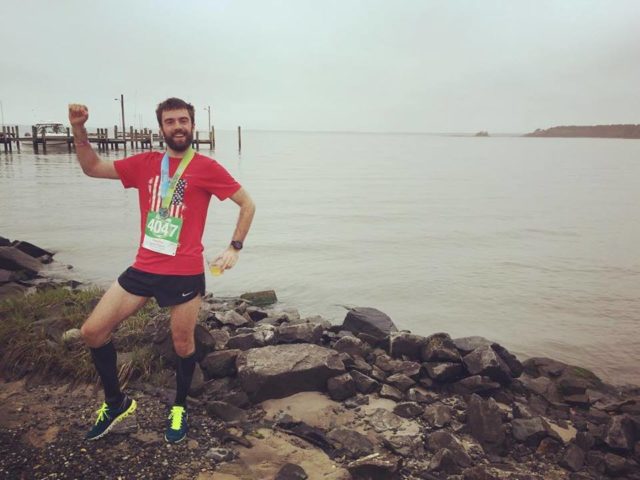 Andrew Gates spends days managing Potomac River Running's Burke store (near Burke Lake, which he chronicled in 2018) and writing running for RunWashington since 2016 and science fiction for himself (and others).
Read more of his writing here.
Name: Andrew Gates
Self-described age group: Upper 20s
Residence: Arlington, Va.
Occupation: Manager of Potomac River Running – Burke
Why you run: I enjoy it and it's always fun to see myself improve. It's a fun and healthy hobby.
When did you get started running: I ran competitively as far back as middle-school, but didn't really take it seriously until I was a sophomore or junior in high school. After I turned 18, and was finally old enough to sign the waiver, I signed up for my first marathon, the Philadelphia Marathon. My first time wasn't great – 3:38, though I have since run worse.
Have you taken a break from running:  I spent several months in Germany in 2014 and took a break from running then. That was easily my longest break, though I do take period breaks from time to time never usually more than a few months tops.
Training shoe: On CloudFlow
Coach or training group: I prefer to run solo.
The hardest race you've ever run: The 2012 Caesar Rodney Half Marathon in Wilmington Delaware. It was terrible rain that day with really bad conditions. It was also my first time running the half-marathon distance (though I'd already done a full marathon before that). Anytime running a new distance, there is always a bit of a learning curve. I remember my feet were so insanely covered in blisters at the end of that. It didn't help that it was a net uphill course too.
Most adventurous decision you've made with your running: My buddy and I had a contest in 2018 on who could do these crazy running challenges and see who would drop first. We did things like run across all state lines in DC, MD, and VA all in one run, or run barefoot, things like that. Meanwhile we were doing our regular race training through all of that too. You can read about that here.
Running mentors: I was very fortunate to have met Steve Sinko when I was a high school runner. He is the one who first got me interested in the sport. He is an awesome runner doing great things, You can read about him here.
My favorite place to run in the D.C. area is:  C&O Canal Towpath/Fletcher's Cove area
Favorite local trail:  C&O Canal Towpath or Capital Crescent Trail or Mt. Vernon Trail
My best race was: Either the final race in the 2013 Crystal City 5K series or the 2013 Delaware Marathon about week after that
Favorite local race: Parks 10K or Clarendon Day 10K
Ideal post-run meal: Cheesesteak
Favorite flavor of gel, gu, etc: I prefer CliffBloks
Pet peeve: Runners who use headphones. If I were made dictator of the world, the first thing I would do is outlaw running while wearing headphones. Also, tourists who take up the entire sidewalk.
Goals: My goal is to try some different events. I did a Spartan Race in 2018 and loved trying something new and different. That was my first foray into OCR and I would be interested in trying it again. I also want to do an Ultra-Marathon eventually.
Your advice for a new runner:  Don't overexert yourself at the start.
Song in your head during a run: Back in 2013, I swear my normal running stride matched the exact beat of "Wrestled a Deer" by Johnny No Light. Every single time my feet started going, I would think of that song. But I guess my normal pace has changed. Since then, it's a mixed bag.
Have you dealt with a major injury: I had a problem with my knee in the summer going into fall of 2014, which made me drop out of the Marine Corps Marathon. It took me a long time to recover from that.
Running quote: "Whooh, whooh!" – Brian McElhaney
Why is the D.C. area a great place to be a runner:  Variety of running locations, quick and easy access to trails, and a city catered to pedestrians.
Random side-note: I was doing a tempo run in Tenleytown once when a squirrel ran from one side of the sidewalk to the other, perpendicular to me. This squirrel ran across and found itself directly on top of my right foot as it was planted on the ground. Since I was doing a tempo run at the time, I was going pretty fast, and I lifted my foot up to take another step and ended up launching this squirrel into the air probably about three feet high and three feet far until it collided against a cement wall (this was all inadvertent by the way). Thankfully it got back up and scurried away, so I didn't kill it. But now I can tell people I've punted a live squirrel.
Recent Stories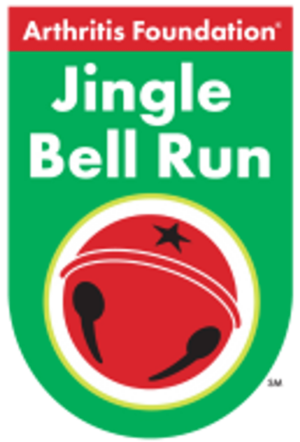 Be part of the original festive race for charity and signature Arthritis Foundation holiday event! Wear your favorite holiday attire and together, we'll jingle all the way to a cure! Register as an individual or bring a team of friends,