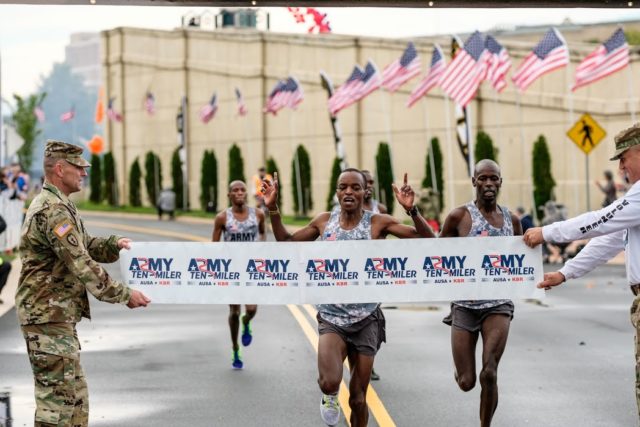 Army Ten-Miler
Oct. 9, 2016 – Arlington, Va.
He might not like it, but Augustus Maiyo manages pretty well in tough winds. He did it when he won the Marine Corps Marathon in 2012, as Hurricane Sandy traveled up the East Coast. He did it again, facing winds at the Army Ten-Miler that, while not insurmountable, were a departure from the picture-perfect weather that has characterized the race over the past five years.
Though his winning time, 48:20 with a lean over Robert Cheseret, was just one second slower than Olympic 5k silver medalist Paul Chelimo's winning 2015 time, he thought the field was stacked to go much faster.
"With the guys in the race, we could have gone 46 minutes," he said. "Why not? With all of those Olympians?"
But the wind was too much.
"I thought we would have gone faster," he said. "We ran cautiously."
He thought it was the wind that beat back Cheseret in the last 200 meters of the race, run into a headwind.
The Olympians included Chelimo, second at the Rio Olympics 5k; Hillary Bor, who ran the 3k steeplechase; and 10k runners Shadrack Kipchirchir and Leonard Korir. But by five miles, Chelimo had fallen off the pack of Kenyan-born Army World Class Athlete Program runners and dropped out with a hamstring injury blamed in part on his training hiatus since the Rio.
"This was my first workout since the Olympics," he said. "I took a long break, but it's time to get back to training."
Maiyo wasn't training specifically for the Army Ten-Miler, but adapted when the WCAP added him to its race-day team, scuttling his plans for the Chicago Marathon, run the same day. In the two weeks prior, he cut his 140 mile weeks down to 80 and tried to get his turnover back for a fast race. He wasn't quite confident he'd pull off a planned move, so he planned to react to the rest of the WCAP runners' moves. He was 16th at the U.S. Olympic Marathon Trials.
Despite his vacation from training, Chelimo put in the hours meeting many of the 24,455 runners at the race's expo Friday and Saturday who would go on to finish. All of the attention helped ease his post-race disappointment.
"This was a chance for my teammates to get some attention," he said. "We have a lot of fast people who can run well in the right race."
The headwind was most apparent in the second and fifth miles, while heading east on the Arlington Memorial Bridge and Independence Avenue.
Unlike Chelimo, Kipchirchir didn't take any time off after Rio. After a break, he focused on making Army the last race of his season before he built up again.
"It's very flat, and there are people on every corner," he said.
The WCAP athletes are now focusing on February's U.S. Cross Country Championships, where they'll compete for a chance to go to the world championships.
First local finisher Ryan Mahalskey, of Arlington and the District Track Club, is hoping to join them, after running nearly a minute faster than last year, his first 10 mile, to hit 49:09.
"I was really happy with that, considering how windy it was," he said. "I tried to tuck in behind some people but in a 10 mile road race, people spread out so fast that it's not easy, you just have to deal it when you can deal with it and then use it to your advantage when those chances pop up."
Being one of the taller but lighter runners at the head of the field served him poorly.
"I think the wind killed a lot of people's fast times," he said. "I was feeling like I could run mid-48 at mile five, but the last few miles were terrible."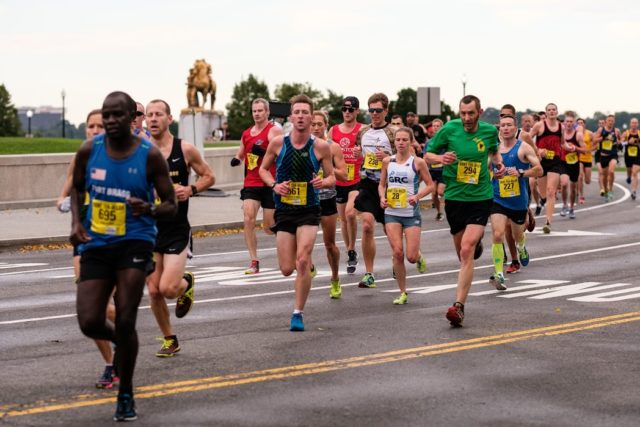 Stephanie Reich finished third here last year after graduating from Bucknell University and moving up beyond her college racing distances. In the year since, she came into her own as a distance runner, winning the Olympic Development 10k at the Penn Relays and her hometown Frederick Half Marathon in a time close to the qualifying standard for the prior Olympic Marathon Trials. Despite that success, she doesn't yet see herself as a distance runner, but still managed to win her second 10-mile race in 56:21. Vienna's Perry Shoemaker was runner-up for the second year in a row and the first master for the fourth, running 58:15.
"Last year I went into it differently," Reich said. "I just wanted to run 60. Last year I went out in 6:10, this year I was out in 5:40. I didn't know who would show up but I wanted to be top three."
After Reich moved into the lead among women in mile four, she had to get into a new focus to extend her lead, which eventually reached almost two minutes.
"I just had to mentally get ready to chase down men," she said. "I just had to focus on the people in front of me and work my way up to them."
Her dramatic improvement over the last year came from a boost in her workouts.
"In college, we'd top out at three miles of quality," she said. "Now I regularly do five or six miles of workouts."
She's averaging 80 miles a week training with the Georgetown Running Club.
"This was more than I could have predicted," she said of the last year. "This race showed me that I could be good at running and that convinced me to work at it."
Her husband, Stewart, didn't do too shabbily, finishing 11th in 51:15.  
Another Marine Corps champion made a comeback when Kelly Calway, who won the 2013 marathon, finished third in 58:56. It was a little more than a minute faster than her time last year, which she ran five months after giving birth to her second daughter, Harriet.
"I had to stop and tie my shoe and I was nursing," she said. "Even with the wind, if I hadn't run faster, it still would have been better this year."
After that race, she went full bore into preparing for the U.S. Olympic Trials in February, but she developed a stress reaction with pain that left her in tears the day before the race.
"I decided to start and see if it got better as the race went on," she said. "My coach (Juli Benson) pulled me after 5k and said, 'today I'm your commanding officer and I order you to stop.'"
Now settled into her position teaching hand-to-hand combat at the U.S. Military Academy, she is in the final weeks of preparation before the New York City Marathon.
Recent Stories

Both 5K and 1 mile courses are USATF certified. The 5K course has some moderate hills. The 1 mile course is flat making this a perfect PR course. We are really looking to get a broader participation base.
Funds go