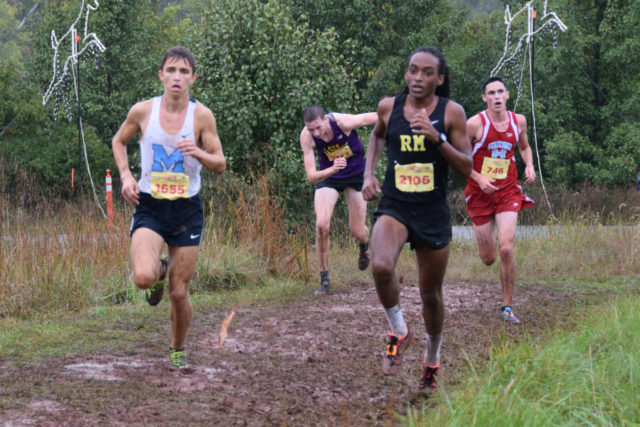 Rohann Asfaw put to rest one of the great debates from the Summer Olympics: Diving doesn't make a difference.
Glory Days Invitational
Oct. 8, 2016 – Bull Run Regional Park, Va.
Locked in a struggle for first place at the Glory Days Invitational, Richard Montgomery's Asfaw heaved himself toward the finish line at the end of a muddy climb in hopes of edging out Alec Schrank. But unlike Shaune Miller beating Allyson Felix for the 400 meter gold, Asfaw was coming from behind, and his lunge couldn't match the push Schrank's feet had on the slippery ground. The pair crossed the line at 16:04, but Schrank kept the meet's individual title in the Millbrook family. Tyler Cox-Philyaw, now at William and Mary, won last year's race.
"I thought it would work," Asfaw said. "It had to have been better that the ground, I wasn't getting any traction."
The boys' race was a return to the true meaning of cross country after many teams spent the last two weekends racing flat, fast and in one case, short, courses at the DCXC (3.07 miles) and Great American invitationals. Finish in front of someone else — that's all that matters.
Schrank wanted no part of the lead in the first two miles, he just wanted to save as much as he could for the end. Asfaw thought there was a chance for a fast race until a first mile split north of 5:00 changed his mind for him.
After three miles running largely neck and neck, the pair split to the grassier edges of the course torn up by eight races and a day's worth of rain, wrapped around a long u-turn and saw no solid ground in the last 50 meters.
"I looked at that mud and I realized that could be my downfall," Schrank said. "One bad step could be the difference between winning and coming in 20th."
The pair had a little cushion, but not much, just three seconds on George Marshall's Patrick Lynch. Lynch had run just seven second faster for a flat, dry 3-mile course earlier in the week, so the rebound was both surprising and welcome.
"This was what I needed," he said. "I've had a season of pretty awful races, getting back from pneumonia. As a confidence booster, just racing people, being up there in the pack. It's just about being tough."
He had been beaten down by bad races as he tried to work his way back from illness, and saw the field pass him by last weekend at a fast Great American race in North Carolina.
"I've mentally collapsed in the middle mile the last few races, so staying strong today was important," he said. "I almost wiped out coming down a hill, but I just kept following Rohann, he kept moving to the grassy parts wherever he could find them."
Dulaney, last year's Maryland 4A champion, notched its third straight win, five points ahead of Gonzaga, which edged WCAC rival Good Counsel by 10. Matt Owens lead Dulaney in ninth.
The girls' race was less tense, after Heather Holt (18:03) ran away with a 33-second lead over Page Lester, who was running her first race race, at the end of her first week back running, after an early August stress reaction took her out of her running shoes for seven weeks.
"I enjoyed it," Lester said. "I felt like my legs were still strong even though I wasn't running."
She simply eliminated running from the triathlon training she does year-round, and eased in and listened to National Cathedral School coach Jim Ehrenraft's rationale that simply finishing the race would be a victory. She took it out a little slower than she has in the past.
"I go out super fast, but after 800 meters I'm a little worn out," she said. "Taking it easy worked — I felt a lot better than I usually do, but I don't have my kick back, yet."
Holt just wanted to get through the race on her feet, and with a healthy margin had the luxury of taking a little more care in her steps.
"The mud made it easy to remember to pick my feet up," she said.
Noel Palmer, a senior from Liberty Christian Academy made the trip up from Lynchburg and finished third, all while enjoying cool weather.
"Today showed me I need to do a little more work on the hills," she said. "They're a weakness but I can make them a strength by the end of the season."
Georgetown Visitation School freshman Megan Lynch tried to chase Holt early, and paid for it. She wound up in fifth, behind Winston Churchill senior Julia Reicin, Maryland's first finisher.
"I was a little nervous about all the mud," she said. "I don't think I've had a hilly course like this before, either."
She steeled herself mentally after the first mile and sat back in the second mile before charging in the third.
"I wasn't really sure where the finish line was," she said. "I feel like today taught me a lot of the things I see in cross country courses while I get used to the sport."
Lake Braddock's cancelled trip to the Disney Cross Country Classic in Orlando meant more of the team would be racing at Glory Days than earlier planned, and they handily won over Marshall. Taylor Kitchen and Sarah Daniels paced the Bruins in seventh and eighth place.  Northern High School from Calvert County, Md. was third.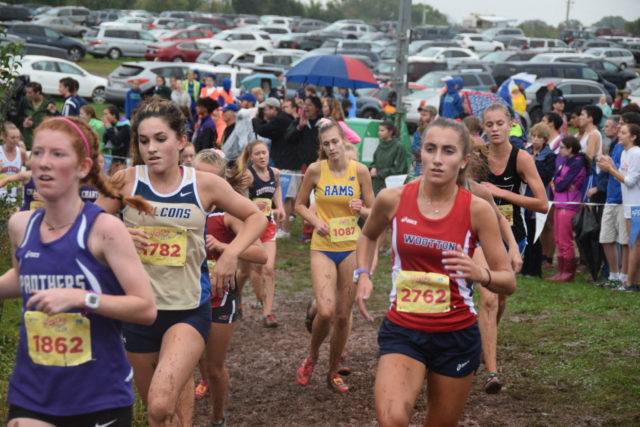 Recent Stories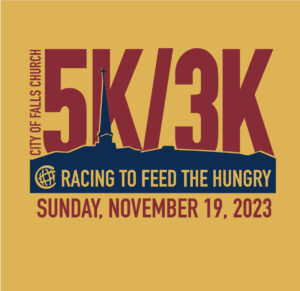 The out and back Falls Church City 5K/3K course is mostly flat on the W&OD Trail starting and finishing at 103 Columbia Street. Overall male and female winners earn free shoes and medals are awarded to all categories. Great family