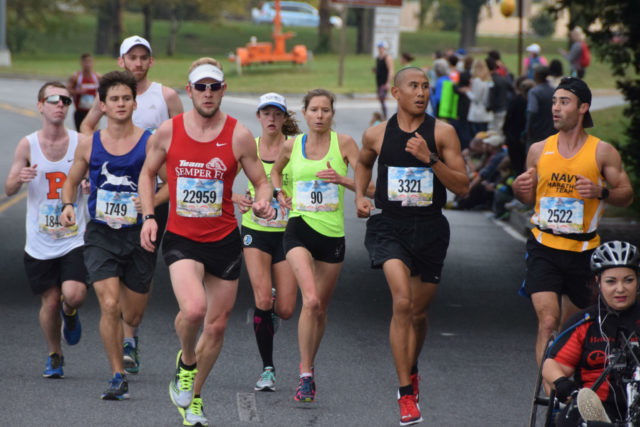 Coming off her second straight runner-up finish at the Army Ten-Miler, Perry Shoemaker's confidence should have been peaking she started her taper for the Marine Corps Marathon.
But pain in her back and glute was starting to make her second guess her plans.
"Marine Corps was my target all year," she said. "But I wasn't exercising at all for seven of the last 10 days."
She and her husband, who coaches her, looked at delaying her marathon for two weeks (Richmond) or three weeks (Philadelphia), but Perry wondered if that would matter, given that her injury was keeping her from training. So Marine Corps it was.
"I figured I would give it a try and see how I felt and drop out if it got too painful," she said. "We were staying in town and didn't have much going on. It was the perfect weekend to race."
Not only did she run, she won. In the last two miles, she took over from Meghan Curran, whose debut marathon two years ago ended in a Marine Corps Marathon title of her own.
Curran took the race out hard, a little too hard for All-Army Team Coach Col. Liam Collins' liking, but was firmly in control until 20 miles.
"I was trying to stay in control until it was time to fight," she said. "That lasted a little longer than I thought.
"But when the bottom fell out, it fell out hard."
Gastrointestinal distress left her alternating between walking and running in the winding roads of Crystal City during mile 24, and that's when Shoemaker's husband let her know Curran was vulnerable. Shoemaker caught her before the mile was through and went on to a 91-second victory.  
It's her fourth marathon, following her debut at the 2012 MCM and two Bostons in between, and her fastest.
At 45, she may be the oldest Marine Corps Marathon winner, but she also has the least mileage on her tires, having just taken up competitive running five years ago when her family moved to Vienna from Pittsburgh.
It wasn't all smooth on race day. Though her back and glute pain were gone, she had some knee pain, but by 13 miles she knew she could handle it and by 17 she couldn't feel it.
"I was out of my head at that point," she said. "For the rest of the race, I knew I was in second but it wasn't until I heard Meghan had to walk that I thought I had a chance to win."
Before that, she had targeted a 2:47 finish, but the heat and humidity on race day forced her to pare down her expectations.
"I slowed by about 10 seconds a mile for a while because of the heat," she said. "And the last six miles were a lot slower, too."
But they were fast enough when she needed them to be.
She was excited about the chance to race in D.C.
"I love racing here," she said. "The course is great, but you also get to sleep at home, eat what you like the most, work on your own schedule. You can't do that on the road."
Curran suspects one of the variables involved in traveling to the race from her new home in Denver have have contributed to her problems.
Though she was disappointed, she was not deterred from taking on the marathon again, even minutes after finishing Marine Corps.
"I'll need to take a little more time after this, but I'm not finished with it, yet."
Curran recently moved to Denver for graduate school, and spent the last two months of her training cycle adjusting to altitude.
On Curran's heels, Nicole Irving, 24, was making some of her own adjustments. After stepping on a starting line for the first time in almost two years, the Arlington resident blew away her pre-race goals by finishing third in 2:53:31.
She wore her Wake Forest Track and Field t-shirt for the race, "because I realized last night I didn't have any other clean laundry," she said.
In the two years since she competed for the Demon Deacons, she's been logging high mileage, simply because she likes it, and figured she should put it to use running a marathon.
"I usually run by myself, and I don't do workouts, just long runs," she said. "I love just grinding out miles at the same speed. I'm built for this race. And I do a lot of my runs on parts of the course."
That informed her race strategy.
"I just got to the front of the start line and tried to make sure I didn't get carried away running a pace I couldn't keep up," she said. "I kept thinking to myself, 'If I was doing a regular run today, would I be comfortable at this pace?'"
She had entered last year's race late when the got ahold of a bib transfer, but a last-minute injury put off her race.
Irving put off something during the 2016 marathon — drinking water.
"Because I don't have a coach, I don't really know what I'm doing," she said. "I was afraid to drink water because I don't do that when I run and I didn't want to try something totally new during the race. I'll figure that out before I run another marathon. And I might run a half marathon next time."
Recent Stories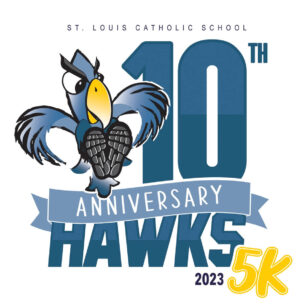 2023 will be the 10 year anniversary of the St. Louis Hawks 5K and Fun Run for Health & Wellness. The USATF certified course runs through the historic Hollin Hills neighborhood in Alexandria, VA.
The Hawks 5K goal, in conjunction