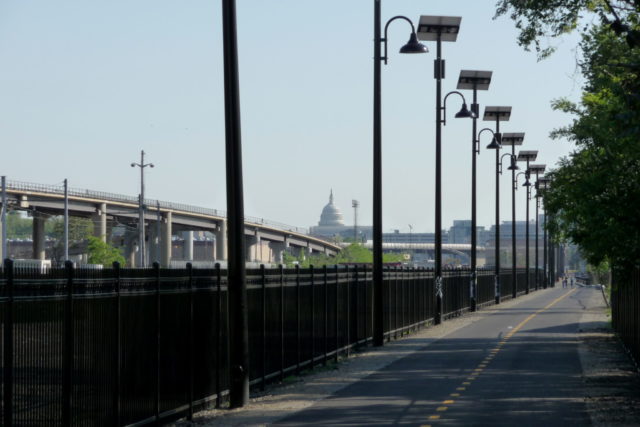 Runners in the District can expect more miles of trails in the city in the next few years, as the District Department of Transportation (DDOT) prepares for the next phase of construction on the Metropolitan Branch Trail in northeast D.C. DDOT is seeking contractors to build the next off-road portion of the trail, from John McCormack Drive, near Catholic University in Brookland, to the Fort Totten Metro station in Upper Northeast D.C. Once that contractor is identified and work begins, they estimate the construction will be complete in 18 months. If the process goes smoothly, DDOT hopes to award the contract by Summer 2017.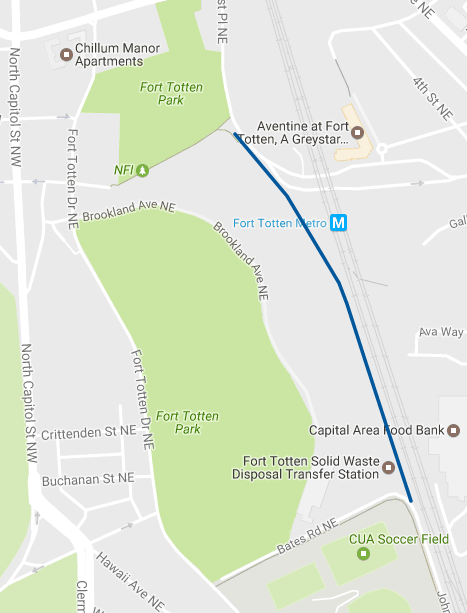 Until this point, the route through this section of the trail has been largely on uneven, narrow sidewalks, past the pungent Fort Totten waste transfer station and up a steep incline. While runners may enjoy the hill training, bicyclists have long cited safety concerns on this stretch, as the sidewalks are not suited for riding and the grade of the hill makes it difficult to maintain a safe speed in the road.
"We are hoping that cyclists, pedestrians and runners embrace the convenience of this trail," said DDOT's Michelle Phipps–Evans. "Even though it is only about half a mile, it closes a critical gap and avoids the steep hill on Fort Totten Drive, where there is no trail and cyclists are forced into the street."
The new trail segment will have LED lighting and security cameras, features that DDOT plans to add to the existing trail as well. LED lights are expected this year, with cameras to follow. They tout new signage as raising awareness of the trail in the fast-changing neighborhoods that border it. The trail has occasionally been the site of high-profile violent crimes. However, community groups have hosted events to draw more users to the trail, hoping that more eyes would improve everyone's overall safety and enjoyment of the route. These events have included movie nights, a Bike to Work Day pit stop and a 5k to draw users to the trail.
"More users generally mean more safety in numbers — for riders, walkers and runners," Phipps notes.
In a post detailing the plans for the extension, the Washington Area Bicyclist Association noted that the work will be the first major construction on the trail since the existing southern section of the trail opened in 2010.
Once completed, the Metropolitan Branch Trail will provide a route from Union Station to the Silver Spring Metro station, over eight miles of sidewalk, cycletrack and trail through many of the city's residential neighborhoods. These follow the extension of the Anacostia Riverwalk Trail completed last year, which provides an off-road route from southeast D.C. to College Park.
Recent Stories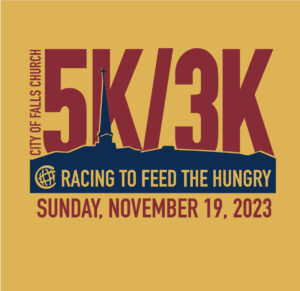 The out and back Falls Church City 5K/3K course is mostly flat on the W&OD Trail starting and finishing at 103 Columbia Street. Overall male and female winners earn free shoes and medals are awarded to all categories. Great family