Amanda Marr
Self-described age group: 44 years old 
Residence: Washington, DC 
Occupation: Communications VP at an aging services association
Volunteer participation in running: I'm the chair of the board of directors for Girls on the Run – DC, a nonprofit organization that runs 10-week programs for girls in grades 3-5 that teaches them important life lessons, while also training to run a 5k. It's an incredible program. We serve girls in all wards of the city. 
Why I run: Too many reasons but mostly because it makes my head and my body feel good. 
When did you get started running: June 1992 after too many trips to the frozen yogurt bar freshman year during the infamous fat-free craze of the early 90s. I started running to lose weight. By the end of the summer I was skinnier and officially hooked. I've never looked back. 
Have you taken a break from running: When I found out I was pregnant with my daughter, I stopped running until about 8 weeks postpartum. You certainly don't have to stop running, I just felt better walking. Otherwise, I've been running for the better part of the last 25 years. 
Training shoe: I'm a slave to the Saucony Kinvara.
Coach or training group: When I can make it, I love the group at Pacers on 14th Street. Elyse Braner is the group's leader and has done so much to unite the running community in DC. 
The hardest race you've ever run: My first half marathon in San Diego. It starts with a 5 mile descent and when you hit flat ground, you feel like you are going straight up. 5 minutes after I finished, there was all sorts of hullabaloo at the finish line. I turned around to see Oprah Winfrey crossing the line. I BEAT OPRAH. So it wasn't all bad. 
Most adventurous decision you've made with your running: I can't say that I'm a very adventurous runner, but I have started to dabble in trail racing. And I've done several relays. Running at night is probably one of the scariest things I've done. (I know, not saying much.) 
Running mentors: Coach Don Megerle. He is the coach for Tufts University's Boston Marathon training team (I'm an alum). Every year, the school gets charity bibs and I ran with the team in 2012 (the year it was 90 degrees!). Coach is an amazing motivator and even though I was training here in DC for the race, he took the time to get to know me and offer his help and support. He makes a mean peanut butter and jelly sandwich for training runs too! 
My favorite place to run in the D.C. area is: Rock Creek Park, hands down! 
Favorite local trail: Western Ridge in RCP is my go to. I'm lucky to live a block away from the Soapstone Valley Trail which takes you right into the park. 
My best race was: It wasn't the best in terms of time, but my first marathon, Marine Corps in 2010. That high lasted for DAYS. 
Favorite local race: Girls on the Run 5k 
Ideal post-run meal: Burger and a beer. 
Favorite flavor of gel, gu, etc: For marathon training, I try to recreate Coach Megerle's pb&j. I love eating real food when possible. But I do gu and my favorite is the espresso flavor. 
Pet peeve: I get seriously angry when I see people running overdressed. I probably shouldn't waste as much mental energy on this as I do, but it's a tough one for me. 
Goals: More trail races, maybe another marathon, and perhaps a triathlon?? Also, keep running healthy and improving.
Your advice for a new runner: One of the best pieces of advice from a friend when I was training for my first marathon was "Just stay out there." So I say that to new runners too. Plan a three-mile route. And just stay out there until you finish. It doesn't matter if you walk, just commit yourself to a goal for each new run. Eventually you'll build up your stamina.
Favorite running book: Run Like a Mother by Dimity McDowell and Sarah Bowen Shea. A really fun read about learning to incorporate motherhood into running. 
Song in your head during a run: The poppiest of the pop. My playlist is basically the pop charts top 25. Occasionally, I listen to podcasts but not anything that's funny because running and laughing don't work.
Have you dealt with a major injury: Knock on wood, no. I did pull my hip flexor once and ran/walked for a few weeks. I also get peroneal tendonitis from time to time.
Running quote: "Perfect is the enemy of the good." That's generally my life's motto as well, but it certainly applies to running. Not every run is going to be perfect (few are) so make sure you pat yourself on the back for just getting out there.
Why is the D.C. area a great place to be a runner: I'm miserable running here in the summer, so I'll have to say that winter running in this area is amazing. Rarely too much snow (though I actually enjoy running in the snow as long as it's not too icy), cold, and a great way to get outside during the winter months. I also love running as a version of sight seeing, especially neighborhoods I haven't yet explored.
Recent Stories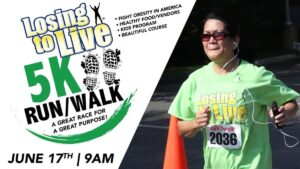 WHEN Saturday, June 17, 2023 at 9:00 am WHERE This convenient location is just minutes from your house located 1/2 mile inside the 1-495 Capital Beltway at exit 51. Spectators are welcome to watch and cheer on the runners. Capital