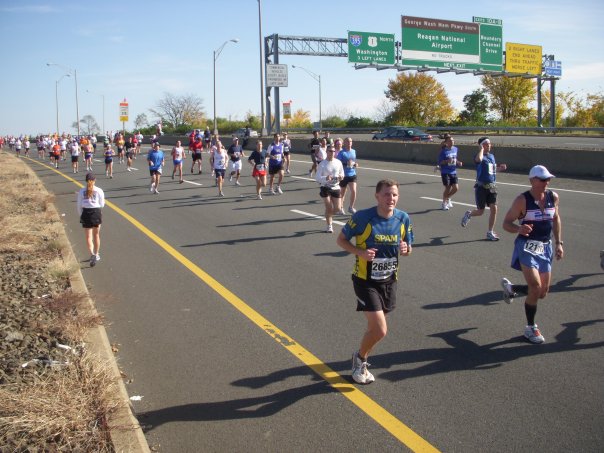 Six weeks before a marathon is a good time to take stock of how training is going, but even moreso because Sept. 14 is the last day Marine Corps Marathon runners can legally transfer bibs for the race.
The good news for runners on the fence is that as one of the most popular marathons in the country, demand for their bibs is high, and they can almost certainly recoup their registration fee. In addition, for local runners, who don't have added travel and lodging commitments, there's less of a financial sunk cost in bailing on Marine Corps, making it easier to fall back, take a few more weeks to train and take a shot at a later marathon, in Richmond, Philadelphia or Rehoboth. 
A $65 fee allows runners to defer their marathon entries for a year, an option open to 1,600 people.
"Nobody is going to have any trouble finding a taker for a Marine Corps bib," said Joe Shultz, director of training programs at Pacers Running Stores. "It seems like it's a little soon to decide to do a marathon, but someone will want a bib."
The deferment program allows up to 1,600 runners to stake a claim to a spot in next year's race. The transfer program, coordinated by race management, carries a $50 fee, born by the recipient, and the deadline is an appropriate time for a gut check to see if runners can be ready to cover 26.2 miles in seven weeks.
Sooner than those seven weeks until the race, because realistically, runners should include a one-to-two-week taper to prime themselves for the effort.
"You have seven weeks, but really it's more like five weeks to actually train and get more fit," Shultz said.
So the question remains, particularly for beginners, whether that is enough time to get to there from here. Oct. 30 was a long way off during the registration lottery in March, but injuries have a way if compressing that spare time.
"It's tempting to say that if you haven't done X, Y and Z, you won't be ready, but we can't use many specific benchmarks," said Julie Sapper, a coach, with Lisa Reichmann, of Run Farther and Faster. "You need to judge based on more general factors, like your discipline, overall health and ability to spend a lot of time on your feet. Right now, seven weeks out, you should be able to spend at least two hours running or walking, easily."
[button-red url="http://www.marathonguide.com/races/MarathonsMap.cfm" target="_self" position="left"] Marathonguide's map [/button-red]Marathon goals vary wildly, from simply crossing the finish line to hitting a target time, and committing to those goals involves a trade-off between idealism and pragmatism. To finish Marine Corps, a runner just simply maintain a 14-minute-per-mile pace through 20 miles to stay ahead of the reopening of the 14th Street Bridge. That's easier said than done, because it would mean more than six hours on the roads, and things can get ugly fast, which may endanger a runner's positive association with running.
"It could be a painful experience," Reichmann said of running ill-prepared. "Setting appropriate expectations is key. Do you want to just finish, or do you want have a good race and feel good? That something everyone has to answer for himself or herself.
"It's important to evaluate stress levels associated with the race. If preparing for the race is causing them stress and anxiety, maybe it's not the right time to plan on running a marathon."
There are all sorts of reasons Marine Corps appeals to runners, particularly in the D.C. area.  More than 5,600 local finished the race last year, lured in part by the convenient course, relatively-low entry fee and frequent aid stations. Some run as a tribute to the military and some do it on a dare or out of peer pressure.
Reichmann and Sapper note that many runners who aren't prepared choose to go on because they have emotional connections to the race, which can include fundraising goals, and for at least one runner, timing was everything.
"One runner was going to donate a kidney after the race," Reichmann said. "The surgery was set, so Marine Corps was a last hurrah. Waiting for another race wasn't an option."
Victoria Bundy, of D.C., has been training for Marine Corps and fundraising for the Michael J. Fox Foundation for Parkinsons Research. She began training in May with the Arlington Road Runners, with more than five months to go, but hurt her IT band during a yoga class, which caused severe knee pain when she tried to run.
After a few weeks off to recover, she was nearly convinced she wouldn't be ready, but a Fox Foundation personalized training schedule has her on track and a friend's ragtag group of runners — they call themselves 'the broads' — has been supporting her and helping motivate her.
"My knee still bothers me at times, but I'm careful to identify how much pain is too much pain and I have been able to manage just fine," she said. "The nerves that have now settled in are whether or not my injury will stay away in these final months of training.
"My longest run to date was 14 miles, so there is still a lot of mileage between me and 26.2. I'm confident that I'll make it, and with the support of the broads it's hard to imagine it won't, but I still have that worry in the pit of my stomach. I can only assume it won't go away until I've reached the finish line."
* * *
If you are one of those runners who wants to make it to the Iwo Jima Memorial and you're not sure if you'll make it, at the very least, stress management will help.
Sapper said that as stakes grow when time draws short, runners can gain confidence from the miles they've run already.
"One bad workout isn't going to take away all the miles you've logged," she said. "Also, taking away speed work on the track can help, especially when the benefits of the workouts aren't as great as the stress they cause."
Reichmann said transitioning to time-based long runs, rather than distance-based runs, can help make Hail Mary training attempts more constructive.
"Time on your feet is going to be the biggest challenge," she said.
Reichmann added that a group dynamics can also stress a hopeful marathoner.
"People can get stressed out running in groups of they're in with a bunch of people who are having an easier time," she said. "Sometimes it's better to back away. Social media can reinforce that, too, when people post great workouts they've done without, " without context.
Sapper suggests relieving stress by rehearsing with a half marathon — the Parks Half Marathon Sept. 13 and Navy-Air Force Half Marathon Sept. 20 are popular. Parks is a consistent winner in the Best of Washington Running voting and the Navy-Air Force course follows much of the Marine Corps territory.
"It's great timing for a half marathon, (Parks) is low-key," she said. "It's a good way to work out pre-race jitters and get used to the (racing) environment."
For runners not Hell-bent on Marine Corps, those three major nearby marathons — Richmond and Philadelphia in November and Rehoboth in December — are attractive options.
They help Shultz caution against tunnel vision.
"There are a lot of marathons out there," he said. "There's no shame in calling one off if you're not ready. Nobody will be disappointed in you, tear up your college diploma or repossess your house if you don't run. The least that we can hope for is that you won't come out of the experience hating running."
Recent Stories

Both 5K and 1 mile courses are USATF certified. The 5K course has some moderate hills. The 1 mile course is flat making this a perfect PR course. We are really looking to get a broader participation base.
Funds go