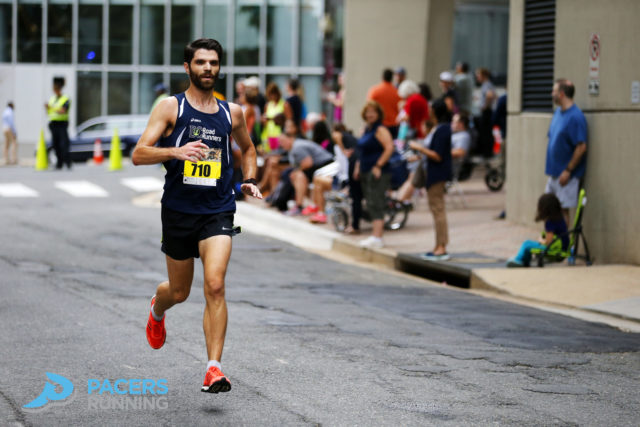 Name: Mike Tosto
Self-described age group: 30-34
Residence: Springfield, Va.
Occupation: Mechanical & aerospace engineer
Volunteer roles in the running world: I coordinate and lead the Saturday Long Run group for DC Road Runners Club, which meets every weekend year-round in Arlington, VA, across the street from the Iwo Jima Memorial. Everyone is always welcome to join us if you'd like some company on your long runs!
Why I run: It's about a 50/50 mix of pure enjoyment and testing the limits of what I can do
When did you get started running: I started running in either 2005 or 2006, following a friend's encouragement in my last year of college, with no idea what I was doing. I didn't really expect to like it. During that summer I worked on increasing distance to get ready for my first 10K, with the NASA Langley Research Center running club in the fall of 2006, and then things progressed from there.
Have you taken a break from running: After moving to the D.C. area in 2008, I decided to go for a marathon that year, and trained solo leading up to it. After the race, I was pretty burnt out and didn't run much at all for almost two years, but then I found a group to run with and haven't taken an extended break since.
Training shoe: A constantly rotating selection, but my favorites recently have been the Adidas Energy Boost and Adios Boost
Coach or training group: D.C. Road Runners Club
The hardest race you've ever run: It seems non-threatening on the surface, but to me the hardest distance to race all-out is a 5K
Most adventurous decision you've made with your running: I've had to travel a fair amount for work over the last couple years, which gave me the chance to do some training runs in places that I definitely would not have otherwise seen. It also led to me running last year's Marine Corps Marathon the next morning after getting home on seven hours of jet lag.
Running mentors: I've only ever been self-coached, but when I was about 10 my dad got into running, joined a track club, and helped me follow along sometimes on the weekends and in local 5K races. Without that, I probably wouldn't have started back up again years later.
My favorite place to run in the D.C. area is: The 3.5 mile loop of Ross Drive and Beach Drive in Rock Creek Park
Favorite local trail: The C&O Canal Towpath
My best race was: Cherry Blossom Ten Miler, the year that it wound up being a 9.4 miler, so no PR from it unfortunately
Favorite local race: Though not in-town local, the Charlottesville Ten Miler is only a few hours drive away, and my favorite race anywhere. I've run it every year for the last 10 years, except for two when work got in the way.
Ideal post-run meal: Avocado, egg, and cheese on everything from Brooklyn Bagel, with an iced coffee and a second bagel with cream cheese to bring home and munch on later
Favorite flavor of gel, gu, etc: This summer I've gotten into orange flavored Tailwind drink mix. It has a nice light flavor, and is a good way to spread out the fuel over time instead of a gel-bomb.
Pet peeve: The speed-snob attitude that Color Runners are less valuable to the running community than Boston Marathoners. I think one of the greatest things about our sport is its inclusiveness, which lets any one of us show up to the same start line on the same day as Shalane Flanagan or Eliud Kipchoge.
Goals: To one day have my eye on age group awards in the 80+ division
Your advice for a new runner: Don't do too much too soon, and go slower than you think you should
Favorite running book: I have to admit that I'm not a big reader, but right now I'm working on The Science of Running by Steve Magness and really enjoying it. Also, Hansons Marathon Method helped me run my first BQ, and is an interesting take on distance training.
Song in your head during a run: "That good song in my feet" that comes from Justin Timberlake's Can't Stop The Feeling
Have you dealt with a major injury: Luckily no, nothing worse than what a few weeks of rest can take care of
Running quote: "LOOK AT MILLS!! LOOK AT MILLS!!"
Why is the D.C. area a great place to be a runner: Endless interconnected options for running routes, iconic landmarks along the way, training group choices for all styles of runner, and a packed schedule of races to pick from every spring and fall!
Recent Stories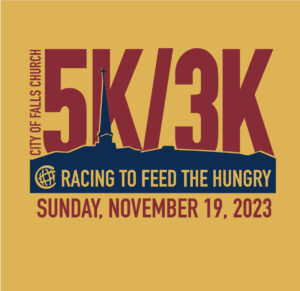 The out and back Falls Church City 5K/3K course is mostly flat on the W&OD Trail starting and finishing at 103 Columbia Street. Overall male and female winners earn free shoes and medals are awarded to all categories. Great family