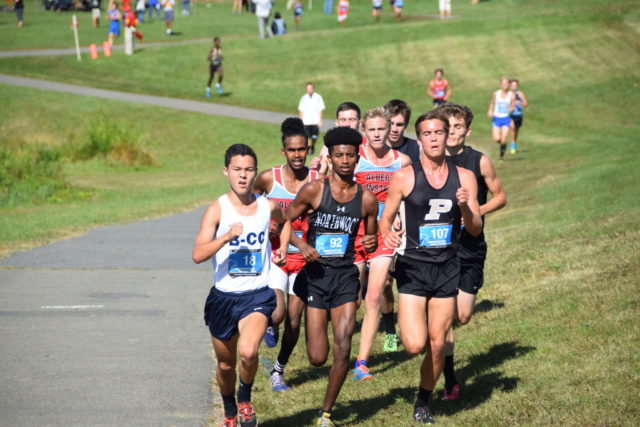 Through nearly three miles, a pack of nine boys stuck together, fighting for the lead in Montgomery County Championship. With a misstep in last year's race still fresh in his mind, Bethesda-Chevy Chase's Adam Nakasaka upset the careful detente among the guys who had traded off the lead for much longer than almost anyone had expected.
Montgomery County Championships
Oct. 21, 2017- Bohrer Park
Gaithersburg, Md.
3.1 miles
Boys
1.Ryan Lockett Poolesville 15:32
2. Adam Nakasaka B-CC 15:35
3. Mark Unger Richard Montgomery 15:36
4. Obsaa Feda Northwood 15:3x
5. John Riker Wootton 15:39
1.Walt Whitman 125
2.TS Wootton 138
3.Bethesda-Chevy Chase 144
4.Richard Montgomery 145
5.Albert Einstein 151
Girls
1.Abbey Green Walter Johnson 17:57
2.Janet Scott Walter Johnson 18:44
3.Nandini Satsangi Poolesville 18:52
4.Morgan Casey Montgomery Blair 19:01
5.Jessica Trzeciak T.S. Wootton 19:02
1.Walter Johnson 50
2.T.S. Wootton 96
3.Walt Whitman 99
4.Montgomery Blair 164
5.Richard Montgomery 172
Poolesville senior Ryan Lockett responded to Nakasaka's charge and outlasted him to win in 15:31 with a lead of less than four seconds. All nine in the lead pack ended up breaking 16 minutes, making it the deepest county championships in history. Less than a half hour earlier, Abbey Green won her third individual title and Janet Scott finished second to kick off scoring for Walter Johnson's fourth-straight team title.
Though the meet has no bearing on next week's regional meet entries, annual races at Gaithersburg's Bohrer Park course have served as a traditional gut check for runners and teams with big postseason ambitions.
"I expected a lot of guys to be in there for the first mile, but I didn't expect the pack to stay together that long," Nakasaka said. "I wasn't sure if we were slow coming through the first mile."
No, it's just an incredibly deep field that performed well, despite racing in the mid 70s without much shade in the course's two loops.
On top of Lockett, who capitalized on his 2016 finishing stretch falter, Nakasaka was concerned about the Richard Montgomery duo of Mark Unger (third in 15:36) and Garrett Suhr (sixth in 15:43), each of whom led large chunks of the race, and wanted to start his kick before they did. Lockett, however, was waiting for hell to break loose at the end.
"I sat back and waited for someone else to make a move and I was just going hold on until the last 100 meters and kick then," Lockett said.
After a rough September, Lockett started picking things up, winning the Glory Days Invitational and running a PR a week prior at the Third Battle Invitational. His 17:42 finish deep in the results at the Oatlands Invitational was a distant memory, though that same race was what gave Nakasaka to keep pushing the pace with surges throughout. He joins future University of Virginia teammates Chase Weaverling (2012 and 2013) and Rohann Asfaw (2015 and 2016) as a county champion.
Walt Whitman's 125-138 win over T.S. Wootton came despite the loss of senior Josh Engels to a stress fracture.
"We were all out here, racing for Josh," said junior Aaron Bratt, who finished ninth in 15:51. "The MoCoRunning poll had us second or third, so that fired us up. We knew it would close with B-CC and Richard Montgomery in there, but with Josh running I think we would have been favored, so to win without him was special."
Bratt was joined by Benjamin Lesser (22nd, 16:35), Michael Murphy (29th in 16:42) and Dalton Yu (30th in 16:43) and Obi Onwuamegbu (35th in 16:48) in team scoring.
Though still regaining her strength and endurance after a Spring and Summer illness, Green dominated the girls race for the third year and won in 17:57. Paint Branch's Yasmine Kass stuck with her for about a mile, but as soon as Green broke away, the race was over. Kass finished seventh in 19:15.
"(After separating from Kass) I tried to settle into a pace and try to keep my stride consistent," Green said. "The course can be windy on the long straight stretches, so I looking forward to anything different, an uphill or a downhill, to break that up."
Now on her fourth tour of Bohrer Park, cross country fans throughout the county know Green pretty well, and she appreciate the support throughout the course.
"This race has a lot of spirit, and that makes it so much fun every year," she said.
Her teammate Janet Scott worked her way into second place in 18:44, blowing away her pre-race goals of finishing in the top five and breaking 19 minutes.
Working with teammate Jenna Goldberg (sixth in 19:09), they working their way through the first loop of the course.
Just how historic was this race? Check out statistics compiled by Kevin Milsted
"It was really helpful having her with me," Scott said. "I kept focusing on the girls in front of me. Halfway though I felt good and we went for it."
They caught Poolesville junior Nandini Satsangi (third in 18:51), and Scott then latched onto Satsangi for a few minutes until taking  sole possession of second place in the last half mile.
"I've never pulled away like that before," Scott said. "I was stronger than I thought."
Few, however, thought Walter Johnson would be any less dominant than they've been the last four years at this meet. Their 50 points put them well ahead of T.S. Wootton (96 points) with Sophia Scobell (16th in 19:28) and Sadie Keller (25th in 19:58) closing out scoring for the Wildcats.
"I've always loves this course, I've PRed every year," Scott said. " This is the race when my team starts packing up and working together really well. We're ready for the postseason."
Recent Stories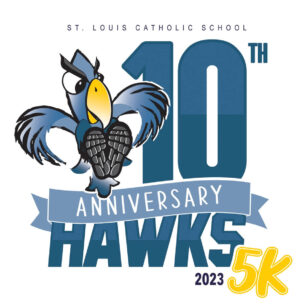 2023 will be the 10 year anniversary of the St. Louis Hawks 5K and Fun Run for Health & Wellness. The USATF certified course runs through the historic Hollin Hills neighborhood in Alexandria, VA.
The Hawks 5K goal, in conjunction