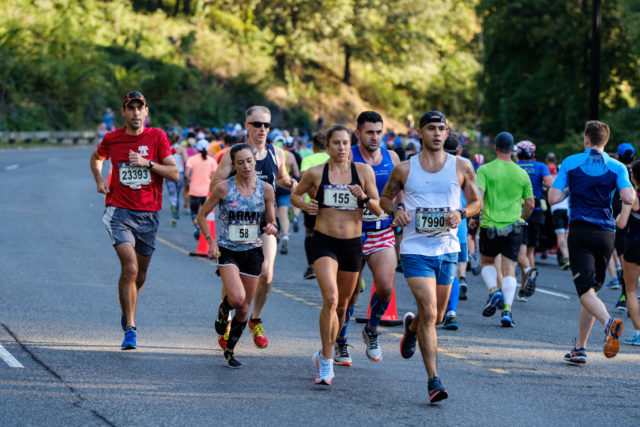 Successful marathon racing means being able to handle and adjust to 26.2 miles of uncertainty. Usually that means digging down when things get tough, like when you go the wrong way in a race, but for Fairfax's Sarah Bishop, the Marine Corps Marathon meant feeling better than expected and going with it.
She took what was primarily a 22-mile training run for her goal race in December and won, set a personal record by more than two minutes and fell just short of the target she's setting for five weeks from now. Her 2:45:06 was just seven seconds short of the qualifying standard.
Bishop, 35, is not too bummed, though. She was happy to even be there.
Nine days before, she was able to convince the Marine Corps Marathon business office to let her register for the race, though she wasn't all in. She planned it as a 22-mile training run for the California International Marathon in December, but gave herself the option of keeping up her effort if she felt good. A lackluster month of training before last year's Marine Corps Marathon left her off the podium in fourth place.
"You can be as in shape as you want to be but sometimes the marathon just doesn't happen the way you want it to on that day, so if it was going to happen, I was going to go for it," she said of the 2017 race.
The California International Marathon will serve as the U.S. Marathon Championships this year.
Bishop caught leader Meghan Curran, 31, on Rock Creek Parkway and pulled away by mile 11.
"I knew by halfway I had the win, but I was wondering if I was close to going under 2:45," she said. "I thought I was off pace at mile 22, but when I got to the bottom of the hill and was 2:44 on the clock, it was a little tough."
It doesn't change the race of her life. She had a good feeling about the race a week earlier when she averaged 6:13 for 13 miles and 6:21 for 18 miles, and figured if she could do 18 miles at close to her marathon goal pace, she might as well do 26. She had set an 8-second PR in the half marathon in San Jose, Calif. a week before that workout.
"My legs felt great, not heavy at all," she said.
Bishop will run the Richmond Half Marathon in three weeks.
"Then I'll go to California and run sub-2:45," she said.
Curran was also hoping for a better result than last year, when digestive pain in the last miles forced her to slow down to second place and miss her chance to add to her 2014 victory.
She led until mile nine, when Bishop caught up to her for a few miles.
"I'm not going to race at mile 10," she said. "I tried to back off a little earlier, but it's hard in this environment."
Curran is an Army reservist in Colorado, and once she relinquished the lead, she still had a strong focus for the rest of the race.
"I was making sure I was able to hold off any other armed forces runners,"she said. "We looked like we were in good shape."
After running Boston in the Spring, she hopes to come back and take another swing at Marine Corps in 2018.
Suzanne Hutchins, 37, of Gastonia, N.C. didn't make the race last year, after she fell and broke her arm. But she was able to defer her entry and her persistence paid off with a third place finish in 2:53:36. She passed two women in the last six miles to move out of fifth place.
"I kept myself pretty consistent, even when it warmed up," she said. "Training in Charlotte has been brutal, so by comparison it was pretty nice, so I can't complain.
Her boyfriend and her brother are both Marines, which drew a lot of her focus on this race over the last two years.
In the 10k, Alexandria's Bethany Sachtleben set a course record, winning in 34:07 with a nearly-four-minute lead.
Recent Stories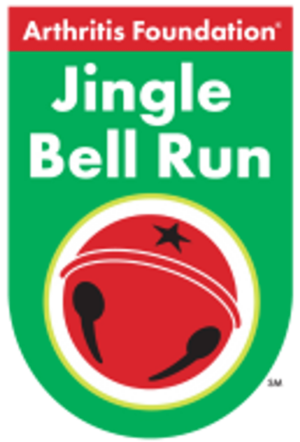 Be part of the original festive race for charity and signature Arthritis Foundation holiday event! Wear your favorite holiday attire and together, we'll jingle all the way to a cure! Register as an individual or bring a team of friends,