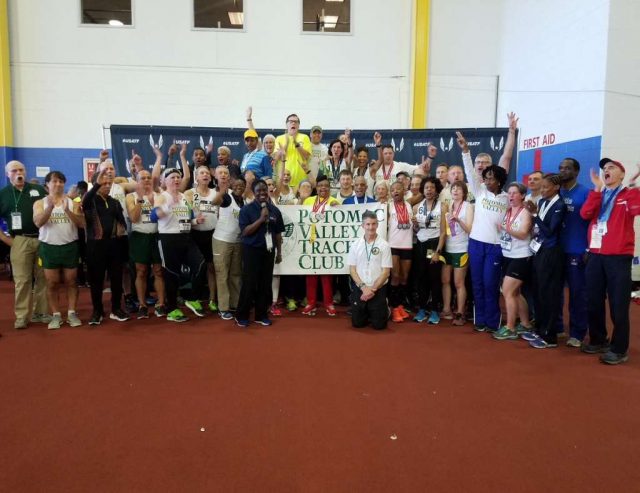 USATF Masters Indoor Championships
March 16-17, 2018
Wayne Curry Sports and Learning Center
Landover, Md.
The Potomac Valley Track Club made the most of its home-track advantage and won its third indoor national championship in six years.  The club won the 2013 and 2015 championships, the 2013 meet also contested at the Wayne Curry Sports and Learning Center in Prince George's County.
By scoring athletes in dozens of events, many competing in multiple events, Potomac Valley scored 990 points to easily outdistance the TNT International Racing Club's 669. TNT is based in Pennsylvania and won the 2012 indoor championship, along with the 2011 and 2016 outdoor USATF Masters' titles.
Also, competing for Riadha, Alisa Harvey won the 50-54 400 meters (1:02:35) and 800 meters (2:21.73).
The top six finishers in each event scored points. Here are the Potomac Valley Track Club's point scorers:
60 meters
60-64 6. Katherine Good 10.26
70-74 5. Suzan French 18.45
75-79 2. Rose Green 10.78
80-84 4. Violet Miles 19.76
55-59 1. Lonnie Hooker 7.50
55-59 2. Don McGee 7.65
70-74 3. Ty Brown 8.34
75-79 1. Albert Williams 8.95
80-84 4. Larry Colbert 10.03
85-89 2. Wilton Gordon 12.77
90-94 3. Dixon Hemphill 19.01
100+ 1. Orville Rogers 19.13
200 meters
60-64 4. Katherine Good 37.13
65-69 2. Hannah Phillips 35.07
75-79 2. Rose Green 37.92
55-59 1. Don McGee 25.19
65-69 1. Oscar Peyton 27.57
75-79  1. Albert Williams 30.54
80-84 2. Larry Colbert 34.35
90-94 3. Dixon Hemphill 1:24.93
100+ 1. Orville Rogers  1:40.94
400 Meters
60-64 6. Elizabeth Row 1:40.83
75-79 1. Rose Green 1:39.49
35-39 5. Brooks Stevens 1:04.81
60-64 3. Gary Vanderhoof 1:03.25
75-79 2. Albert Williams 1:12.23
80-84 1. Jack McMahon 1:58.31
80-84 2. George Yannakakis, George 2:01.96
90-94 1. Dixon Hemphill 3:23.69
95-99 1. Roy Englert 2:36.29
800 Meters
55-59 6. Jody Fagnano 3:22.49
60-64 6. Elizabeth Row 3:52.46
65-69 2. Hannah Phillips 3:29.06
80-85 Tami Graf 5:17.25
30-34 4. Darnell Almanzar 2:16.24
35-39 6. James Leake 2:21.72
40-44 3. Samuel Lomax 2:10.63
70-74 3. John Brittain 2:45.98
85-89 1. Jack McMahon 4:51.42
90-94 1. Dixon Hemphill 7:47.62
95-99 1. Roy Englert 6:03.84
100+ 1. Orville Rogers 9:56.44
1500 Meters
45-49 6. Yuko Whitestone 5:46.67
50-54 4. Maraline Ceron-Rutter 5:51.46
55-59 6. Jody Fagnano 7:02.66
65-69 2. Betty Blank, Betty 7:33.38
80-84 2. Tami Graf 10:30.48
35-39 4. Mark Walchinsky 4:27.28
55-59 3. Mark Neff 4:56.13
60-64 3. Henry Wigglesworth 5:05.97
65-69 2. Alan Pemberton 5:27.71
65-69 4. Paul Ryan 5:40.35
65-69 6. Larry Washington 5:57.99
80-84 1. Oliver Grant 7:54.07
85-89 1. Jack McMahon 8:48.55
85-89 2. George Yannakakis 8:49.29
95-99 1. Roy Englert 12:07.63
100+ 1. Orville Rogers 20:00.91
3000 meters
45-49 5. Yuko Whitestone, Yuko 12:21.44 2
55-59 6. Joanne Shabelski 14:50.01 1
60-64 5. Liza Recto 15:20.59 2
65-69 1. Betty Blank 15:10.31
80-84 1. Tami Graf 22:19.55
55-59 4. Mark Neff 10:11.94
60-64 2. Henry Wigglesworth 10:37.63
60-64 3. Maurice Pointer 11:10.73
60-64 4. Jerry Franklin 11:18.86
65-69. 3. Alan Pemberton 11:56.35
65-69 4. Paul Ryan 12:08.35
65-69 6. Larry Washington 13:21.09
85-89 1. Jack McMahon 20:17.30
95-99 1. Roy Englert 26:01.24
60 Meter hurdles
40-44 6. Penelope Ingles 13.97
40-44. 4. Blair Todd 9.77
70-74 1. Ty Brown 9.74
75-79 3. Thomas Gomillion 14.99
80-84 2. Robert Paulen 13.41
4×200 meter relay
40-44 2. Yuko Whitestone, Jennifer Stephens, LaShanya Washington, Penelope Ingles 3:03.74
50-54 3. Koura Gibson, Laura Amin, Wanda Evans, Greta Budweg 2:39.85
59-59 1. Marguerite Morman-Matthews, Wanda Robinson, Mary Wilkins, Karen Frazier 2:23:09
60-64 1. Katherine Good, Hannah Phillips,Betty Blank, Elizabeth Row 3:01:01
70-74 2. Laure Ingles, Suzan French,  Wahidah Abdullah, Rose Green, Rose 5:53.40
30-34 3. Jose Idler,  Nuku Ofori, Daniel  Stewart, Darnell Almanzar 2:05:57
35-35 3. James Leake, James Samiec, Duane Williamson, Blair Todd Sr, Blair 1:58:02
40-45 2. Samuel Lomax, Glenn Staples, Jermaine Muir, Raymond Hall 1:48.09
50-54 2. George Onyenyeonwu,  Jeff Shad, John Finney, James Barr 1:51.91
60-64 4. Bernard Grimm, Gary Vanderhoof, Henry Wigglesworth, Bruce McBarnette 2:13.32
65-69 3. Paul Ryan, Alan Pemberton, Larry Washington, Dan Williams 2:41.88
4×400 meter relay
50-59 4. Jody Fagnano, Joanne Shabelski, Karen Frazier, Marguerite Morman-Matthews 6:04.10
60-69 1. Hannah Phillips, Betty Blank, Mary Lowe Mayhugh, Elizabeth Row 6:32.73
40-49 4. Michael Hannan, Samuel Lomax, David LaMay, Johnny Fox 4:41.57
60-69 5. Scott Campbell, Dan Williams, William Ference, Schuyler Webb  5:07.17
4×800 meter relay
50-59 2. Katherine Good, Jody Fagnano, Joanne Shabelski, Marilene Ceron-Rutter 14:05.59
60-69 1. Hannah Phillips, Betty Blank, Liza Recto, Mary Lowe Mayhugh 15:17.82
30-39  3. James Leake, Darnell Almanzar, David LaMay, Michael Hannan 11:03.39
40-49 3.  Samuel Lomax, Jose Idler, James Cooper, Craig Chasse 9:59.38
50-59 3. Mark Neff, Harris Hardy, David Sullivan, Stephen Crelli, 10:36.48
50-59 5. Duane Williamson, Robert Martin, Roland Molteni, Christopher Johnston 11:04.87
60-69 1. Alan Pemberton, Bob Draim, Paul Ryan, Henry Wigglesworth 11:15.96
70-79 4.Daniel Masterson, Cortez Austin, Sheldon Contract, John Gersh 18:26.64
80-89 1. Jack McMahon, George Yannakakis, Darrell Dempster, Dixon Hemphill 26:59.05
High jump
30-35 1. Ellen Sutey 1.39m
40-45 4. Penelope Ingles 1.05m
45-49  2. Jennifer Stephens 1.20m
45-49 4. Wanda Evans, Wanda  1.10m
80-85 3. Tami Graf  0.85m
30-35  1. William Klitz 1.63m
45-49 2. Lee Faulkner 1.51m
50-59 6. James Barr 1.50m
55-59 3. Theodore Robinson 1.56m
60-64 1. Bruce McBarnette 1.76m
75-79 3. Bernhard Stamm 1.24m
80-84 3. Robert Paulen, Robert 1.09m
Pole Vault
40-44 1, Penelope Ingles  1.55m
35-39 1.Charles Curia 3.55m
45-49 3. Lee Faulkner 3.40m
Long Jump
50-54 4. Tracey Battle 4.38m
55-59 3. Wanda Robinson 3.49m
65-69. 2. Hannah Phillips 3.02m
80-85 3. Tami Graf 1.71m
45-49  3. Lee Faulkner 4.83m
50-54 5. James Samiec 4.14m
50-54 6. Jamie Lubliner 3.75m
55-59 2. Greg Petrosian 5.35 m
70-74 2. Ty Brown 4.12m
75-79 4. James Kenney 3.26m
80-84 3. Robert Paulen 2.77m
Triple Jump
40-45  5. Penelope Ingles 6.03m
50-54 5. Koura Gibson 8.50m
45-49 2.Lee Faulkner 9.89m
55-59 6. Marcus Battle 9.37m
80-84 4. Robert Paulen 5.93m
85-89 2. Darrell Dempster 2.56m
Shot Put
40-44 3. Lashanya Washington 9.08m
45-49 4. Jennifer Stephens 8.63m
55-59  3. Mary Wilkins 9.90m
60-64  5. Donna Barrett 7.75m
60-64 6. Katherine Good 6.98m
65-69 6. Hannah Phillips, Hannah 6.11m
70-74 4. Wahidah Abdullah 4.78m
70-74 5. Suzan French 4.21m
80-84 4. Violet Mies, Violet 5.30m
80-84 5. Tami Graf 4.54m
40-45 2. Martin Rieger 12.15m
40-45 3. Ibrahim Babiker 11.55m
60-64 6. John Urdahl 11.30m
70-74 4. Ty Brown 11.51m
75-79 3. Henry Abbot 9.54m
75-79 4. James Kenney 9.48m
75-79 6. Bernhard Stamm 9.14m
80-85 3. Darrell Dempster 5.47m
Weight Throw
40-44 4. Penelope Ingles 8.99m
45-49. 2. Jennifer Stephens 9.95m
55-59 2. Mary Wilkins 11.01m
60-64 5. Donna Barrett 10.10m
60-64 6. Katherine Good 8.81m
70-74 2. Wahidah Abdullah 6.99m
80-84 3. Tami Graft 6.23m
45-49 4. Lee Faulkner 7.03m
50-54 6. James Keys 13.89m
55-59 6. Shawn Robinson 15.37m
70-74 1. Ken Moss 19.13m
70-74 4. James Pearce 10.94m
70-74 5. Jerome Bookin-Weiner 9.37m
85-89 2. Darrell Dempster 7.13m
Super Weight
40-44 3. Penelope Ingles 5.59m
45-49. 3. Jennifer Stephens 4.67m
55-59 2. Mary Wilkins 8.06m
60-64 4. Donna Barrett 7.67m
70-74 3. Wahidah Abdullah 4.98m
50-54 4. James Barr, James  7.13m
50-54 5. Anthony Dziepak 7.10m
55-59 5. Bentz Tozer 7.28m
55-59 6. Shawn Robinson 7.25m
70-74 1. Ken Moss 10.14m
70-74 4. James Pearce 6.20m
70-74 5. Jerome Bookin-Weiner 4.51m
85-59 2. Darrell Dempster 4.75m
Pentathalon
40-44 2. Blair Todd 2231
45-49 1. Lee Faulkner 2985
50-54 2. James Barr 2964
55-59 6. Dan Royer 2442
70-79 1. Ty Brown 3533
1500 meter racewalk
60-64 2. Katherine Good  10:58.99
60-64 3. Liz Recto 11:08.98
75-79 1. Lois Dicker 11:05.77
45-49 1. Craig Chasse 8:36.71
55-59 4. Terence McLaughlin 13:33.80
60-64 4. Arthur Klein, Arthur 9:21.70
60-64 5. Albert Arcand 10:21.86
65-69 3. John Morrison 9:17.72
65-69 4. James Wass 9:31.58
65-69 5. Thomas Augustine 10:48.53
70-74 5. John Gersch 11:35.96
75-79 2. Sheldon Contract 11:40.04
80-84 3. Terry Copeland 13:42.80
85-89 2. Andrew Briggs 13:51.54
3000 meter racewalk
60-65 1.Katherine Good 23:01.27
60-65 2. Liz Recto 23:45.28
75-79 1. Lois Dicker 22:54.01
45-49 2. Craig Chasse 18:23.22
55-59. 4. Palomino Hernandez 18:08.95
60-64 4. Arthur Klein 19:29.09
60-64 5. Albert Arcand 21:28.12
65-69 2. James Wass 19:39.68
65-69 4. John Morrison 19:42.15
75-79 2. Sheldon Contract 23:42.15