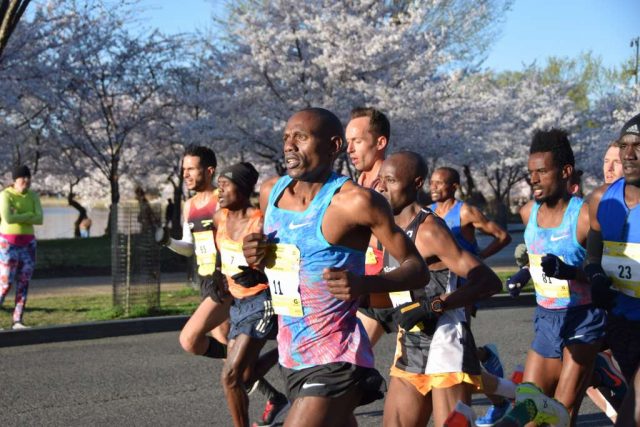 Ethiopian Jamel Yimer (21) blew apart a large pack of runners in the seventh mile and hung on to beat Ethiopian-born Ayalew Yimer (25) by five seconds, an eternity for a race that usually sees closer margins at the finish line. His 4617 is the fastest winning time since Stephen Sambu's 45:29, save for 2015 when the race was only 9.39 miles.Meanwhile Ethiopian Buze Diriba won the women's race after two straight runner-up finishes here.
Cherry Blossom Ten Mile
April 8, 2018
Washington, D.C.
10 miles
"I knew I was going to win at 12k," Jamel Yimer said. "I didn't run the time I wanted to, but I am happy with the win. My training was going very well, so I was confident I could beat anyone in the field."
Yimer ran his first half marathon in 59:00, earlier this year in the United Arab Emirates.
Portland's Chris Derrick was the first American, running 46:53 for fifth overall.
"I wanted to sit back in the pack, because it was pretty big and we had some guys with firepower in there," he said. "I didn't quite have my top fitness with me, but I was happy with how I was able to battle a little bit."
D.C.'s Clint McKelvey was the top local men's finisher in 50:14, edging Jeff Stein by five seconds. Paul Thistle (50:32) edged Matthew Centrowitz, the 2016 Olympic Gold Medalist in the 1500 meters who ran 50:38 for 30th place. Greg Mariano rounded out local finishers in 38th place in 52:22.
Diriba's 3-second victory over Gebrekidan in 53:45 was much tighter than recent women's races, excluding 2015. Last year, Gebrekidan (22) won with a 15-second lead over Diriba (24).
Diribia won the New York City Half Marathon last month and ran 1:06:50 at the Houston Half Marathon in January.
This year's Cherry Blossom course was altered slightly due to the impending construction on the Arlington Memorial Bridge, which makes up most of the second mile. Runners traveled farther north on Rock Creek Parkway before turning south to run farther south on Ohio Drive before turning back.
The overall race was fast, thanks to light winds and temperatures in the low 30s at the gun, after several days of muted concern over the possibility of snow. Seventy-five runners ran under 55 minutes, compared to 52 runners last year, with 29 men breaking 50 minutes, compared to last year's 22 sub-50 runners. This year's race served as the Road Runners Club of America (RRCA) National Championship. The RRCA, which is based in Arlington, held its annual convention the few days prior in Crystal City.
The Professional Road Racing Organization also used Cherry Blossom as its championship. The circuit includes Tampa's Gasparilla Half Marathon, Spokane's Bloomsday Run 15k, Utica's Boilermaker 15k and the Pittsburgh 10 Miler.
Alexandria's Bethany Sachtleben was the first local Cherry Blossom finisher, running 54:49 for eight place overall and third American woman. Diane Nukuri was the first American, in 53:56.
"It started so slow, but it was nice because it let me just ease into it," she said. "Emma (Bates) and I were in the lead for three miles and then all of a sudden, everyone went past us. I was a little confused as to what to do, but it didn't end up being that bad."
Sachtleben, a George Mason alumna, will race the Monument Avenue 10k next weekend in Richmond before tackling the distance at the Penn Relays, in advance of the U.S. championships this summer. Other top local women included Perry Shoemaker in 22nd (58:56), Susanna Sullivan in 23rd (59:09), Taylor Tubbs in 26th in 59:37 and Sarah Bishop in 27th, (59:39). Joan Benoit Samuelson, gold medalist in the 1984 Olympic Marathon, ran 1:07:56, a few months after having one of her knees scoped.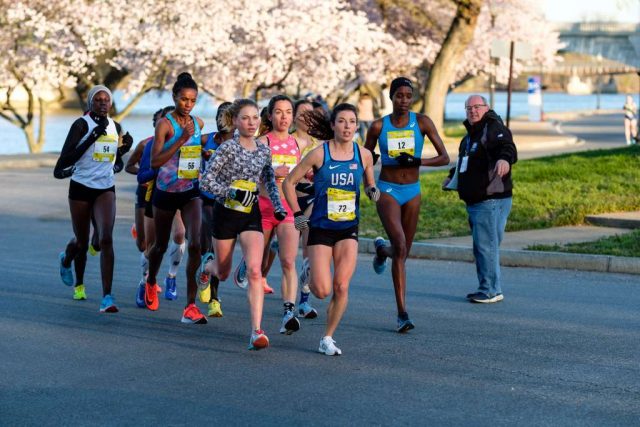 Recent Stories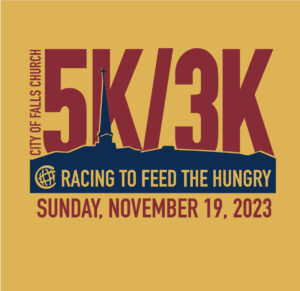 The out and back Falls Church City 5K/3K course is mostly flat on the W&OD Trail starting and finishing at 103 Columbia Street. Overall male and female winners earn free shoes and medals are awarded to all categories. Great family