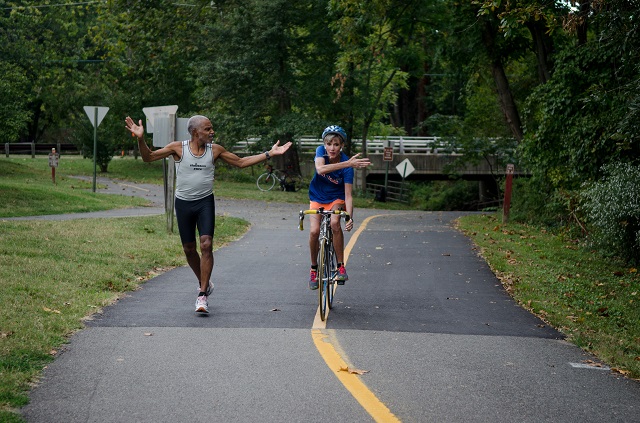 It's not me. It's you.
Let's hang some laundry before we pack it away until next spring: Runners think cyclists are aggressive, dangerous road hogs, and cyclists think runners are inattentive, unpredictable road blocks.
Trotting out the old tropes is easy. Fortunately, runners and cyclists have never been afraid of some hard work. Sharing the same space means that the intersection of rights for runners and cyclists has the potential to stoke passionate arguments on each side. Yet neither the rhetoric nor the reality always match the stereotypes.
Among a dozen cyclists and runners, the two most common words used to describe the relationship between the athletic communities were "annoying" and "respect."
The friction
Rick Amernick, founder and president of the D.C. Capital Striders, says conflicts between cyclists and bikers come down to familiarity with the other sport.
"People who participate in both have very valid reasons to feel the way do," he says. "It's a matter of exposure. Runners probably say, 'Aw biking's so easy. Come out here, and run 20 miles with me.' Bikers who are biking half and full centuries will say, 'Ah, those runners who do those 5ks, that's nothing.'"
A triathlete himself, Amernick says he doesn't correct people who express those sentiments. But he will respond. "I oftentimes say, 'Well, I'm not that way.'"
More and more, cyclists and runners aren't that way either.
"Overall, I think it's a fairly positive relationship," says Elyse Braner. She's led running groups for the past seven years.
"A few years ago I felt there were a lot more complaints," Braner says. "So many more people are participating in both sports. It's not as much of a conversation now. It's rare to find someone who's just a runner or just a biker. There's more understanding."
Chris Walsh heads out for a 30-mile ride once a week, but he's also been running consistently for five years.
"When I'm running, the last thing I want to do is slow down," he says. "When I'm cycling, the last thing I want to do is clip out or slow down. Anybody who might cause you to do that is going to be an annoyance."
Models of inconvenience include the runner who is plugged into music or the cyclist who barrels by with zero notification and little room to spare. Irritating, too, are out-of-place individuals who roll through crowds on sidewalks or runners who take to the bike lane with no regard for its dedicated users.
Yet these examples of bad behavior represent a thin slice of a hearty pie that is this region's athletic-minded population.
Walsh represents a growing number of people who regularly run and ride. Whether it's a harrier who grabs the handlebars for a triathlon or a cyclist who ditches the derailleur for a road race, each group receives benefits beyond the physical realm.
The safety issue
"I think I've gained better perspective," says Sarah Sladen, a collegiate runner who now splits her time evenly between wheels and feet.
"As a runner it can be nerve-wracking when cyclists come up without warning," she says. Now, as an active cyclist, she says she's more aware of how important audible indicators are for runners. "It's a question of trail awareness and courtesy."
Problems flare, she says, with "the runner who's all over and unaware and the cyclist who's trying to bomb the Capital Crescent at 25 mph."
Boris Espinoza used to cover ground on the Capital Crescent Trail four or five times a week. A biker collided with him about three years ago as a result of miscommunication. The rider said, "On your right."
"You're not expecting to hear that," Espinoza says. "I moved to the right. It's something you do automatically when you hear a biker say 'On your left.'"
Safe riding means that alerting runners has to accompany the equally important component of speed.
Several near misses forced Tom Lahovski to abandon the Mount Vernon Trail.
"Bikes would go whizzing by," he says. "They would say 'On your left.' By the time you hear and react, they're by you. You wouldn't get within a foot or two in your car. Why would you do that on your bicycle?"
Lahovski says he appreciates the need to go fast, whether for the thrill or just for a good workout, but that the desire to break away shouldn't preclude smart riding.
"Time is a premium for all of us," he says. "It feels good to be in shape, to be healthy, but you've got to use a little care, concern and judgement, where you're not making other people feel in danger."
The trails
Mount Vernon, Capital Crescent, Custis, WO&D. Trails provide vital paths for recreation and commuting, but cyclists and runners I interviewed don't view the routes with positive marks.
"They're all difficult," Chuck Harney, who owns the Bike Rack in Logan Circle, says of area trails. "As a cyclist," he says, "I don't like to ride the trails."
Cyclist Jaime Watts says her problems more often arise with other riders. he has had to deal with a potential head-on crash because the other person wanted to pass a runner.
"The trails are just clogged," she says. "You can't go out there and just hammer on the trail. Mount Vernon is terrible. I try to avoid it at all costs."
Trails have become math equations, case studies in density and volume. Runners and cyclists join joggers with baby strollers, tourists with a day to browse, tykes on trikes, dog walkers, rollerbladers and skateboarders.
Perceptions from local runners and cyclists match the traffic numbers.
Just prior to its three-year anniversary in September, Capital Bikeshare recorded its five millionth ride.
Arlington County has placed real-time sensors that count bicycles and pedestrians on multi-use trails such as Mount Vernon, though the trail itself is under National Park Service jurisdiction. One sensor on that trail is located near Reagan National Airport. David Patton, a bicycle and pedestrian planner for the county, says that node consistently records the highest numbers of any spot in the county.
He says weather plays a significant role in overall trail usage. For example, the first six months of 2013 show a 10 percent decrease in compared to that same period a year ago, attributable to a wet early summer. Still, Patton says he sees "genuine increases" year over year.
The solutions
Runner Kelsey Woodard commutes to work in D.C. She says bikes tend to stay in the road or in bike lanes, and runners stick to the sidewalks. The stark separation means fewer opportunities for conflict.
Similar to other athletes, she's less than enthusiastic about the trails but says there are improvements.
"I was impressed by the number of people who alerted me they were near me," she says after a sunny September outing on the Mount Vernon Trail.
Woodard grew up with active parents, so she learned the etiquette for running and cycling early.
That type of basic education will continue to remain important. Even though many cyclists and runners say the groups hold a mutual respect for one another, mixing other trail users could mean difficulties for everyone involved.
The region's leaders could invest in the venerated split trails, with one lane solely for fast cyclists and another reserved for comparatively slower runners. Typical municipal budgets mean this isn't likely to happen.
Education, on the other hand, might provide an effective modification for less money.
Limits on area trails cap cyclist speeds at 15 mph. The legal element exists, though as with any society, laws are enforced by a common agreement to obey them, not by a constant police presence.
BikeArlington and WalkArlington suggest several tips for overall safety. Cyclists need to slow down and give runners at least an arm's length when passing. Riders should also provide a common verbal courtesy or ring a bell several seconds in advance.
As a standard, pedestrians always have the right of way. However, runners should stay to the right on trails and step off the path to stop for any reason.
More visible rules posted at more frequent intervals could also improve the situation for everyone, says Harney, the bike shop owner.
"Paint it on the road," he says. "Put signs up. That's one way to educate people where you don't have to get a mass group of people together to go talk to them."
Sladen, the former collegiate runner who frequently bikes, summarizes the argument for mitigating tensions: "I've had runners say thank you when you warn them. I appreciate it if a cyclist yells, 'On your left.' That's all that's necessary.
"Both cyclists and runners are just looking for space to do the sport they love."
Recent Stories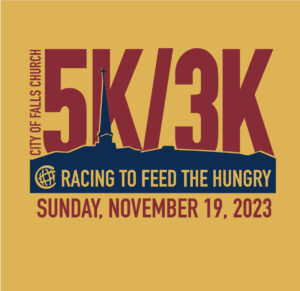 The out and back Falls Church City 5K/3K course is mostly flat on the W&OD Trail starting and finishing at 103 Columbia Street. Overall male and female winners earn free shoes and medals are awarded to all categories. Great family