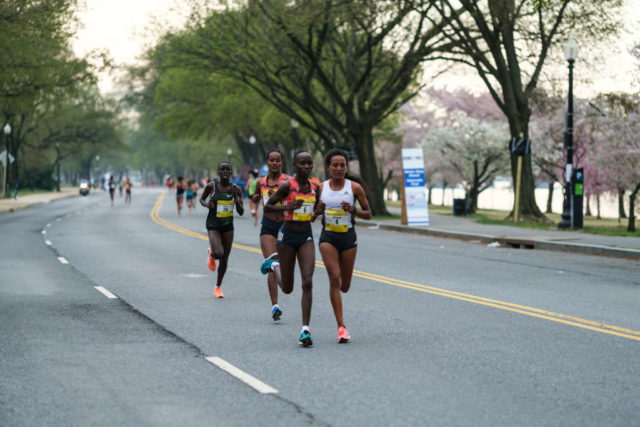 A misplaced set of cones marking a turnaround in the fourth mile cut the Credit Union Cherry Blossom Ten Mile short by 240 feet. That invalidates both Stanley Kebenei's 46:00 finish that would have been an American record for 10 miles and Rosemary Wanjiru's 50:54 course record, which was also the fastest time in a women's only race run in the United States.
A series of construction projects have altered the course over the last three years, first the loss of the Arlington Memorial Bridge and then the loss of a lane on each side of Rock Creek Parkway this year, forcing runners to take new routes to each 10 miles – this year, a return trip south on Potomac River Freeway. Race Director Phil Stewart said the approval for the 2019 course came only in the last two weeks.
"The course we had certified would have been an accurate 10 miles, but the course wasn't laid out as certified," Stewart said. "It was one of those things, like many things in life, where there were several miscommunications. Ultimately, as race director, it's my responsibility."
Simply put, nobody checked to make sure the course was laid out as certified.
The miscommunications centered on the course setup crew's placement of the turnaround on what Stewart called a "working mark" that was 120 feet north of the actual turning point on Ohio Drive SW in West Potomac Park.
"All of the people who were involved are people with years of experience and they all feel distraught about it," Stewart said. "It wasn't like we had first-time high school students laying out the course."
Kebenei, who said after the race that he backed away from the race for the overall win to ensure he'd be able to surpass Greg Meyer's 46:13 American record from 1983, tweeted Friday "The battle is not over! I will come back again for it."
His 46:00 for 9.96 miles averages to 4:36 per mile, which, when extrapolated over the remaining 240 feet, would have put Kebeini right at 46:13. Wanjiru's 50:42 extrapolates to 50:54 well ahead of Tebya Erkesso's 51:44 10 mile record in a women-only race in the United States. Cherry Blossom will still pay Kebanei $10,000 for a record bonus and $1,000 and $750 respectively to Wanjiru and Gotytom Gebreslase for being the first two finishers under  52:00 and Jemal Yimer and Josphat Tanui likewise for breaking 46:00.
Emma Bates (52:18) narrowly missing seeming to break Janet Bawcom's 52:12 American record on Sunday.
Stewart had heard questions about the length of the course after runners reported getting GPS readings closer the 10.00 miles than usual, given the difficultly of running perfect tangents.
"It's very unusual to have GPS data that's right on the race distance," he said.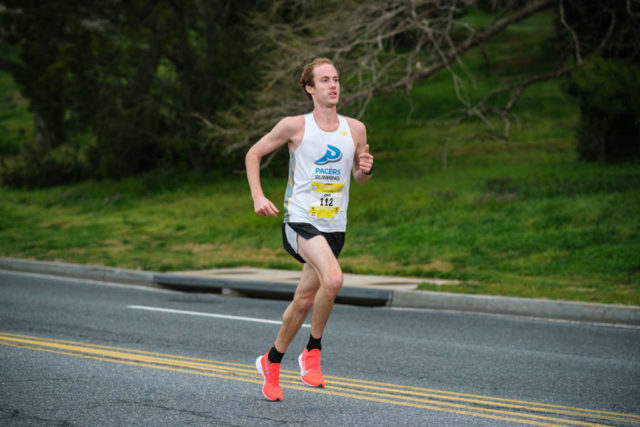 Still, runners like Arlington's Clint McKelvey noted that manual splits were fast for mile four. McKelvey's split of 4:39 (his 49:45 finish would have put him at 4:58 pace for 10 full miles) showed his third manual split being  0.94 miles.
Stewart had decided to move intermediate timing mats to 5k, 10k and 15k to give runners more useful data, and found consistently faster middle-5k splits for the top 10 runners in men's and women's races, with a few outliers, like Yimer, who ran a faster third 5k than second  (13:39 versus 13:45). On Wednesday afternoon, Stewart biked to West Potomac Park from Bethesda and saw the two marks and knew where the race crew had gone wrong.
"I saw the temporary mark and my heart sank," he said. "This particular area will will get a hell of a lot more scrutiny next year. I'm going to go down there myself and make sure everything is where it is supposed to be."
Stewart had issued apologies earlier in the week for delays with race-day baggage claim and a shortage of medals immediately following the race.