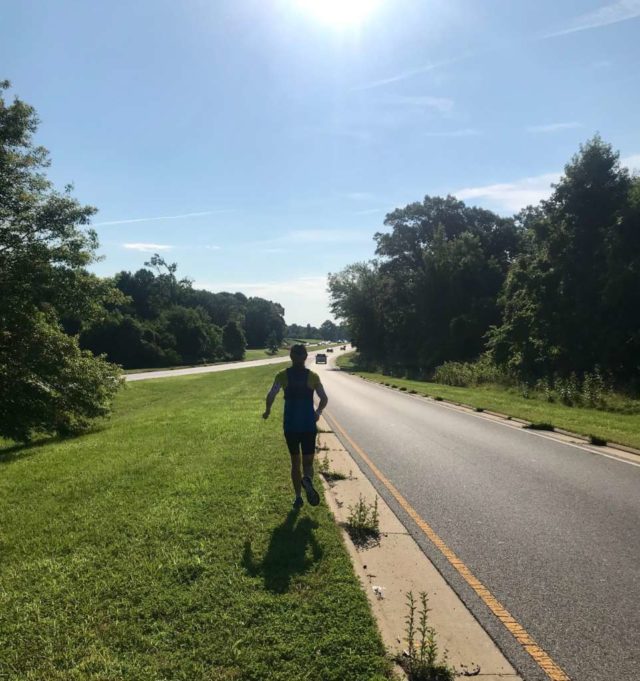 Try as he might, Mike Wardian wouldn't get to run on the Capital Beltway.
"There's no way in Hell anyone was going to be able to do that," said friend Phil Hargis.
So, like a lot of drivers, he took a detour. 
Almost 18 hours later, Arlington's Wardian circumnavigated the D.C. area's iconic roadway on foot, covering just short of 90 miles on a sweltering day. The Fastest Known Time organization ratified his June 29 run, which started in McLean, Va. and ended across the Potomac River, east of Carderock, Md. His GPS tracker counted 89.99 miles, taking 17 hours, 54 minutes and 58 seconds; he was moving for 15 hours of that time.
"I always wanted to run around the Beltway but didn't know how I could do it," he said June 30. "Maybe they'd shut it down for construction? Or I could get some escort cars. This was the next best thing."
Watch his run in real time
The Beltway's Outer Loop measures 64 miles, and those extra 26 miles, involved a lot of zigging and zagging on local roads as Hargis tried to map a course that stuck as close to the highway as possible. 
Maybe not that close. Sebastian O'Kelly and Brad Kennedy have hiked right along the side of the road, taking them close to the 64-mile tangents, but that wasn't the kind of run Wardian had in mind. He had met journalist Jeff Himmelman while both were guests on the Kojo Nnamdi show in 2017, shortly after Himmelman published a recounting of his own Beltway hike in The Washingtonian. That only further inspired Wardain, who had long sought a route.
"I've wanted to do this for a long time," he said. "Every time I'd get to the part where I'd be looking at the logistics, it would just be too much and before I knew it, almost 20 years had gone by and I hadn't run it."
So he told Hargis on Monday, June 24 he wanted to go at it. His wife and kids would be out of town and nobody would miss him for the day. 
"Sometimes something like this is a combination of having the fitness and having the free time," Wardian said.
Hargis had been noodling on a route, and got to work scouting the course. 
"I was able to drive all of Virginia and about a quarter of Maryland," Hargis said. "I made sure the roads were runnable, most had some kind of shoulder, and it would be easy enough to follow the path."
Google Earth and Street View helped provide some reconnaissance where Hargis couldn't drive on his own. Still, a large part of Maryland would be a frontier on Saturday.
The path only crossed inside the Beltway twice, which was by design.
"We wanted as much of the route to go outside of the beltway as we could," Hargis said. "There could have been some easier ways to go, but the point was to run around the beltway, even if it was longer."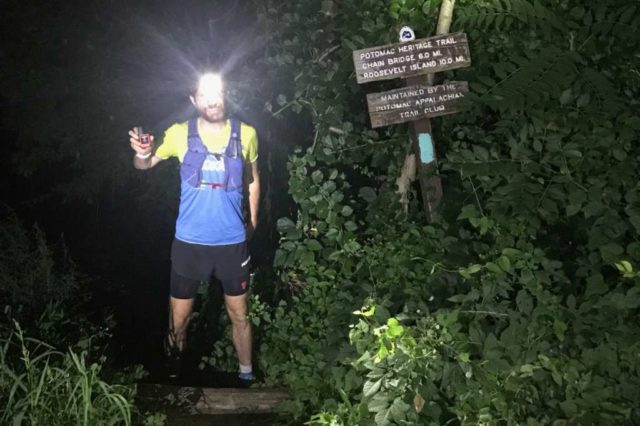 Bridge to bridge
Wardian kicked off at 1:30 a.m. on the Potomac Heritage Trail beneath the American Legion Bridge. He immediately got turned around before emerging onto Live Oak Drive in McLean.
"When I was driving the first section, I figured he'd get moving pretty fast," Hargis said. 
Under the cover of darkness, Wardian traveled through Fairfax and the Cross County Trail to Springfield and Alexandria, reaching the Woodrow Wilson Bridge around 6 a.m.
"We didn't know the Prince George's County roads as well, so we wanted to get him there while there was daylight but not too much traffic," Hargis said. 
His most harrowing stretch, Wardian said, came just before 9 a.m., when he followed Pennsylvania Avenue near Forestville, Md. for roughly a kilometer.
"That was like running along the Baltimore-Washington Parkway," he said.
Right after that, the heat turned up and he slowed down. Almost 11 hours after starting off at 73 degrees, the air warmed up to 95 before noon.
"It felt like most of Maryland was exposed," Wardian said. "I was stuffing ice cubes in my shirt, but they were only lasting a half mile. They still helped, though."
All told, the route required 73 different turns, with a few name changes for some roads. That added a degree of difficulty, as did the open roads.
"I never really had a chance to just cruise," Wardian said. " It's not like  a race where they have the course laid out and marked. I had to stay alert, but cars whizzing by helped."
Hargis and Wardian's father, Dick, drove ahead, keeping the inventory of supplies ready and idling at major turns.
"You know he's fast, but every time we'd get somewhere we thought we could take a break, before you know it, we'd see him coming," Hargis said. 
James Whiteside and Brian Banko joined Wardian in Maryland, helping haul him along when his pace sagged. He started off maintaining splits mostly between 8:00-9:00 for the first 31 miles. By the time he hit 65 miles, one mile longer than the Beltway itself, he was seeing 11s and 12s on his splits. 
"Pacers are always helpful, but Brian's fresh legs really helped later on when things were getting tough," Hargis said.
Conditions improved slightly when Wardian reached the canopy of Rock Creek Park in Bethesda, but the effort was wearing on him. The heat affected his stomach and as the afternoon wore on, retaining even ice water was hard.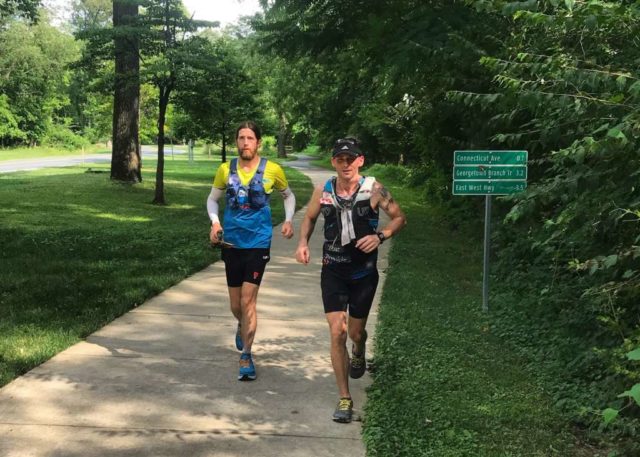 Victory, hold the lap
Hargis' original route led Wardian down the C&O Canal Towpath into D.C. to finish up 100 miles at the Washington Monument. As the day wore on, that became extraneous.
"At 20 miles to go (before the extra stretch), I wasn't really feeling it and at 10 miles to go I was ready for it to be over," Wardian said. "My goal was to run the Beltway."
So he dispensed with the victory lap.
Approaching Carderock on Clara Barton Parkway, Hargis reminded Wardian that the American Legion Bridge was still about a mile east, which raised some brief consternation, but he pressed on, touching the bridge column at 7:24 p.m.
"I almost cried," Wardian said, when he heard he had more to run. "I got more than I bargained for. I haven't hurt like that in a long time.
"I was ready for it to be over at 100k."
That he didn't relent, Hargis said, was an example of what sets his friend apart.
"People who ran an hour or two yesterday had a rough go of it yesterday in that weather," he said. "Even with his rough go of it, he was able to power through. Most people would have delayed for perfect weather, or they'd make excuses. For some of those people, those things never get done."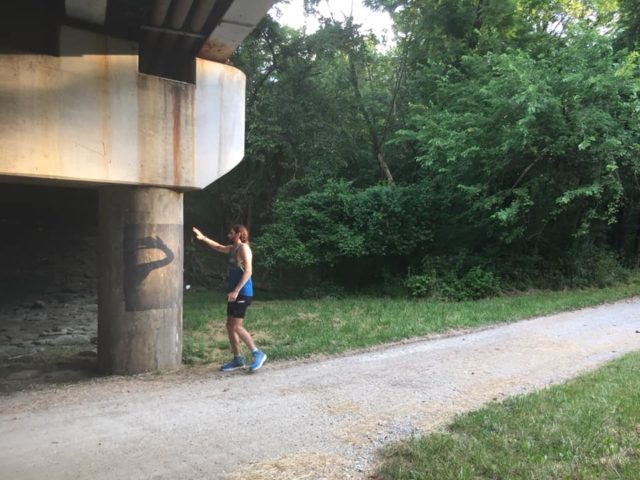 Recent Stories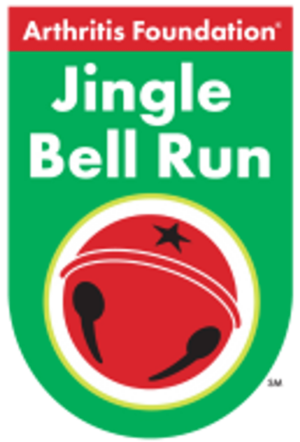 Be part of the original festive race for charity and signature Arthritis Foundation holiday event! Wear your favorite holiday attire and together, we'll jingle all the way to a cure! Register as an individual or bring a team of friends,