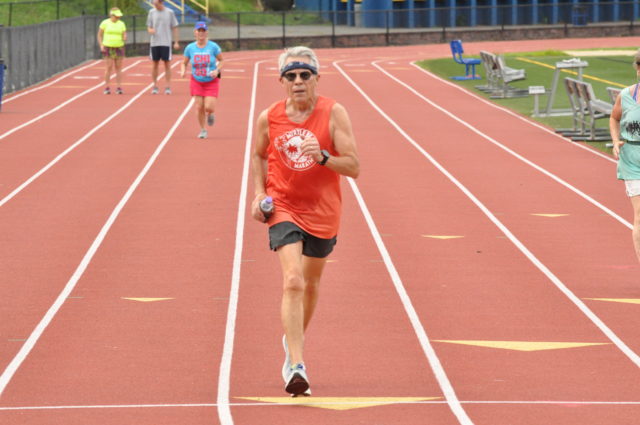 Name: Gregory Boutin
Self-described age group: 65-69
Residence: Burke, Va.
Occupation: Retired
Why you run: Started running for general health reasons.  This quickly morphed into: enjoyment of the quiet time running provides, the ability to push my limits in either a competitive or non-competitive way, and the feeling of accomplishment I get after finishing a hard workout or race.
When did you get started running: I started walking 4 – 4.5 miles a day when I was 50 years old and 35 pounds overweight.  After five or six months I transitioned to walking/jogging, and finally to just running.
Have you taken a break from running:  Yes, for about 4 years in my later-50's.  At that point in my work career I had changed jobs and found that working much longer hours left little time for running.  Trying to make up for that by running on the weekends was not a good idea.
Training shoe: Brooks Ravena.  I've tried other shoes such as from Saucony and New Balance, but keep coming back to the Ravena's.
Coach or training group:  PR Training in Burke, VA.  I think PR has a really nice program in which every workout can accommodate the beginning runner as well as one that is more advanced.  Our coach, Kareen tries very hard to make certain all runners in the program can select a workout that is both challenging and doable based on their individual running level.
The hardest race you've ever run:  It has to be the Boston Marathon.  Boston has kicked my butt three times now and between the challenge of the course itself and the vagaries of Boston weather in mid-April, it is very difficult to train and prepare for the actually day of the event.
Favorite local trail:  I'm partial to the trails around Burke Lake and South Run Park.
My best race was:  Steamtown Marathon.  This course is made for a fast time and has excellent runner support.
Ideal post-run meal:  A nice cold beer!
Pet peeve: People that line up in the 8 minute pace corral and start walking three abreast in the first mile.  Not only is this disruptive, but also dangerous for walkers and runners.
Goals: To keep running as long as possible, pushing myself hard enough to make it challenging and interesting but also being cognizant of the impact of aging.
Your advice for a new runner:  Start slow, even if that means just walking fast.  Get a good foundation of aerobic activity under your belt, and then transition to running.  Find a good running program or group to join.  Make certain you have a good pair of running shoes that support and provide cushioning for your feet.
Song in your head during a run: I'm so glad by Cream.  If my spirit starts to fade during a race or long run, this song gets my head back in the game.
Have you dealt with a major injury:  I'm lucky that I've only had to deal with a bone spur in my heal, combined with a slight case of plantar fasciitis. Coming 16 weeks before my second Boston, I really had to adjust my goals for that race.
Why is the D.C. area a great place to be a runner:  The D.C. area has a great running community and a wonderful diversity of running locations.  From the mall, Potomac Park, and Rock Creek downtown, to school tracks, running trails, and biking/jogging paths in the suburbs there is always a place nearby to run.
Recent Stories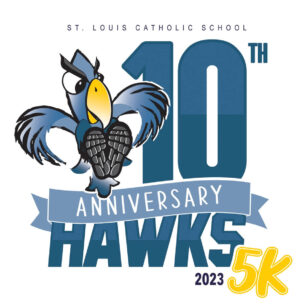 2023 will be the 10 year anniversary of the St. Louis Hawks 5K and Fun Run for Health & Wellness. The USATF certified course runs through the historic Hollin Hills neighborhood in Alexandria, VA.
The Hawks 5K goal, in conjunction