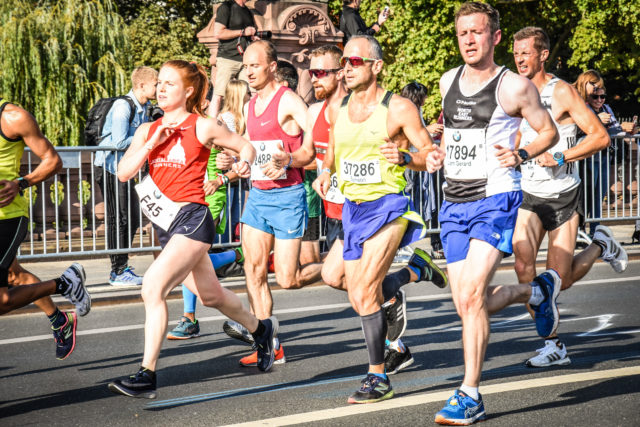 For four years in New York, Jillian Pollack seemed to be throwing her time, energy and sweat into a hole the size of a skyscraper foundation. 
It wasn't wasted – she met her best friends as a runner for Columbia University – but running wasn't the same as when she was a star a Winchester's Millbrook High School.
When she came back five years later to run the New York City Marathon, she got the payoff she had been working toward years before, one that put the Olympic Marathon Trials standard squarely in her view.
"I enjoyed running there and I made my best friends there, but college running didn't go well," she said. "I never made a conference meet, but I loved the sport."
Racing became stressful for her, though the day-in, day-out running appealed to her, with long runs in Rockefeller State Park and routine runs in Central Park.
"It's competitive, everybody was the best in high school," Pollack, 30, said. "I didn't adjust very well. I was frustrated and after a while I had to give up being annoyed every time I didn't perform well."
Having moved to Winchester from New Jersey early in elementary school, Pollack was a gymnastics enthusiast, but found her calling running the mile.
"You got gold stars if you broke 10:00, and I wanted a lot of stars," she said. 
In middle school track, she focused on jumps, but twice a week she would run a mile all out.
"I thought that's how you trained for the mile," she said. "I got faster but probably not the way you're supposed to."
Though gymnastics paved the way to competitive cheering, her high school cross country coach put an end to that, though she still cheered at football games on Friday nights.
"And I was up Saturday mornings for invitationals," she said. "You can get away with that when you're 15-18."
Millbrook did not then have a series of trails linking nearby Civil War battlefields to its campus, so the middle and high school cross country teams were relegated to running around the school, but that repetition did not dull her enthusiasm. 
New York was a natural choice for college. She was a die-hard Mets and Giants fan. Her father, Tom, was born in the Bronx. 
At Columbia, she met the trio of Hope Winkler, Katherine Carrington and Jillian Goodwin, who became her closest friends. Carrington still lives in New York and runs for the Central Park Track Club.
"Coming out of high school, she was already really into training. She was into sports in general," Carrington said. "Even when she wasn't racing the way she wanted, she was always there to cheer for our teammates and support everyone."
The frustration grew to the point where it overshadowed Pollack's good races. At a track meet at Princeton during her junior year, her coach told her she was capable of running 17:30 for 5k. She ran in the mid-18s.
"I ran a 20 second PR and I was bawling," she said. "I should have been super happy. My parents and grandparents came to the meet and I didn't want to see them, I didn't want to go to dinner with them. I just wanted to go back to school."
Two weeks later, she was back at Princeton for another race, but looking at life differently. Over those two weeks, she learned Tom had colorectal cancer. 
"Everything turned around for me," she said. "There were bigger things in life than getting frustrated over 30-40 seconds in a 5k."
Running became a way to relieve her mounting stress. 
"I was talking to my dad one day when I was having a bad time and he told me to look out the window," she said. "He said 'You're in New York City, at a great school, with great friends. Relax.'" 
Dad was right. She didn't run much faster as a senior, but she enjoyed the sport more holistically. Tom died in 2012, a few months after Pollack graduated and moved to Arlington to work for the Investment Company Institute in D.C.
Since then, she has raced with "<3 DAD" written on her left arm.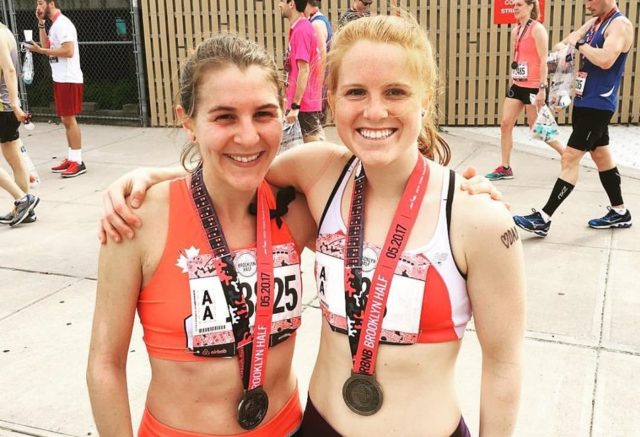 While running a race on the W&OD Trail, Pollack heard someone cheering for her. It was Rich Saunders, whose high school coach had worked with both of them. He introduced her to the Capital Area Runners, who would become her new training group.
"I wasn't running all that seriously at that point, just staying in shape," she said. 
She had a reason soon enough. The Columbia Four would be reuniting for a trip through the Five Boroughs.  At least they planned to. Superstorm Sandy led the race to be cancelled, not that it mattered for Pollack, she was hurt with foot pain and would have had to skip the race anyway.
She would try again the next year at Marine Corps. No dice. Hurt again – this time her knee. She deferred to 2014 and Carrington joined her. Despite bonking at mile 16, she ran 3:09:51, with Carrington following a few seconds later.
The quartet finally had their reunion race at Chicago the next year, when Pollack ran 2:56:29. Then, in 2016, a stress fracture in her femur took Pollack out again. It was then coach George Buckheit introduced her, in earnest, to pool running.
She lived close to the Washington-Lee (now Washington-Liberty) High School pool, so access was convenient, though the conversion wasn't.
"I've been using pool running for all of my doubling, but it's frustrating to think about how you could just get out the door and run five miles, but to do that same work in the pool you have to get to the pool, run for 50 minutes, shower and go home," she said.
Pool running has been a staple in her training ever since – with running maxing out at five times a week. All second runs take place in the pool, and two days a week are entirely in the pool. She's gone as long as three hours at a time, but usually has company. In 2018, she competed only two run in the pool with no company at all.
"I haven't updated my iPod playlist in years," she said. "I've been pretty fortunate, there are always people in the pool with me, usually from CAR. You get to know people pretty well spending all of that time with them."
When she emerged onto dry land in 2016, she set PRs in both the 5k and half marathon.
"I guess pool running works," she said.
In the end, 2016 put her on the path she has been following lately. Four years after foot pain took her out of New York before Sandy could wreck havoc, she and Carrington were back. And Pollack made up for lost time, running 2:50:04.
"She was bouncing around like she hadn't even run a marathon," Carrington said. "I was doing the crab walk, trying to go to lunch after."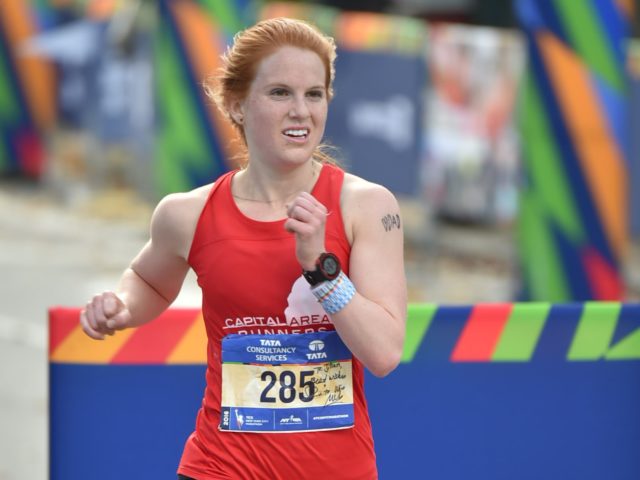 That performance changed Pollack's focus.
"Before New York, I just wanted to do well," she said. "(Afterward) I had a goal."
A friend who didn't run once asked her 'what's next' after she qualified for the Boston Marathon.
"I told her there's this thing- the Olympic Trials- but there's no way I'd be able to do that," she said. "That changed."
She and Carrington went off to Berlin, Pollack's first international trip, and she came home with another PR – 2:46:03, though 2:46:28 on the clock.
"I didn't think I was going to be able to cut five minutes off in less than a year, so I went in without any pressure," she said.
Then she started to think about her injury history, and wondered if she'd be able to make it another year while staying in good shape. She decided to capitalize on her fitness at the Houston Marathon in January. While she was in good shape, her digestive system begged to differ. Within a few miles she knew she wouldn't be staying on pace, and spend the rest of the marathon running with other CAR teammates she saw along the way.
"I knew after that I needed to take an actual break and start up again," she said.
She got back into Berlin, and into a sub-elite section, which would make all the difference. If she was going to chance the standard at a big race, she had to be close to the line, because clip times don't work for qualification purposes.
She did most of her training with Sarah Loerch, who was also aiming for Berlin. Though she pulled her hamstring during the summer, she realized she was able to run 6:17 pace, what she'd need to run 2:45, without discomfort, so she just focused on marathon pace workouts.
The race itself went smoothly, taking her through the half at 1:22, with a slight lull in the pace in the second half.
"In the last mile, they had this pedestrian crossing, and I had to dodge this gate," she said. "That woke me up a little."
From then until the end, she faced a series of winding roads that could bedevil a runner tired from 25 miles of racing. A few times, she had to watch her feet, when all she wanted to see was the Brandenburg Gate.
"At 42k, I had a minute to go," she said. "I kept kept telling myself 'don't fall, or you have to go back to Houston.'"
She crossed the line at 2:44:44, stopped her watch, looked up the clock, looked back down at her watch and realized she did it.
"I was in shock- it was surreal," she said. "I've been working really hard. I know the pain that goes into a marathon, the training, how everything has to go right during the cycle and during the race. Seeing it actually come together is completely different."
Despite that hard work, Carrington said, and the amount of it, Pollack manages to keep running in perspective.
"She's good about knowing there's more to life than running," Carrington said. "It was clear she was after this goal, but she didn't let it take over her life. She's seen the bigger picture and even when she's hurt, she manages to find something positive in each day."
That optimism came in handy this year. In March 2019, she was back in the pool full time. She started with what she thought was a quad strain in her right leg, a little higher than where she had her 2016 stress fracture. She took nine weeks off, though she suited up to walk the Scope it Out 5k, which benefits the Colorectal Cancer Alliance, where she has been volunteering ever since her family started participating in 2013. Her mother, Patty, has since taken up running 5ks.
Little aches here and there kept her training on land from being consistent until late summer. The Army Ten-Miler was the first time she felt back to normal, with her hip starting to regain strength.
Her buildup for the Olympic Marathon Trials won't be too different from what she has been doing, with the same heavy reliance on the pool. Aside from a tuneup at the Houston Half six weeks before the Trials, she doesn't have many plans to race.
"Luckily I've gotten to the point where I really enjoy pool running," she said. I just like it a lot more when I'm choosing to do it, not when I have to.
"I'm excited to be marathon training again. I like the grind, I missed it this year."