Sarah Anyan's feet hurt, and her shoes weren't going to make things much better. But as much as she and Tyler loved running, they weren't going to walk down the aisle in cushioned trainers. 
So, months of plantar pain be damned, she danced and had a great time at her wedding. And when she woke up, she felt…better. 
It was a little more than three months until the California International Marathon. 
"I felt like I could for a run and it didn't hurt all the time, something changed," she said. "I can at least run through whatever I felt — before it hurt to walk."
When the couple got back to their Arlington home, Sarah joined Tyler for their family goal of qualifying for the Olympic Marathon Trials. 
They met as undergrads at Georgetown, right before she was about to try her first marathon — Marine Corps in 2013. He was fighting through Achilles tendon injuries — in vain — hoping to race for the Hoyas again.
"She was running four miles one day, 20 miles the next," Tyler said. "I told her, 'I don't know where you're getting your training, but it isn't good.'"
She had been following books that guided her dad to a few marathons when she was a kid, races he mainly ran without fanfare, though she did remember traveling to Boston with him for one particular marathon.
While Sarah didn't regard her career at Connecticut's Loomis Chaffee School (then as Sarah Patrick) as competitive —  "I couldn't tell you my high school times to save my life" — she was motivated to run faster to make the varsity team, which launched her on a lifelong love of the sport.
"I always liked running, so I never wanted to just do a few miles," she said. "I always wanted to go farther."
Her first week at Georgetown, she was amazed to see all of the running options available to her after four years of just running around neighborhoods in high school.
"I started running more because I'd never been in a place where there were bike paths and trails everywhere," she said. "I was late for orientation events because my roommate and I got horribly lost on a run."
That progressed to running Marine Corps her junior year, which she finished in a shade under 3:30. It was enough to qualify her for Boston, which she ran twice, but without much enthusiasm.
"I never really had real time goals, I just wanted to not get any slower," she said. 
While she recovered from a sacral stress fracture and glute injury in 2014 and 2015 to run she ran 3:20 at the 2015 Boston Marathon, she took a break from pushing any envelopes with her running. 
Then in 2016, she went home for the Hartford Marathon and ran 3:08:10.
"For the year before her 3:08, she was just running seven or eight miles a day with a 14-mile long run," Tyler said. "She was just staying healthy with no real goals."
She was back at it and he was now wholeheartedly coaching Sarah, blending his own experience training with the soft coaching skills he learned from his coach at Georgetown, Pat Henner.
"He was a very direct coach, and that was something that I appreciated," Tyler said. He found that translated to his personal life. 
"In a coaching relationship where you're married, you have to be extremely supportive, but you also can't 'baby' her too much and let that part of our relationship carry over to other parts. While she's the apple of my eye, I can never let her believe that she's on a pedestal," particularly because of the ups and downs that go into long-term running training.
That worked for Sarah, who wanted to reach for some targets in her running.
"I think I'm really motivated to do things to reach larger goals, goals that are slightly out of reach," she said. "Something where I'm asking, Can I do it? Can I not do it?'
"I want it to all be on me to achieve something."
They focused on qualifying for the Trials when they were announced for Tyler's hometown of Atlanta. She had her goal, and her support system.
"I never knew what you had to do (to be good), so I really needed someone to teach me," Sarah said. "I hadn't been competitive since high school, so I never absorbed what was going on."
Her bosses at a business-to-business service, where she is head of marketing, allowed her a late start on Wednesdays so the couple could do morning track workouts. Tyler, who works for a federal contractor, likewise had some schedule flexibility.
Although her lead up to the Pittsburgh Marathon in 2019 was plagued by terrible tempo runs, she managed sub-2:45 pace for almost 16 miles before falling off and finishing fifth in 2:47.
"That time she had workouts on Wednesday, long runs on Saturday," Tyler said. "All of those runs were solo."
She ran most of the second half of Pittsburgh solo, after a half marathoner peeled off after mile 10.
"I was definitely encouraged to run 2:47 like that, without any tempos," she said. "I kept wondering if I couldn't run a pace in practice, how could I do it in a race."
She did, however, pick up an injury to her right Achilles tendon in the days leading up to the marathon, and although it that eased up for the race, it eventually led to her plantar issues.
Spending the summer doing yoga and getting into biking, Sarah worried about when she'd be able to run productively. Fortunately, wedding planning took some of her focus, though she did worry about her motivation to train in the aftermath of the wedding. The good news was, her foot fixed itself. 
After a few weeks getting back up to speed, she started workouts in October with a two-month timeline.
"I wrote down 'every workout has to count,'" she said. "I needed to actually write that down."
She also sprinkled notes throughout the house: "You can do this," "It's not that hard."
"I had to switch my mind from this is unachievable to 'you can do this,'" she said.
Every workout was counting. Months after she couldn't catch a break with her tempos, she was running them just as planned. Though she felt a little undertrained running 75 miles a week, she was healthy, even as she avoided racing flats in the interest of protecting her feet.  
Her big boost came from a 25-mile run on Hains Point, accompanied by family friend Mike Crozier. It was her first workout with company since high school. With a 12-mile warmup and 10 miles averaging 6:10, she was on her way. 
"I felt like I got through a big mental block," she said.
So seemingly, did Tyler, who ran his 10 miles around 5:13 pace, aiming to run under 2:18 for his own Trials qualifier.
Their final workout, eight mile repeats on the Washington-Liberty High School track, went well for Sarah, but not for Tyler, who saw his ankle mobility compromised. California International likely wasn't going to happen for him
"I didn't have time to be down about myself," he said. "I've been on top of a mountain in this sport, I've been a multiple-time state champion (in Georgia) and got to go to Georgetown on a scholarship. It's been a whole different kind of satisfaction to see her improve and perform like this."
When they arrived in California, Sarah felt calm. She slept well, was mellow on the bus to the start, and fell into her racing routine. She ran slightly ahead of a monstrously large pace group, and while she thought she could run even faster, she didn't want to be the runner who imploded at mile 23 and didn't qualify. That's about where her breathing felt a little stressed, but she overcame it and finished in 2:44:02. 
"My dad has been to all of my marathons, he was at the finish bawling," she said. "Part of me was figuring on I would break down eventually, but I didn't."
With less than three months between California International and the Olympic Trials, she isn't setting wild goals besides reaching the starting line healthy. 
"I remember the first time Tyler asked if I realized I could be good," she said. "Just to have that vivid memory is crazy. Never before in my life would I say 'I'm good at running.'"
Tyler thinks she could have been a great collegiate 10k runner.
"You wonder how many potential sub-4 -minute milers are walking down the street but never tried," he said. "She makes me wonder how many runners tried early on, but weren't motivated but are still very talented."
Recent Stories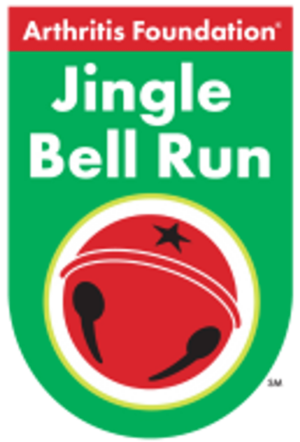 Be part of the original festive race for charity and signature Arthritis Foundation holiday event! Wear your favorite holiday attire and together, we'll jingle all the way to a cure! Register as an individual or bring a team of friends,