Mike Ricci set the stage for his 2020 by running the New Year's Day 5k in Gaithersburg. As it turns out, by mid-May, he's been spending more time working with the Manna Food Center, the race beneficiary, than he has been running outside. 
As communications director for Gov. Larry Hogan, Ricci's been cut off from the leisurely runs out in the Old Line State while he manages the outreach for one of the country's most active governors during the coronavirus pandemic, which ranges from state-wide communications down to relationship building to tackle consequences of the pandemic, including food insecurity. 
"I pretty much stick to the treadmill," he said, quick to add, "not just because of the stay-at-home order, but because of my hours."
His last outdoor run, in early March, started at Old Angler's Inn and took him along MacArthur Boulevard to the Cabin John Trail. Now he's getting 45 minutes in his Potomac basement before driving to Annapolis. On weekends, he can squeeze in an hour before his two children wake up. 
Ricci started running when dating his wife, Kirsten, a Howard County native who ran at Glenelg High School, along with her siblings.
"We went for a run at Gunpowder Falls State Park and I was just wearing regular athletic shoes," he said. "Afterward, she threw them away and taught me what a midsole was."
While working as a speechwriter for then-House Speaker John Boehner, he joined the office's team for the Credit Union Cherry Blossom Ten Mile in 2012, then kept going in 2013 after the race, training for his first marathon that fall at Marine Corps. Aside from the years his two children were born, he has run a marathon every year, and signed up for the Rehoboth Seashore Marathon in December, with hopes that the pandemic will abate enough by then to hold the race.
In addition to managing a dynamic and diverse state, Hogan is also serving as chairman of the National Governors' Association, which has only compounded Ricci's workload, but running, in whatever form, helps him guarantee that he has done something for himself. Even so, he was in a bit of a funk as the time stuck working and at home built up, until a friend called to ask him about how to do a fartlek.
"I love running because it's something you can study and get better at," he said. "It's a science."
When he has the time and freedom from physical distancing guidelines to run outdoors, he counts the C&O Canal Towpath from Great Falls, in either direction, as his favorite route.
"I miss that solitude and the sense of being in your thoughts," he said. "The other day, I wound up talking to a reporter the entire time I was on the treadmill. When I'm inside, I'm usually listening to a podcast," particularly Pace the Nation or I'll Have Another.
While he hopes to break four hours for the marathon, Ricci's running goals are much more fundamental.
"I just want to be a daily runner," he said. "I want to make it more of my daily life, regardless of whether I'm training for a race."
When this is all over, he has some time and the opportunity to run outside again? He wants to try Terrapin Nature Park in Queen Anne's County. 
"I've had my eyes on that every time I've driven over the Chesapeake Bay Bridge."
Recent Stories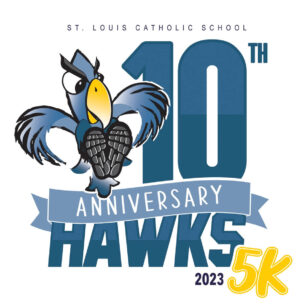 2023 will be the 10 year anniversary of the St. Louis Hawks 5K and Fun Run for Health & Wellness. The USATF certified course runs through the historic Hollin Hills neighborhood in Alexandria, VA.
The Hawks 5K goal, in conjunction