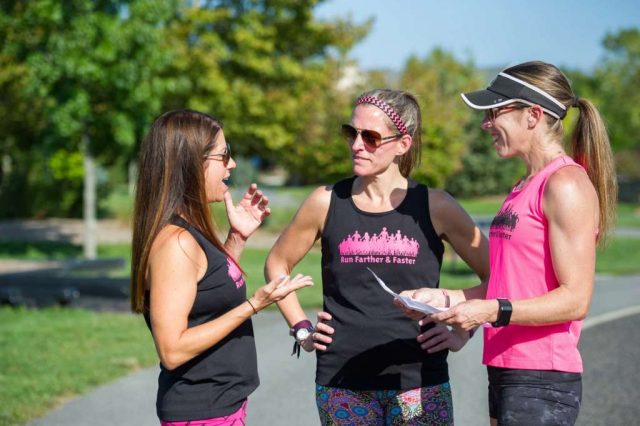 Every day, more runners transition from casual to competitor, from I'm in it to finish to I want to PR or place in my age group.
At any point in this progression, a coach might be helpful–whether as an advisor or a cheerleader or an accountability partner–and there is something especially powerful about the coach-athlete relationship that lasts over time. The dynamic changes as each person gets to know the other better. Coaches tailor training programs to unique athlete needs, know better when to push and when to rein in a zealous competitor and better understand the athletes' challenges outside running that might affect their training, attitude or motivation. On the other side, athletes learn their coaches' particular training philosophies, build trust in their coaches' advice and in many cases gain a friend and mentor who, though primarily focused on running achievements, helps them in other parts of their lives.
"Jenn first came to us about five years ago," said Julie Sapper, an attorney by day and co-owner of a coaching business with Lisa Reichmann. Though the pair coach many athletes through an online program as well as in-person practices, Jenn Forman — local runner, reading specialist and mom — stands out to them for her personal growth over the time of their training.
"At the beginning she was very focused on time and pace and really hard on herself," Reichmann explained. "She was getting in her own head and it was holding her back."
Sapper added that, like many runners, Forman tended to compare herself to other people, so they first focused on the positive aspects of her running and getting her to turn her watch off and shift to a process mindset. Sapper focused on getting Forman to see that accomplishment during training, emotionally and physically, are as important if not more important than achieving race time goals.
David Wertz, a stand-out local masters runner, environmental consultant and father who began working with Coach Jerry Alexander over 11 years ago, noted a similar lesson.
"I learned to go out there and compete and enjoy the process that gets you to that point as well as you can, and from doing that, the results have come about naturally."
Unlike Forman, Wertz didn't set out to find a coach. He was running with a local group — the Northern Virginia Running Club — and the coaching relationship with Alexander "evolved over time."
"At the beginning I didn't care about competing so much, didn't take it that seriously, but once you stick with it and start getting better and thinking, 'Oh, I could be better,' you start hitting those goals and you see how far you can take it," Wertz said.
Alexander noticed Wertz's talent almost immediately. He's now coached Wertz to many PRs, and today Wertz is one of the top masters runners in the country. Wertz himself suggests that one of the main benefits of having a coach is having an outside voice suggesting goals he may not have considered himself.
"Coach will just put something out there like, 'Oh, I think you could break that time,' some time that I hadn't thought achievable, and then that gets into my head and I start thinking that maybe I can."
A short-term coach often serves in the advisory role; coaches are, at their core, technical experts after all. But a long-term coach has time to build other critical aspects of the coach-athlete relationship. A Canadian Olympic study of primary factors in athletes' success determined that the coach-athlete relationship was "one of the most crucial factors in winning an Olympic Medal or producing a personal best performance." Unsurprisingly, communication, trust and mutual respect were identified as critical factors that take significant time to develop and strengthen. Athletes in the study emphasized that their coaches cared for them not just as athletes but as individuals, and the article concluded that successful athletes equally require technical coaching and emotional support to be successful.
Though most D.C.-area runners are not vying for an Olympic medal, the importance of the coach-athlete relationship transcends all levels of running and competition. Most people who have had or have been a coach know that the relationship is so much more than workout plans, splits and PRs.
"It's really different for each person and it takes time to figure out," Reichmann said. "What does this person expect a coach to be? Is it their counselor or therapist? Or is it someone who holds them accountable? Or maybe they want their coach to be checking their Garmin or Strava, analyzing their data. Or someone to ask questions to? Or someone to pump them up?"
She and Sapper sit down (sometimes virtually) with each new athlete to get to know their schedules, motivations and challenges, and start building an understanding of where they're coming from.
"Do some people treat me like a therapist? Absolutely," Sapper said when asked what duties go beyond the narrowest definition of coaching.
She notes that she's careful not to advise on topics where she's not a professional (she is a lawyer, after all), but she recognizes that "when people are running regularly, they're doing it for a reason, and you just don't know what other people are going through unless they tell you."
For Forman, Sapper and Reichmann have become much more than coaches. Over the years they've been working together, Forman has faced many personal challenges. "I had no expectations other than someone would give me a schedule," Forman said. "But I check in with them at least a couple times a week and can go to them if I have an injury, a question on a workout or to let them know if something traumatic has happened in my life and how my running might be affected by that." Forman noted that she has set personal records at every distance from 5K to marathon since working with coaches, and "despite, to be honest, some really terrible stuff that's been going on, they've helped keep me focused and been super supportive."
The role of a coach as an accountability partner is hugely important for many runners, especially because most D.C.-area runners have jobs and families and myriad competing priorities that might easily get in the way.
"I wouldn't be where I am today without Coach," Wertz said. "The key thing is that he provides an accountability partner with respect to your running."
Alexander mentions that Wertz's intense work schedule and later the birth of his daughter required adjustments to his running.
"I don't expect him to make it to every practice. I know he's working hard."
Sapper and Reichmann noted that one common thread with their longest committed athletes is that they're parents, they work and they're busy.
"It's hard for people like that to go to a trail on a Saturday morning and meet a group, so for them the accountability of reporting to us–just that simple weekly check-in–is what keeps them going."
The coach-athlete relationship often lasts long after actual coaching ends. Both Sapper and Alexander have long-term coaches of their own. Sapper began running after law school and credits her coach, the late Mike Broderick, as instrumental in developing her as a runner. Her work with him was part of what inspired her to become a coach, because she wanted to help runners tap into their potential and learn more about the sport.
Similarly, Alexander has been in touch with his college coach for the last 30 years. "He's always interested to hear about the exploits of my athletes."
All three coaches recognize how much they've learned from and been inspired by their athletes. "He continues to exceed my expectations," Alexander said of Wertz. "Every year he does something that amazes me."
Wertz started running competitively in his 30s, later than most athletes who end up as successful as he has been.
"I see how tough he is. He'll never fail for lack of gutting it out. He ran his first track race of his life when he was 35 against college kids–he wasn't afraid to stick his nose in. He's always been successful because he's willing to take a chance and give it a go."
Reichmann and Sapper both comment on how inspiring it has been for them to work with Forman. "She's worked so hard through all these things that could be great excuses," Reichmann said. "She went into the Annapolis 10 Miler last year having had a really tough week. There are plenty of people who would have bailed, and reasonably so, because of the stress. But Jenn ran a four-minute PR and we were just so, so excited for her."
What makes these three coaches successful is their expertise and commitment to their athletes as people. Each talked at length about the importance of tailoring workouts, emphasis and approach for each athlete. Their success is reflected not only in Forman's and Wertz's impressive results but also in their clear admiration and appreciation for the coaches themselves. Forman tells the story of her first DNF last year at the Erie Marathon. Like any runner would be, she was incredibly disappointed.
"Julie called me on the way home and she told me a story about an elite runner in the marathon trials who pulled herself out of the race because she wasn't feeling well to make me feel better and put things into perspective."
Forman clearly intends to stay with Sapper and Reichmann for the long haul.
"They're more than just coaches…. We've established a relationship that means so much to me."
Recent Stories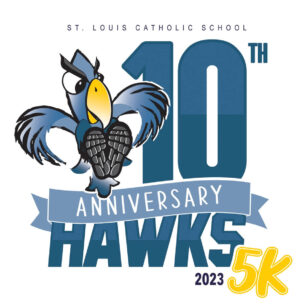 2023 will be the 10 year anniversary of the St. Louis Hawks 5K and Fun Run for Health & Wellness. The USATF certified course runs through the historic Hollin Hills neighborhood in Alexandria, VA.
The Hawks 5K goal, in conjunction