By James Moreland
Washington, DC
March 20, 2011
For the Washington Running Report
Below Gurmessa Megerssa breaks the tape.
In typical Washington Metro the weather juked us better than scoring guard in a NCAA March Madness tournament. Colder than normal most of the winter we were torched by nearly eighty on Friday. Saturday racers were greeted with wonderful spring weather in the mid sixties. Then as the real spring dawned at Freedom Plaza the temperatures dipped below freezing.
No matter; this race was all about awareness of a deadly cancer that can, in many cases, may be prevented by vigilant screening. The race was about raising money to find a cure. Just as with the other major "Cure" events, 05-01-11 Race for Hope – DC Presented by Cassidy Turley to benefit the Brain Tumor Society and Accelerate Brain Cancer Cure (Washington, DC) and the largest of all the Susan G. Komen Global Race for the Cure set for June 4, 2011 in Washington, DC, this event brings caring, sharing people who want to find a cure.
The event had close to 2,000 finishers and nearly twice as many men as women. Nearly all of the runners that moved down Pennsylvania Avenue after crossing the ChronoTrack starting mats were there to celebrate survival of loved ones and the determination to move forward to a cure.
There were some top flight racers there as well. Three women had been ranked first in the area. Two of the men had as well. At the start Bert Rodriguez, 31, of Arlington, VA looked over the field but he already had a plan to break 15:00. The weather was perfect and the flat course was, "almost like a track."  He was advised that the overall went just one deep and top ranked Gurmessa Megerssa was standing close by. Megerssa had finished a solid third overall at the Van Metere 5M in  24:49 just 24 hours ago.
Rodriguez, known as an 800M specialist, could not wait. The start was a 1-2-3 countdown by visiting Redskin Cheerleaders and he was off. He quickly took the lead, following by Adam Condit and Megerssa, who loped along after him like a dog playing in the park.
The race runs down to the Capitol and then does a loop on the eastern side before returning home. As runners approached that loop, many gasped and one shouted out in surprise as these two racing titans were already heading home, racing neck and neck. The wind was pretty mild. Still, Rodriguez lamented later that maybe he should have let Megerssa take some of the lead duties. At mile 2.25 Megerssa made his move which Rodriguez could not quite cover. Megerssa scored another overall win for the year in a very nice 14:55. Rodriguez broke the magic 15:00 barrier by a second.
Almost forgotten Condit (in photo) had a nifty 15:08 to take third overall and first in his age group. Fourth place is a former rankings champion who had won the St. Patrick's Day race three times back when it was a 10K. Philippe Rolly, 38, of Arlington, VA has been training mega miles and is gearing up for next weekend's National Marathon. He even ran the last year's JFK 50.2 mile in a very credible 6:52:15. He lamented that he does not have much speed right now. His time of 16:42 would make most of the rest of us very proud. With abbreviated age groups, he settled into second behind Rodriguez.
Another Frenchman took the top masters spot. Jean Christophe Arcaz, 50, of Rockville, MD was a mortal lock in the traditional 50-54 division. Today the expanded set up with 45-59, he had his work cut out for him. He succeeded in 17:14 with a close battle from Robert Denmark, 45, of Arlington, VA flying home next in 17:26.
For the women, Susannah Kvasnicka, 36, of Great Falls, VA has had 34:30 10K speed. She might have been a co-favorite with Samia Akbar,28, of Herndon, VA the Army 10M record holder from 2009 with 55:25 or Claire Hallissey, 27 of Arlington, VA (below) who had won it all at the winter's biggest 10K, the Jingle All the Way 10K in 35:17.
Kvasnicka has been absent and healing and is pretty much starting over. Her last race was sixth overall at the Kaiser Permanente Pike's Peek 10K in April 2010 with 35:57. Akbar had finished second overall in the Fall Runner Rankings with her 27:00 overall win at the HCS 8K in the fall. Still it was clear Kvasnicka was just getting her feet wet and Hallissey only had to hold off Akbar which she did 17:52 to 17:56. Neither were ecstatic with their times but the season has just begun. Both will be faster than 17:00 by Memorial Day. Shortly after that Kvasnicka will be there too.
In the masters division, Lisa Chilcote, 40, of Oakmont, PA keeps moving up. She took the masters division by more than two minutes, finishing in 19:02. She was ninth in the fall Runner Rankings when she was listed as from Bethesda, MD. In the winter she moved up to fifth. He time today is her best masters effort…so far.
The stream of blue race T-shirts continued on for more than an hour. After the race, there were many nice refreshments for all of the participants.
                              Awards Listing 

MALE OVERALL
Place Num   Name                   Age City                  Gun T Net T Pace  
===== ===== ====================== === ===================== ===== ===== ===== 
    1     5 Gurmessa Megerssa       31 Washington DC         14:55 14:55  4:48 

FEMALE OVERALL
Place Num   Name                   Age City                  Gun T Net T Pace  
===== ===== ====================== === ===================== ===== ===== ===== 
    1  2329 Claire Hallissey        28 Arlington VA          17:52 17:51  5:45 

MALE AGE GROUP:  1 - 19   (NET TIME)
    1  1962 Jack Beecher            19 Washington DC         17:24 17:22  5:36 
    2  1075 Joseph Giammittorio     18 Falls Church VA       20:08 19:52  6:24 

FEMALE AGE GROUP:  1 - 19   (NET TIME)
    1  2604 Gillian Kramer          16 Cheverly MD           22:55 22:48  7:21 
    2  2519 Christine Downie        18 Arlington VA          26:09 23:32  7:35 

MALE AGE GROUP:  20 - 29   (NET TIME)
    1   747 Adam Condit             27 Ashburn VA            15:08 15:08  4:53 
    2   263 Neal Hannan             29 Washington DC         17:09 17:08  5:31 

FEMALE AGE GROUP:  20 - 29   (NET TIME)
    1     3 Samia Akabar            29 Oak Hill VA           17:56 17:55  5:46 
    2  1950 Nikeya Green            28 Centreville VA        19:11 19:10  6:10 

MALE AGE GROUP:  30 - 44   (NET TIME)
    1  2050 Bert Rodriguez          31 Arlington VA          14:59 14:59  4:50 
    2  1105 Philippe Rolly          38 McLean VA             16:42 16:42  5:23 

FEMALE AGE GROUP:  30 - 44   (NET TIME)
    1  2474 Kristin Murphy          30 Newton MA             18:19 18:19  5:54 
    2  1560 Lisa Chilcote           40 Oakmont PA            19:02 19:01  6:08 

MALE AGE GROUP:  45 - 59   (NET TIME)
    1    19 Jean-Christophe Arcaz   50 Rockville MD          17:14 17:14  5:33 
    2  2172 Robert Denmark          45 Arlington VA          17:27 17:26  5:37 

FEMALE AGE GROUP:  45 - 59   (NET TIME)
    1  1998 Patti Galleher          53 Denver CO             21:06 21:03  6:47 
    2  2334 Cathy Grable            45 Charlotte NC          21:21 21:17  6:51 

MALE AGE GROUP:  60 - 99   (NET TIME)
    1  2609 Bill Ference            60 Clifton VA            23:38 23:35  7:36 
    2   153 Michael Loney           60 Silver Spring MD      24:18 24:14  7:48 

FEMALE AGE GROUP:  60 - 99   (NET TIME)
    1   906 Deborah Schnabel        61 Fairfax VA            33:03 31:52 10:16 
    2   573 Stephanie Dalton        67 Washington DC         36:41 35:29 11:26
With the football season far away, Redskins Cheerleaders take a look at the new Washington Running Report.
Recent Stories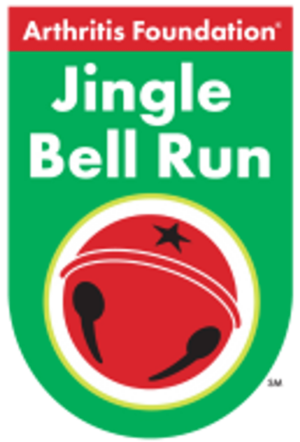 Be part of the original festive race for charity and signature Arthritis Foundation holiday event! Wear your favorite holiday attire and together, we'll jingle all the way to a cure! Register as an individual or bring a team of friends,