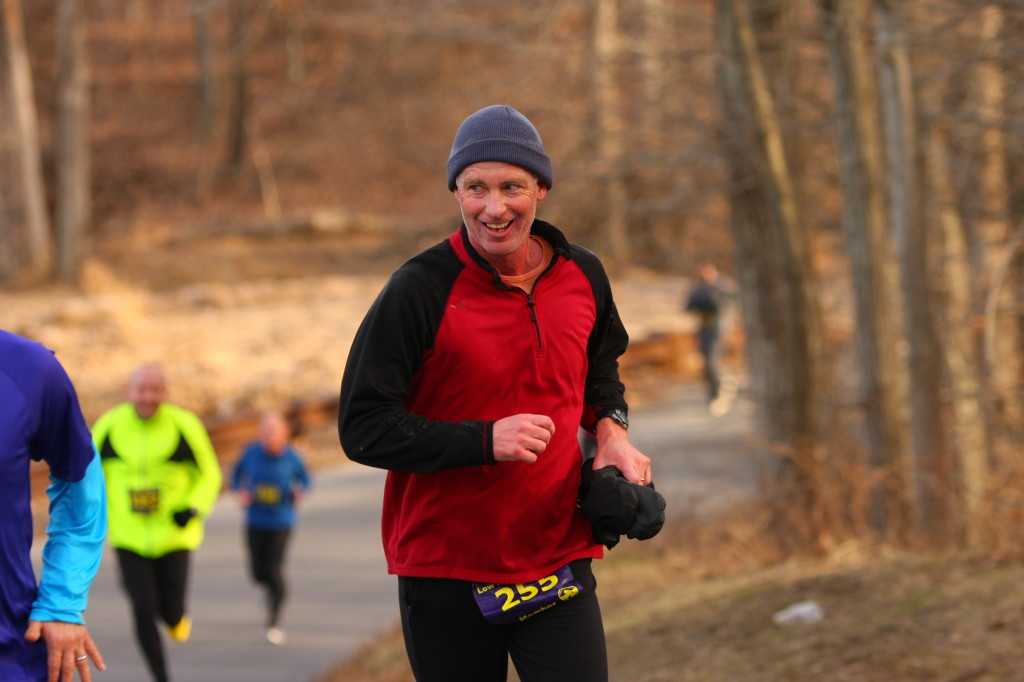 Getting up on a chilly, Sunday morning in February is no challenge for Cindy Conant, 51 of Kensington.
In fact, the Country Road Run Five Mile in Olney, she won in 32:30, was really just a warm-up. She still had an additional 15 miles planned for the day and Conant planned on suckering a few of her friends into training with her. After 23 years of racing — including a number of Boston Marathons — Conant hasn't skipped a beat.
"I just love running," Conant said. "When I turned 50, I had my fastest races."
Conant was one of 300 in the second leg of the MCRRC championship series, and started from Brook Manor Park near the Olney Swim Center, where runners stood to stay warm before the start of the race..
Michele Parks of Rockville didn't mind the cold, though. She eagerly waited for her six-year-old son, Jason Parks, to finish the 1-mile fun run (he won). Jason started with the RockvilleTrack Club one year ago and recently finished his first 5K.
"He really loves it," Michele Parks said. "He asked to compete in the full race."
The overall first-place finisher, Joe "the Twinbrook Kid" Wiegner, 30, of Germantown, won in 27:25. After a long layoff from racing in 2012, with a few summer track meets, he's back to training for the spring track season.
"I am focusing more on middle distance," Wiegner said. He trains with the GeorgetownRunning Club and is excited for 2013.
The quiet out-and-back course through Olney didn't lack hills. Near the finish, Janeth Scott, 50, Columbia, admitted the hills were not easy. "You wouldn't want a 50 year-old to beat you," Scott shouted at a younger man as she passed him up a hill near the finish. Scott got her start with the Howard County Striders. She ran her first 5K to lose weight and maintain her fitness.
"I looked at the other runners and said I wanted to be like them one day," Scott said.
Scott is currently training for a 10-mile race and has competed in the Boston Marathon.
"It's a great venue," explained Olney resident race announcer and Marc Wolfson, 62. As competitors crossed the finish line, Wolfson passionately cheered them on. Though he was not competing himself, he is an avid runner. Wolfson was recently featured in Runner's World's bodies issue that examined how sweat, blisters, hours and miles have physically shaped runners. Wolfson said that one goal for the championship series was to get more runners out to race during the winter months. "It's a tough time of year for races," he said.
Willie Flowers, 41, Ellicott City, also mentioned the grueling hills. Flowers has been running for seven years and got his start while he was in charge of a health alliance.
"I wanted to be an example," Flowers said.
Flowers has competed in seven marathons.
Race organizer Cathie Rosenfeld said the goal of the race was to give the Montgomery County Road Runners a venue to run together as group. This was her fifth and final time organizing the race. She recently moved to Delaware and came back one last time for this race.
"These people are like family to me," Rosenfeld said.
Though it's not easy to part with the MCRRC, Rosenfeld plans to get involved with a local running club in Delaware.
February may not be the easiest month to get runners to compete, but Rosenfeld still got to spend her last race in Montgomery County with hundreds of fellow club members willing to conquer the cold. Runners were rewarded with spending the rest of their Sunday morning together in a warm room full of fruit and bagels.