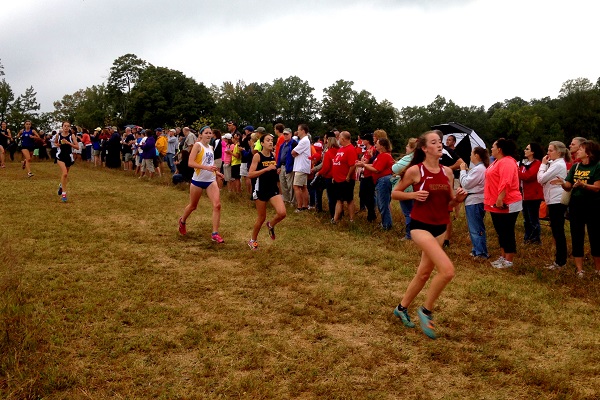 Cross country racing can be like living in a jungle, and nowhere is that more true than the Oatlands Invitational in Leesburg.
Along with the crowd of runners trying to get one foot in front of their competitors to make a slight but significant difference in team standings, those team races play out in several layers.
The treetops are colored by the uniforms of the teams up front, black for Battlefield, Chantilly purple, maroon Oakton and navy blue Washington-Lee. Those are the premier Virginia teams, defending their commonwealth. In the canopy, the visitors from across the river- Richard Montgomery, Poolesvile, Georgetown Visitation, not going head-t0-head with the Old Dominion teams but holding their own. It's a salad bowl and one of two main opportunities teams in the Washington area come together mid-season to try to collect some experience racing against their cross-state contemporaries.
Then below, in the shrubs, but by no means scrubs, the small schools are going at it. Bishop O'Connell, George Mason, all lost in pack but learning important lessons about where they are in the middle of the season. Georgetown Day School, one of the smallest in the field, ran a big-time race on the boys' side.
Up top, Oakton coach Alisa Byers was surprised by how well her teams ran, for a number of reasons.
"We've been hitting it pretty hard the last three weeks, but they came back and ran their best races of the season so far," she said. The Cougar girls won over Washington-Lee and the boys took fifth. "We were missing 10 to 15 people most days this week, something was going around, so I was surprised we had our usual top seven."
The 70-second spread from second place Allie Klimkiewicz to her fifth runner was encouraging, as was Hailey Dougherty's sixth-place finish.
"They mostly ran faster, on this ridiculously hilly course, than they did last week on the Knight's Crossing course in Salem, which is pretty flat," she said.
Jack Stoney led the way for her boys' team in eighth place.
Washington-Lee got a surprise out of Jordan Selby, who was making her first race since recovering from an ankle injury. She finished second for the team in 19th place.
"She'd been hurting since outdoor track and spent a lot of the summer in the pool," said coach Matt Przydzia. "Her race was really impressive and unexpected."
On the boys' side, Battlefield won over Chantilly, with a strong top four that finished before Chantilly's third.
Individually, Edison's Louis Colson continued his tear through the area, winning in 15:16 over Poolesville's (Md.) Chase Weaverling, who ran 15:28. Both figure to be among the favorites in their respective state meets.
Colson worked his way up through the lead pack in the second mile and took off after two miles were up.
"We went out in 4:45, and it was pretty exciting to have a whole bunch of guys going out fast," he said. "It was a competitive race, you couldn't relax anywhere."
Weaverling tried to hang with him. Despite falling behind, he's off to a strong senior season, one he salvaged after a mid-summer mono diagnosis.
"I came out of that and have been able to keep my mileage pretty high," he said.
Rough course
No matter how well trained athletes were, the course was something to overcome. Weaverling's teammate Claire Beautz, who finished 21st, was pleased with her race, despite being a little slower than normal.
"The first mile is great, it's all downhill, but then you really pay for it at the end," she said.
Richard Montgomery junior Rachel Gold was nervous coming into the race due in part to the course's reputation.
"Everyone talks about the hill," she said. "And those stretches in the woods are tough, there aren't as many people out there. You just have to tough it out and keep going."
At the margin call, runners are faced with "the hill," which gave most runners pause. The course is a masterpiece dedicated to strength runners, painted on the canvas provided by the Oatlands Plantation. It's notorious among runners, parents and coaches.
Bishop O'Connell coach Cindy Walls was walking the course with her team when freshman Isabell Baltimore said she was worried about the hill.
"It was a teachable moment," Walls said. "I explained that if you were thinking about what was coming up in five minutes, you weren't 'racing.' You need to think in the moment.
"It's the hardest cross country course in Virginia," said George Mason coach Alisa Harvey, who has seen her share of courses dating back to her own high school career. "It was an achievement that every one of our runners crossed the line."
Saplings in the Forest
A little background— George Mason is one of the smallest schools in northern Virginia, populated by residents of the city of Falls Church. Though they have won a number of state championships in the smallest classification, they regularly take their lumps at the big invitationals where everyone is in the fight together.
Added to the enrollment challenge, many of the Mustangs spent the early part of the summer out of town, some in South Africa, Scotland and California.
"They're catching up fitness-wise," Harvey said. "My great joy is the underclassman girls' team (third out of46 teams). The top three are in eighth grade."
St. Johns College coach Mike Sheehy loves the course.
"It's true cross country," he said. "The hills, the stream crossing, it's what I think of when I think of the sport."
His teams will be diverting from their normal weekend invitational schedule in two weeks to run the Ragnar relay between Cumberland, Md. and Washington, D.C.
"It's a great bonding experience," he said. "That's what they'll remember about their high school cross country careers."
Georgetown Day's seventh place finish might not have registered much among the teams figured to be fighting for berths to the Virginia state meet out of the Northern Region, but the tiny school in Tenleytown took a lot from its finish.
That finish, the runners said, was not just due to the mathematical advantage of running in packs, but psychological.
"It's the most amazing feeling, racing next to your teammates," said Griffin Colaizzi.
His brother Tristan agreed. "We all put the same work into our training and seeing it amount to something like this is so rewarding," he said. "Whenever I got tired I'd see the back of one of my teammates' heads up there and know he can handle the pain, so can I."
They are focusing on the post season meets, defending the DC Independent Schools championship, and aiming at the Nike Cross Country regional meet. That team-focused approach has extended to the girls' team.
"We were doing hill repeats on Brandywine, and by the time we were starting the boys had finished their three," said Julia Ernst. "They came back down to the bottom and did a fourth one with us. I don't know many guys who would do that."
Bishop O'Connell was another small school that was able to climb the trees and get a little sunlight. The girls finished 20th, which encouraged Walls, but none like the aforementioned Isabell Baltimore. The freshman led the team, which was a first for Walls. Throughout the season, runners swap t-shirts with their finishing order relative to the team, earned by the week.
"This is my first time in 18 years I've had a freshman girl earn the number one shirt," she said. "It's pretty exciting."
In addition, a year after barely fielding a boys team, O'Connell had 20, spread among three races.
Woodrow Wilson High School traveled from Washington, D.C. to get a race in against tough competition.
"We had a great individual performance (from Ross Pendergast, fifth in the boys varsity B race)," said coach Desmond Dunham. "Our girls went to the Braddock Relays and had a great time, even though it was pouring rain at the end."
Recent Stories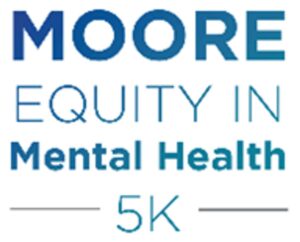 About APA's MOORE Equity in Mental Health 5k
The APA's Division of Diversity and Health Equity invites you to join us in combating mental health inequities facing young people of color and in honoring mental health advocate Bebe Moore Campbell.