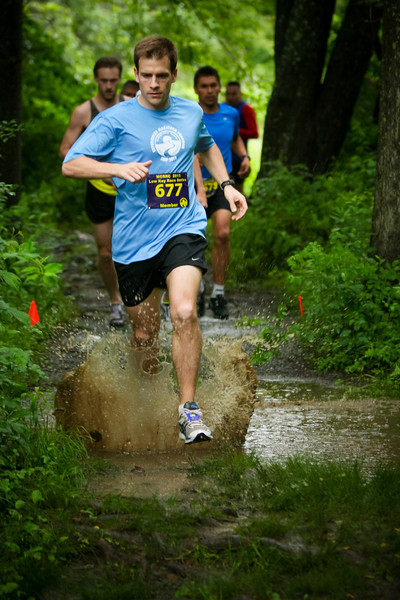 More than 100 runners' feet hitting the ground on an open field toward wooded trails. Trudging up a hill, giving every last bit of effort with legs and shoes covered in mud. A strong storm just minutes away from plummeting the course; nobody paying it any mind. Team spirit filling the air as competitors burst into the finish chute and turn back around to cheer for their friends.
It may seem like a typical high school cross country race, but the racers were fathers and mothers with jobs and mortgages. They were finishing the Montgomery County Road Runners Club's Running with the June Bugs, not a dual meet against a rival school.
Though they traveled to the meet in sedans and SUVs instead of school buses, these adults were enjoying racing off road, just like they did decades ago. There's no time machine required to relive a race through mud, ankle-deep creeks and gruesome hills.
Rodney Rivera of Poolesville, Md. is rediscovering cross country years after competing in high school. He's run the MCRRC Cross Country Series for the past two years, and says he enjoys its close-knit community and the toughest course out there: the Black Hills 10k.
Leonardo Placios of Hyattsville, Md., a member of the Spanish American Running Club and a cross-country runner since he was 14, said cross country is crucial to improving as a runner.
"Running on these … courses improves our speed and endurance," he said. "When you train on these kinds of courses, you are faster and stronger. And it's fun."
Ant adult cross country isn't limited to community races. Ray Pugsley, of Potomac Falls, Va. has continued to compete on the national level at cross country races. He finished second at this Feburary's USA Cross Country Championship in the masters division, following up a fifth place finish at the USATF Club Cross Country Championships.
"You never have a chance to get into a rhythm, and that's why I enjoy it so much," he said. "You have to be a strong runner. It's about as pure as running can get; You're out there, just racing people. Time doesn't matter, you just have to finish ahead of the next guy."
That love of cross country has motivated Potomac River Running's sponsorship of the Glory Days 5k in Manassas, run before the Bull Run Invitational high school meet in October. Pugsley is an owner of Potomac River Running.
Things change between high school and whatever "now" is. Their days of essay writing and science quiz prep now behind them, many adult cross country runners now balance their passion for the sport with taking care of a family.
Cross country memories have reunited former high school teammates Colleen Dahlem and Anna Savage. And while most high school friendship reunions take place over coffee, Dahlem and Savage first reconnected during a run in Great Falls Park — the first of many more runs to come. Leading up to the Rock 'n' Roll USA and the Boston marathons, they trained together on Beach Drive.
"We are both incredibly supportive of one another," Dahlem says. "Anna met me at mile 6 in [the DC Rock 'n' Roll marathon] as it headed through Adams Morgan. She ran the rest of the 20 miles by my side handing me water when I needed it. Then I headed up to Boston to cheer her on. I was so proud of her amazing accomplishment."
As Dahlem and Savage create a new chapter in their friendship, Dahlem says they will never forget high school cross country.
"Some of our fondest memories are on the bus on the way to meets," Dahlem says. "Listening to the Violent Femmes on our Walkman and planning our weekend adventures. I really feel that our adult love of running is what brought us together again and has strengthened our bond."
Emily Cole and Erin Masterson ran four years of cross country and track together. They stayed in touch during college, and, 10 years later, both are in same city again, training for the Marine Corps Marathon.
"Building such a strong bond as we did while high school cross country runners enabled this close relationship," Masterson says. "And I know we'll always have it. Emily is a loyal, dedicated training partner."
After rekindling their running relationship, Masterson and Cole have gone for long runs almost every weekend. While their training and lives have evolved, 10 years later, so, too, have their conversations, which Masterson says are invaluable.
"Now we talk much less about homework and teachers and more about relationships, family job stress, career changes, weddings, babies and upcoming races," Masterson says. "A weekly session of 'girl talk' has been a lifesaver for all of us during challenging times and an opportunity to share our joy during exciting periods. Running together has allowed us to share some of the most important moments of our lives."
Recent Stories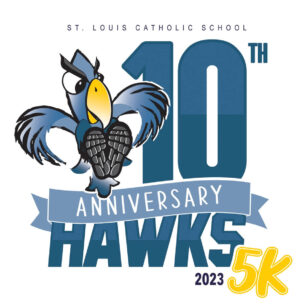 2023 will be the 10 year anniversary of the St. Louis Hawks 5K and Fun Run for Health & Wellness. The USATF certified course runs through the historic Hollin Hills neighborhood in Alexandria, VA.
The Hawks 5K goal, in conjunction