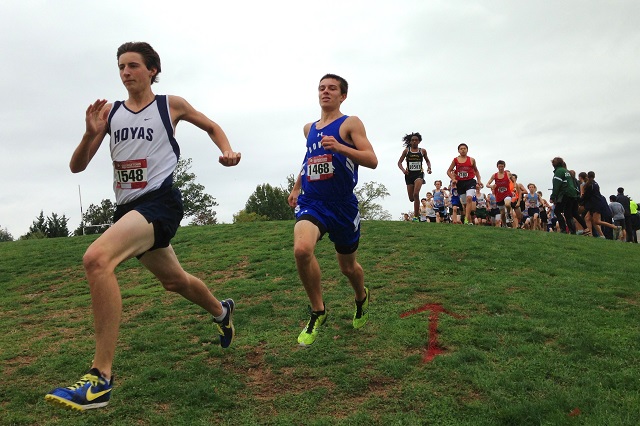 It was an exercise in resilience.
After three days of rain, things weren't so much up in the air for the local cross country scene as they were under water. The Glory Days Invitational was called off, Bull Run Regional Park was flooded. The golf course at Georgetown Prep was too soft and slippery, but coach Greg Dunston was adamant about holding the meet. Teams were coming from Delaware and Chicago to race.
With some rerouting along the campus' roads, harriers from dozens of schools managed to have a series of fast races that showcased a few programs.
Poolesville took the opportunity to split its team up among several races, which coach Jim Vollmer said gave his younger athletes a chance to see how they compared to their peers.
"The varsity race puts everyone together and it's good for seeing how they stack up, but we have some young runners who are really outstanding for their age, so it's nice for them to have a chance to see how good they are," he said.
Stephen Lang won the freshmen boys race by 21 seconds in 17:43, stepping out from teammate Chase Weaverling's shadow for a race. Lang has run second or third on the team to Weaverling.
"The roads made it tough to wear spikes," Lang said. "I wasn't quite confident in my footing."
That didn't stop him, or Theresa Nardone, a Poolesville runner who won the girls freshman race.
"It was difficult at points, a little buddy, but overall it was a fantastic course," she said. "It's a cross country course."
She paced herself, her technique that's worked for her all year.
Weaverling also came out on top in the boys seeded race, running 15:41 to gap Bowie's Joshua Wilkins, who ran 16:14 to outlean Daniel Santino, one of the droves of St. Ignatius runners from Chicago. St. Ignatius claimed the team title over Ellicot City's Centennial.
"Without those massive hills, I could go out faster, but it was hard to get a good feel for the course because it's so new," he said. "I was sure I wanted to use the roads to my advantage, I knew that ground was solid."
He pulled away from Wilkins halfway through the race and his lead built from there.
Sidwell Friends' Megan Wilson took the race out fast, but River Hill's Allison Krein and Centennial's Sreya Nalubda stuck with her and the race was still up in the air with 600 meters to go. Nalubda pulled ahead and Wilson tried to go with her, but couldn't cover.
"I knew I had to make a move after two miles," she said. "Once I caught up to the pack after a mile and caught my breath."
She led Centennial to a narrow victory over St. Ignatius.
Sophie El Masry of Richard Montgomery tore through the course, then tore her shoes off, as soon as she crossed the finish line.
"I have no idea how my race was timewise, but it felt really good," she said. "Because we didn't go to the Oktoberfest Invitational, we got an extra training cycle in. I think it's working."
Ross Pendergast didn't win his race, the unseeded section, but you couldn't tell he had trailed Middletown's Brent Leber. Pendergast crossed the line with more amped than when he started the race. For the first time, he had broken 17 minutes, leading the Woodrow Wilson team.
"That's about a 25-second PR," he said. "I've worked really hard over the summer for this, and I'm so psyched it's coming together. Everything I thought could happen is happening."