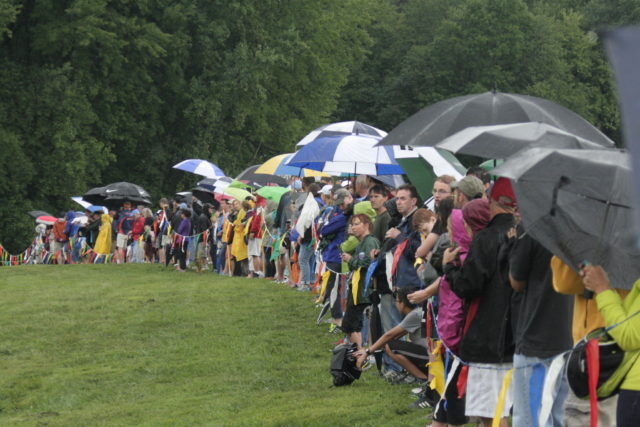 Parents: The Built-in Cross Country Fans
As a new high school cross country season begins, there are things parents of aspiring runners need to know to best support their child's budding interest in this glorious sport. Cross country is its own unique (and painful) animal. And high school cross country, with its range of talent, experience, and intensity among athletes, parents, and coaches, requires some advance preparation and understanding before diving in.
First, the setting matters. Races can range from tri or quad meets with just a few teams lining up in a parking lot, to a massive invitational with colorful tents, banners flying and packs of kids running around in every possible shade of bright matching singlets. It can feel more like a medieval fair than a modern day sporting event.
Pack Your [Kid's] Bags
More food than you think they need

More water than you think they need

An extra pair of dry socks

Racing spikes or flats

A blanket or sleeping bag to spread across the ground

Hat

Bandana or tissues

Sunglasses

Top and bottom layers

A plastic bag for dirty clothes
"The pageantry of it really struck me," says Margaret Carpenter, a Virginia-based cross country mom of her first cross country meet for George Marshall High School. "It's really beautiful, almost military." At a small meet you will find your kid no problem, but a bigger race may require more coordination. Tim Haight, another local cross country parent, advises parents to "arrive extra early — plan for traffic and parking — you don't want to miss your child running." Know the cell phone numbers of other parents, as your athlete may be warming up and unreachable when you arrive at the meet.
The weather is also a critical factor both in how you support your child and your own spectating comfort. Cross country can start as early as August, with temps and humidity at their most sweltering. If this is the case, a prepared parent will bring lots of cold water–enough for themselves and extra for their kid–and even a cooler full of ice to help the runners cool down before and after the race. Parents coming from work should ditch the suit and pumps and bring a change of comfortable clothing (running clothes encouraged!) and sensible shoes to deal with the dirt and grass of the typical cross country course.
Later in the season the tables will turn and layering will be the name of the game. Runners will want to keep their sweats on until just before the gun goes off, so one parent (check with the coach first) might volunteer to take all the kids' sweats right as they step to the starting line. After the race, wet or sweaty-cold clothing will chill an athlete quickly, so encourage your kids to do their cool down jog immediately and then change into something dry. "It's a long day for your child," Haight says of Saturday invitational meets, "so send them with the food and clothing they will need to be comfortable in all weather circumstances."
Perhaps the most important part of coming to support is having a cheering plan. Look at a map of the course in advance and identify a few places where you can watch. While cheering at the finish line is great, support throughout the race is even better, so look where a course figure-8s, loops (and you can take a shortcut across), or doubles back to maximize the number of times you see your runner. "When you get there, scope out earlier races so you can figure out the good spectating spots so you know where to look for your child," Haight suggests.
Supporting high school cross country is about encouraging your kids and their teammates to have fun. As a parent you set the sportsmanship tone, so cheer for everyone on your team. "There are a lot of names to know, so write them down to learn them," Carpenter advises. "By the end of your fourth season this is your family." She advises parents become familiar with MileSplit.com, a high school running website with Virginia and Maryland sites. "Use it to educate yourself about some of the top runners, the ones your own kid is competing with…as well as the top teams in the state and what colors they're wearing so that you can enjoy watching them outdo themselves at the front of the pack."
If your kid is on the JV team, stick around for the varsity race. If they're on varsity, show up in time for the JV events. "It's such an easy sport to watch," Haight says. "Just a few 20-minute races." Mid-cross country race, an athlete can reach a mentally dark place, so tell them they look awesome! Tell them they're doing great! Tell them they look strong! "They have a coach," Carpenter says, "so it's up to you to be their cheerleader."
There are many ways you can support your kids physically and mentally outside of the race itself. "By junior year, when schoolwork becomes more intense, realize how much the sport takes out of your runner each practice and pick up the pieces," says Carpenter. "Get him to gear down for earlier sleep each night…we asked him often how we could help him [and] did some planning out loud to help him manage the full days and full load." Fueling your runner is a good place to focus, so talk to the coach and consult other running resources to learn about the best eating habits for young athletes. "As my son got more serious about his sport, I saw him go for fuel more than snacks so I tried to support that."
Before the season even begins you can start preparing for the demands of cross country. "You have to go to a running store and buy the appropriate shoes," advises Haight. "Also go to the coach for advice and look into summer running options," as many teams have casual running meet-ups, often organized by team captains, throughout the summer. Carpenter recommends sending your kid to a running camp if possible to give them the opportunity to discover and fall in love with running culture independent from parental involvement.
Burnout is a danger for any athlete. Haight points out that, "when kids think running is not fun, it's really the parents and coach making it not fun." Supportive parents should "encourage all the good parts about running and hopefully then your kid matures into someone who wants to continue to run and run and run." Carpenter echoes his sentiments. "Tune into the identity of being a runner and what being a part of this really glorious thing is all about, and the times will probably take care of themselves."
When it comes to race day, immediately before the race pressure is building, so it's likely best to leave your athlete alone. Running is an intense sport, and your child will be dealing with pre-race jitters, focus, and team dynamics. Don't add pressure by asking too many questions or fixating on how good (or not good) they feel. If you are nervous for them (which, as a parent, you very likely are), those nerves will rub off and add additional pressure to an already high-pressure situation. As a supporter, you are there to tell them they feel great and will be awesome. If anything, remind them before the race to trust in their training and to have fun.
Afterwards, if they had a good race, celebrate with them! And if they had a rough day, celebrate with them! As long as they tried their best, it counts as a win. Success in cross county takes time. That's time on a daily basis–time to train, time to rest, time to sleep–and also over the course of years. Focus freshmen on enjoying the experience. As they mature and build mileage and endurance they will inevitably improve, but none of that will happen if they're not having fun.
Finally, "Go to as many meets as you can," Carpenter's first point of advice, is echoed by many parents. "They're long days, so you give up Saturday, but you only have so much time with the kids and it's so beautiful what they do." Pointing to the life lessons–sportsmanship, dedication, diligence, joy in exercise–gained from participating in cross country, she notes, "they're finding their character in this and it's great to see a young person discover that it's a lifelong sport." Haight agrees and advises parents to "nurture the interest because running is a habit and a hobby that they can live with forever."
0
Comments