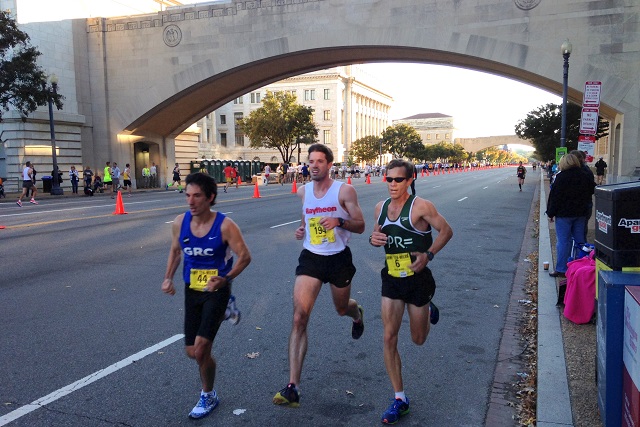 Four miles into last year's Army Ten-Miler, Kerri Gallagher surged to catch the lead pack. One of her previous miles had been just under 5:30, a pace she worried would catch up with her late in the race.
The defending champion's goal this morning was to run 5:30s across the board. Gallagher thought it might be too ambitious, she said. But she also knew, with Olympic trials qualifier Elizabeth Maloy and Olympian Julie Culley entered in the race, 5:30s might simply be needed to win.
Today the 24-year-old, Washington, D.C., resident and Pacers-New Balance runner perfectly executed her race plan: defending her title while setting a new event record of 54:56 – a little faster than 5:30 per mile.
Running a race every year – and having previous years' results to live up to – can add to the pre-race nerves, Gallagher said during the award's ceremony. But not ATM.
"The 'wounded warriors' are incredible," she said of the 89 injured service members who kicked off the race 10 minutes before the open start, racing in wheel chairs or running using prosthetic limbs.
"You start thinking of your race and your struggles and then you look up. You think, 'If they're doing it, you can do it.' So it's really great to feed off their energy. Good or bad race, it's going to be a good day."
Maloy passed Culley late in the race to take 2nd in 56:02. Culley, who is training for the New York City Marathon, was 3rd in 56:13.
It was Maloy's first race longer than 6k, not to mention her first race since the last U.S. Olympic Track and Field trials, where she competed in the 5,000. Afterward, Maloy said she took a long break, and is now enjoying running while working in public relations.
Marathoner Tezata Dengersa was fourth in 56:36, leading her IR4G team in the women's open team competition. She has now placed well inside the top ten in four straight ATM appearances.
Army Captain Kelly Calway – 5th in 57:06 – also has a history of running well at ATM. A graduate of West Potomac High School in Fairfax County, she finished second here in 2010. She then stepped up her training to finish 25th at the U.S. Olympic Marathon Trials two years later.
Calway had been struggling with illness and injuries. This was her first race since February.
Now her running is back on track. And after running the Marine Corps Marathon next week, Calway said she will be deployed to Kuwait to serve as an intelligencer officer in an infantry battalion.
Brigitta Woodcox, 49, of Woodbridge, Va., was top female master in 58:27, 9th overall.
A Bold Move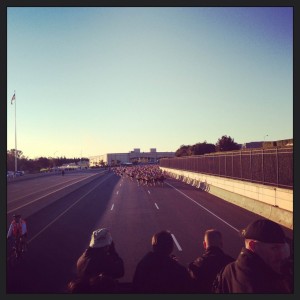 (Photo by Dickson Mercer: A big lead pack forms during the opening mile of the Army Ten-Miler.)
In the men's race, as the lead pack coasted over the 14th Street Bridge with two miles left, Chris Kwiatkowski decided it was time to go.
The 24-year-old, Washington, D.C., resident was in a lead pack with Brazilian Army teammates Solonei Silva, Paulo Paula, and Frank Caldeira, as well as Aron Rono of the U.S. Army and Ethiopia's Dereje Girma. Tesfaye Sendeku, last year's champion, and U.S. Army's Augustus Maiyo, last year's runner-up and Marine Corps Marathon winner, had fallen off the pace.
"I had to break it open," said Kwiatkowski, who, like Gallagher, runs for the Pacers-New Balance team. "I had to try and win."
His move jolted the Brazilians, who took the first three spots in 48:04, 48:06, and 48:08 to sweep the International team competition title. Kwiatkowski, though, held on for 4th in 48:17, a personal best of close to a minute and an improvement on his sixth place finish in 2012.
Brazilian Army Coach Jose Pinheiro said this was the strongest ATM team the Brazilian Army had ever fielded. His athletes, he said, were motivated by the strong U.S. Army teams that won the International Cup three years in a row, before which the Brazilian team won as many consecutive titles.
"They trained to win as a team," he said. "It is not important to win individually. We trained to do the best we could as a team."
Caldeira's 3rd place finish matched his result from 2012. For Silva, who won the race, and Paula, this year's ATM was their first. But they have plenty of experience racing together, having finished 6th and 7th in the identical time of 2:11:40 in the most recent World Marathon Championship.
Rono was just a second behind Kwiatkowski, and said he was pleased with his result. He finished basic training in March, has been training with Army's World Class Athletes Program (WCAP) for less than a year, and is getting used to longer distances, he said. Born in Kenya and a graduate of Azuza Pacific University in California, he is now coached by Olympian Dan Browne, a former WCAP runner who won ATM in 2004, 1998, and 1997. (Ray Pugsley, of Potomac Falls, Va., who finished 2nd to Browne in 1998, was the top master today in 53:01.)
"It was really cool seeing the Army guys all along the course," Rono said. "It is great team building we have in the Army."
Members of the Fort Myer, Va.-based 3rd U.S. Army Infantry Regiment, known as "the Old Guard," provide everything from security to the National Anthem. They work at the starting line, run the aid stations, and work in medical tents. They set everything up and break everything down, putting in a 12-hour work day beginning at 3:30 a.m.
"It's a very complicated effort that we put a lot of energy into making run smoothly," said Col. James Markert, the Old Guard's Regimental Commander who led the operation.
Not long before the cannon fired this morning, Markert posed for a photo with his son, James, 15, who ran the race.
It was James' first race longer than 5k.
"I walked a little bit but I made it to the end," he said.
There were 35,000 registered runners, including 689 teams. There also were more than 3,000 people running at Army stations around the world. Full team and individuals results are up at ATM's website.
Recent Stories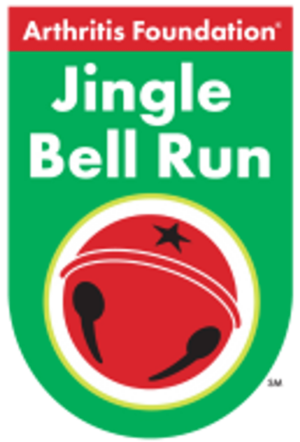 Be part of the original festive race for charity and signature Arthritis Foundation holiday event! Wear your favorite holiday attire and together, we'll jingle all the way to a cure! Register as an individual or bring a team of friends,