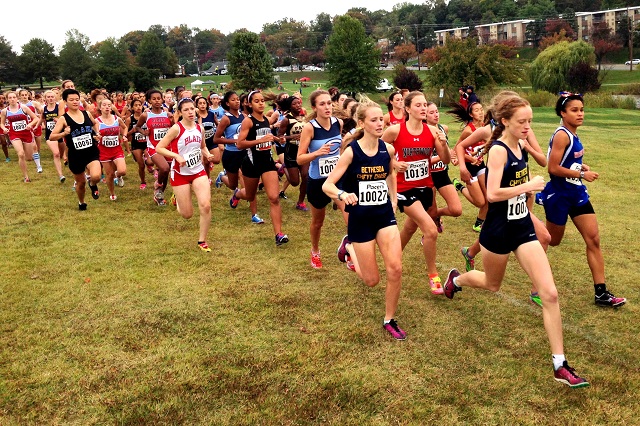 Nora McUmber's dominant performance wasn't the story Saturday at the Montgomery County Cross Country Championships. With a 46-second lead, an observer who didn't come to expect that performance from the race's defending champion might think she was lost, warming up, or trailing an earlier race that had long since finished. Though she contributed a single point to the team's total with her victory, the clump of teammates a few places back put the Barons on top.
"She's gaining a lot of confidence with these races," said coach Chad Young. "She respects her competition and knows a lot of girls can be competitive with her in the right race, but she's getting an idea what she can do."
McUmber wasn't completely alone in Gaithersburg's Bohrer Park. Barry Levine, the father of her teammate Abigail, was out there cheering the Barons on, seemingly everywhere.
"Abigail's dad kept yelling "you're not alone, we're all with you," she said. "That helped me relax a little, and Caroline (Beakes) wrote me a really nice letter."
Beakes, the defending state 3200 meter champion, has been out most of the season with a stress fracture, after trading the team lead with McUmber during last year's state championship season. Though McUmber won the county meet last year, plus the regional meet, Beakes claimed the state title.
Young said Helen Webster has helped plug the hole in the lineup. The senior finished 10th, one second behind teammate Abby Fry, though she has typically finished second for the Barons. Webster transitioned to cross country after several years of field hockey and track.
Walter Johnson was second, and coach Ashley St. Denis was thrilled to see patterns developing in some of her runners. Kati Kirsch and Emily Murphy finished together in 14th and 15th places, but the way they did it had St. Denis excited.
"They came up to me afterward and said 'We were right together the whole time, like twins!'" she said. "That's what we want to see. With girls, it's crucial. You can put a bunch of talented girls together and they'll be successful, but it's even better when you have girls who run for each other. They don't have to be best friends, but they have to run together."
The county championship has no bearing on qualification for the regional or state meets.
The B-CC boys team ended up winning after a scoring error initially put them in fourth place.  Last year, at the state meet, Peter Horton passed out during the race, eventually recovering and walking to the finish, second from last. He had been in the top 10 when he lost consciousness. On Saturday, he didn't appear in the preliminary results, but a review of finish line footage found him and dropped 62 points from the Barons' score. He hadn't disappeared into the woods.
"We had a great job on both sides," Young said. "It's a race that pits all the county schools together, but the real test will be at the regional meet, when a trip to states is on the line."
Poolesville's Chase Weaverling won by 28 seconds over Wootton's Uegy Eado, who edged Gaithersburg's Danniel Belay. Weaverling was gunning for a sub-15, so he took the race out hard- in 4:50, and Belay hung with him for a mile and a half. Though Weaverling put plenty of ground on his pursuers in the last half of the race, the soft ground, still affected from rains a week before, slowed him down.
"I ran faster last year, but running with Danniel was great," he said. "We have a healthy, friendly rivalry and he's a great guy."
Eado overcame the soft ground to improve by 20 seconds over his fastest 5k, breaking 16 minutes for the first time in what is one of his first few races on grass. He played soccer at Wootton and came out for cross country as a senior.
Recent Stories

Both 5K and 1 mile courses are USATF certified. The 5K course has some moderate hills. The 1 mile course is flat making this a perfect PR course. We are really looking to get a broader participation base.
Funds go