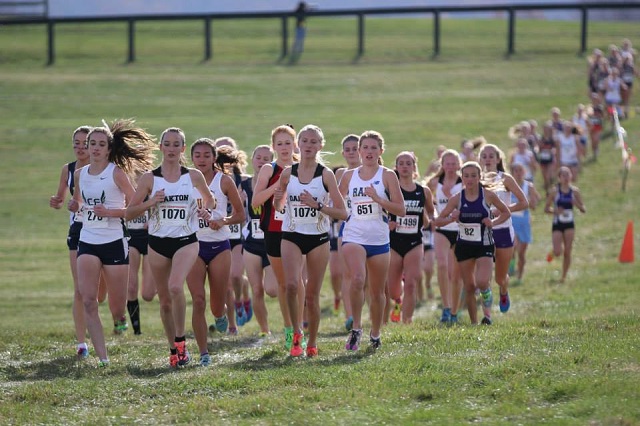 The girls 6A races at the Virginia High School League cross country championships were short on drama, but featured plenty of firsts for Northern Virginia programs.
West Springfield's Caroline Alcorta pulled away from the pack within seconds of the start and bolted to a 29-second lead by the first mile on her way to a 39-second win over Lake Braddock's Hannah Christen, setting a course record in 17:13 at the Great Meadows in Fauquier County. In winning the 6A title, the first state meet after redistricting ended the former three-classification system, she ran was 32 seconds faster than she ran for second place last year, and her first cross country state title.
"That was a little faster than we had talked about," said Spartans coach Chris Pellegrini. "This course can come back to hurt you if you go out too fast."
Alcorta said she hadn't gone out that fast in a cross country race before, running nine seconds slower in 2012.
"I wasn't planning on that, but I got excited, I was nervous–everything at once," she said. "I wanted to get as far away from everyone else as possible."
She looked back at a few turns to check on her lead, which never seemed long enough for comfort.
"I know you're not supposed to do that, (my lead) seemed a lot shorter than it was."
Her thoughts weren't irrational, though. As a sophomore, she came into the last stretch, marked by a gate, in third place and started her drive to the finish line.
"That's 650, 700 meters," Pellegrini said. "You see the flags and think the finish line is close, but you can't kick that far."
As a sophomore, Alcorta almost did it, she just fell five meters short. Crawling in on her hands and knees, she still finished in the top 10, but in eighth, not third.
As a senior, she left little to chance. In two weeks, she'll try to qualify for her second Footlocker Cross Country Championships. She finished 17th last year. She committed to run at the University of North Carolina Thursday evening.
The Oakton girls, who played second fiddle to Lake Braddock last year, won their first team title, with a significant margin- 55 to 100 over Washington-Lee.
The Cougars started off fast, but hit a bit of a letdown at the Manhattan Invitational in October.
"After that, we put our heads down, trained hard for a few weeks and when they hit Burke Lake (at the Concorde Conference meet) I told them they can get faster," said coach Alisa Byers. "It's nice to be able to put work in and be disciplined and then actually be able to take home the W."
Though already sporting a strong team held over from 2012, freshmen Casey Kendall and Leya Salis integrated well in their first seasons, finishing third and fourth for the Cougars. All but one of Oakton's girls return next year. It was a good day for Oakton boys, as their teammate Jack Stoney won the boys 6A individual title and 2000 alumnus Jon Lauder's Mills Godwin team claimed the girls 5A title.
Junior Allie Klimkiewicz lead the team with a fourth place finish in 18:01. Twenty seconds behind her, in eighth, senior Hailey Dougherty was about to, in a group hug with her teammates, finish a journey that began alone. As a freshman, she was the only Oakton runner-male or female-to qualify for the state meet, where she finished 38th. She's made it each of her four years at Oakton, where she discovered her talent for distance running in ninth grade.
"This one's definitely the most memorable because of the amount of work put in this year has been absolutely incredible," she said. "Each and every one of the girls on this team has put forth all of their hearts. I looked my teammates in the eyes yesterday and I saw something special. Every one of them wanted to fight and do it for each other.
As she has grown up on the Great Meadows course, she's slowly figured out challenging third mile, the two-tiered hill and that same last stretch that once bedeviled Alcorta.
"I've raced other courses and tried to remember what it's like here, how it's going to feel with the state title on the line," she said.
Washington-Lee never knew what it was like to race with the state title on the line. Now they do, having not only made it for the first time as a team, but also finishing second to Oakton.
"To be second in the state is amazing," said coach Matt Przydzial. "They surpassed all of our expectations. Our goal has been top three since August and just making it, after years, is incredible."
After finishing a close second to Oakton at the Oatlands Invitational in September, Przydzial saw there was substance to their goals.
"As the season progressed, there are other teams that pop up," he said. "Even after regionals, it by no means was it a gimme. Lake Braddock, West Springfield, Battlefield, Robinson, they're all well-prepared, well-coached teams and they know what it takes to perform, we had to be on our game and we were."
Just 12 points separated Washington-Lee from Lake Braddock, which was lead by the 2-3 finish of Christen and Katy Kunc, who finished ahead of W-L's Sarah Angell in fifth.
"It helped that we returned the entire team," Przydzial said. "They saw the success they had before and they wanted more, they were hungry for it, it's huge to know they can be better.