Halloween has come and gone, but last Saturday Reston Town Center was full of Chippendales dancers, shirtless superheros, and other barely clad runners ready for the third annual Nearly Naked Mile.
Thankfully, no one ran completely au naturel (this is a family-friendly event, after all), but a few racers pushed the limits with skin-tone bodysuits or Speedos. Some bib numbers took up more real estate than clothing.
The fun setting aside, Saturday's perfect weather made for some serious competition. In the men's elite race, Moise Joseph, Baisa Ktesa, and Kevin McNab broke away from the field by the half-mile mark, with Moise (4:20) barely holding off Ktesa (4:21) and McNab finishing a second later. But it was 24-year-old Nahom Mesfin of Alexandria, starting farther back in the pack, who claimed the fastest "chip time" of the day with 4:19. The following day, Mesfin placed third at the Woodrow Wilson Bridge Half Marathon, in 1:05:16.
The women's elite race also came down to the wire, as Desta Tadesse outkicked Kristin Swisher of Alexandria for a 5:00 finish. Susanna Sullivan of Falls Church took third in 5:01. Tadesse finished second (1:13:54) in Sunday's Woodrow Wilson Bridge Half Marathon. Sullivan, preparing for next week's Richmond Half Marathon, is a member of the Capital Area Runners, which took home the team prize.
Swisher used the short race to gear up for next week's USATF 12K road race championships, but also recognized the good cause behind this event thanks to a friend who is a volunteer firefighter. Runners agreed to shed their layers on a breezy November afternoon to support burn victims and show what it means to be comfortable in one's skin.
The first two Nearly Naked Miles raised $15,000 for the Burn Center at MedStar Washington Hospital Center, the only adult burn treatment center in the Washington metropolitan area. Now in its third year, the event is bigger than ever. So big, in fact, that Potomac River Running expanded the field from two to four "open" divisions grouped by time.
Jason Kuehler volunteered for the event alongside fellow firefighters and members of the Fraternal Order of Leatherheads Society (FOOLS), a fraternal organization for firefighters. A burn victim himself, he saw this event as an opportunity to give back. He explained that burn victims often feel self-conscious about their looks, so the race's message was a valuable one.
Austin Bigdely, Secretary and Treasurer for the Northern Virginia FOOLS chapter, explained that this race is their banner charitable event and that it illustrates how local companies and groups can become involved in their mission. According to Bigdely, future partnerships might involve Wounded Warriors, which supports severely injured veterans, and Second Watch, an organization that provides services for firefighters in need.
Recent Stories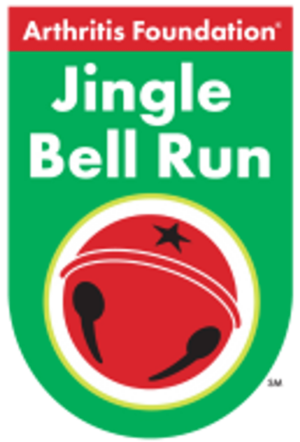 Be part of the original festive race for charity and signature Arthritis Foundation holiday event! Wear your favorite holiday attire and together, we'll jingle all the way to a cure! Register as an individual or bring a team of friends,