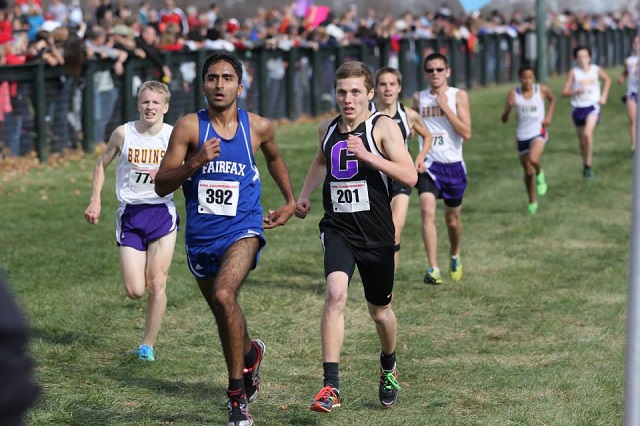 In that first stretch of a cross country race, everything seems within control. Runners bide their time, some try to bank a few seconds, maybe break the field, or do something otherworldly. When all of those plans come together, it's chaos. And out of chaos, at the Virginia High School League, four teams wound up at the top of the standings in the boys 6A race, separated by four points, with Chantilly on top. Oakton's Jack Stoney won the individual title in 15:24, a personal record.
In the 5A race, Thomas Edison's Louis Colson continued his dominant year, winning in 15:06. It's the first year the state's reclassification has split up schools into six races, versus the previous three. 6A results   5A results
Chantilly's 85 points to win made them a repeat winner in the largest classification, two points ahead of Lake Braddock, which was two ahead of Robinson and Battlefield, with Robinson winning on the sixth man tiebreaker.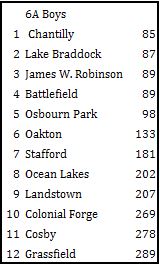 "It's a different feeling than last year," Chargers coach Matt Gilchrist said, referring to his team's low sticks in the team score with now-graduated Sean McGorty in number one and Logan Miller third. "Then, we just didn't want to screw it up. This year we had to work for it. We knew we had a good team, but there were a couple of meets we turned in lumps, but they happened at the right time, in September. I don't think the kids lost focus, and winning regionals (last week) helped boost their confidence, but we knew it would come down to every point. It's a real team win."
"Everyone had a job- we needed Dakota (Lange) up in the top five (he got it, two spots behind Ryan McGorty)," Gilchrist said. "Adam (Huff) and Peter (Malander) have been on three state teams and they got in the middle of a few other team's packs, and Evan Compton stepped up and was our fifth man. He ran the race of his life."
Two points back, Lake Braddock ran like they were being photographed for the dictionary's definition of "pack running." They had runners in 27th, 29th, 31st and 32nd, which when reranked for team scores, came out to 19, 21, 22 and 23.
Kevin Jones, the Lake Braddock runner who placed in 29th, was a surprise for the team, finished third for his team, a personal best relative to his comrades.
"Last year, Kevin wasn't even a varsity member of this team, he ran 17:30 for three miles," said coach Mike Mangan. "He ran 15:43 last week for the same three miles and ran a faster pace today."
Alex Corbett headlined the Lake Braddock attack with a second place finish in 15:35, 11 seconds behind Stoney.
"He's going to make a great 10k runner someday," Mangan said. "He's not as fast as some of the other guys, but he has lungs to carry him forever."
Corbett likely got the prompt he needed from Osbourn Park's Nick Causey, who took the race out in 4:42, nine seconds ahead of Stoney.
"He never does that," said West Springfield coach Chris Pellegrini. "In pretty much every race I've seen him run, Nick has sat back and kicked. When he blew the race open and forced everyone to go after him, it got Corbett running the kind of pace he can handle longer than most other guys. It changed the dynamic of the whole race."
Corbett has reeled Causey in shortly after the second mile, which Causey split in 9:53, with Corbett two seconds back. Causey wound up fourth in 15:49.
Individual winner Stoney was certainly surprised by the fast early pace. "He took it out pretty hard, and running that fast wasn't in my race plan," he said.
Even so, he had to chase Causey to fulfill his season goal of winning the state meet. As his training load decreased toward the end of October and early November, his races started to reflect his preparation for that.
"A couple times I doubted it was going to happen, but it's a dream come true," he said. "Today, I was just trying to win, I didn't think I'd PR. I used to think of myself as more of a miler, but I guess I can do longer stuff."
Battlefield felt the sting that comes with the reality that an exciting race comes a disappointment.  They came in with a pack of four seniors that all finished ahead of Chantilly's third.
"It was just that one person here and there," said Bobcats coach Jeff Michaelis. "Lake Braddock came out of nowhere and that changed the race. Nobody expected that."
The Bobcats' shot at the top wouldn't have been possible without senior Justin Wilkens' jump over the offseason.
"He was an alternate for states last year," Michaelis said. "He busted his butt all summer and it showed in his races."
In the 5A race, Colson continued his tear through the commonwealth,beating Albemarle's Ryan Thomas by 30 seconds.
"I wanted to stay with the pack for the first mile, then pulled away at 1.5," Colson said. "I wanted to see how things would play out. I wasn't too stressed out there, it helped having my team with me."
Edison, which qualified for the state meet for the first time in years, finished eighth. Joe McAllister saw his brother's teams come close, but now he gets to enjoy the spoils of pride that come with the achievement.
"It's got me pumped to work hard to help us come back," he said. "We know what kind of work it takes and we're ready to do it."
Colson will run at Harvard next, where he plans to study applied math.