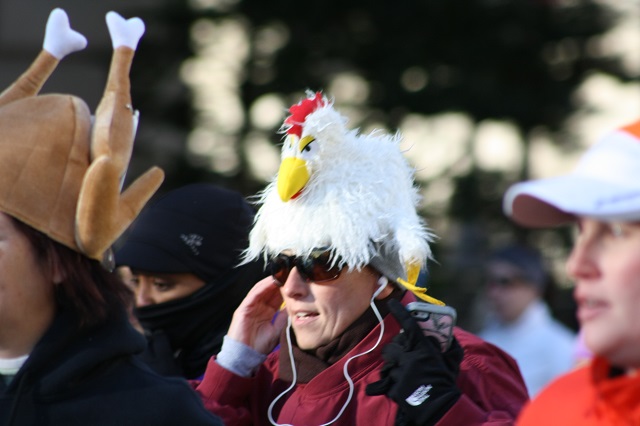 Thanksgiving, a day organized around gatherings, started with a cold race for thousands of people. More than 10,000 registered runners preceded any pie with the SOME (So Others Might Eat) Trot for Hunger.
For many participants, the 5k embodied the essence of the holiday.
"This one is a big one for the whole family," said Lianna Nguyen, of Annandale. "We're all here for Thanksgiving, being thankful we have our healthy family." Fourteen family members joined what Nguyen called a "well-organized race."
Many families wore matching shirts or sets of the same themed hat. Turkeys with legs that tied to keep them on in the wind, turkeys with drumsticks in the air that might have come straight from the oven, chef's toques and slices of pumpkin pie all bobbed down Pennsylvania Avenue.
"It's a family tradition to run on Thanksgiving," said Christine Billings, of Castle Rock, Colo. Her family members from Colorado and Utah travel to a new state each year for the holiday, and they pick a race at their destination. After seeing photos of last year's race, they ordered nine matching turkey hats for the event.
But the weather also called for gloves and scarves.
Wind chills at the race start were in the 20s. Normal highs for this time of year are still above 50 degrees, according to Capital Weather Gang at The Washington Post.
"I wore enough clothes," said Scott Allen, "more than I normally wear in a race." The DC resident won the Trot for Hunger in 16:04. "I've been in worse wind, but it was pretty rough. I was expecting to go faster."
Allen caught early leader Dustin Whitlow (16:31), of Arlington around the two-mile mark. The Trot served as a tune-up for the Rehoboth Beach Seashore Marathon that Allen will run on Dec. 7. He said he typically doesn't come out for Thanksgiving Day races, but an injury in the spring left him unsatisfied with his performances this year.
"I wasn't able to train a lot this summer," he said. "I didn't get the full season I wanted."
Rosemary Barber, of Springfield, Va., won the women's race in 18 minutes flat.
The second-place finisher for the women was Vicky Schandevel (18:59). She was in town from Charlottesville, visiting her sister in Silver Spring. Schandevel said the wind was brutal on the finishing stretch, but the SOME event has become a tradition for her family.
"It's one of the races I really look forward to," she said. "Something about being here on Thanksgiving in downtown Washington, DC — it's a great way to remind ourselves what we're thankful for."
Sarah Kessel, of Greenbelt said the event is the only big race her family joins. Kessel's dozen relatives and close friends included Architha Vishnuvajjala, also of Greenbelt who had donated to SOME before but never run the race.
SOME raised nearly a half million dollars for its work in the capital.
"It's more than we expected," said Linda Parisi, SOME's chief development officer. She said the goal was $450,000.
"We started on Ohio Drive with 100 people," Parisi said. "We've grown every single year."
SOME has organized the 5k for the past 12 years. The organization was founded in 1970 to help feed the poor, but its role in the community has expanded to include counseling, health care and housing. Yet food remains a major part of the mission, and SOME serves more than 1,000 meals every day.
The Carrollsburg Fundracers were the top team for donations, and they collected almost $14,000.
"SOME does really great work," said Carrollsburg team member Jenny Harper. "Everyday services, but also working to provide transitional services like mental health care and job training. We think they have a good model."
The Carrollsburg group represented the other side of the holiday. "Our Thanksgiving we do is a group of friends," Harper said, "the kind of friends who are family."
Plenty of people have the image of a long dining room table filled with family members reminiscent of the classic Norman Rockwell painting. But the Friendsgiving tradition has gained momentum in recent years, especially in cities like Washington, which boast clusters of geographic transplants.
Matthew Adamczyk, of Chicago said he discovered the SOME Trot several years ago when he spent a Thanksgiving alone in DC. This year was different. He ran the race with five other dancers of the Joffrey Ballet, who are spending the day's big meal at the house of a company member who is from the area.
"We all race in our off time as cross training," Adamczyk said. "We decided on our day off between seven shows we'd come down here and do a run."
The group is performing The Nutcracker at the Kennedy Center this weekend, an apt signal for the transition from the yellows and browns of the late fall to the reds and greens of the winter racing season.
Recent Stories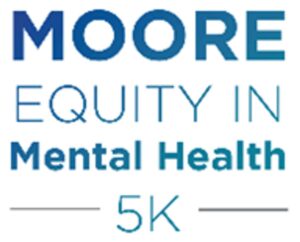 About APA's MOORE Equity in Mental Health 5k
The APA's Division of Diversity and Health Equity invites you to join us in combating mental health inequities facing young people of color and in honoring mental health advocate Bebe Moore Campbell.