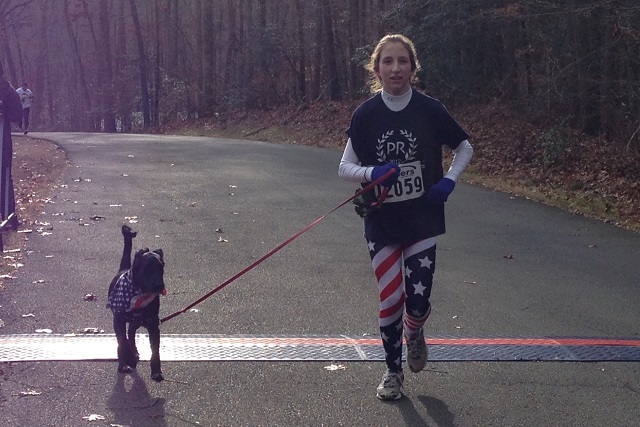 Tyler Andrews, 23, registered last-minute for the Drumstix Dash 8k while visiting family for Thanksgiving in the D.C. area.
Although the temperatures were a far cry from what he's used to while living in Quito, Ecuador, Andrews took first place overall in Saturday's race with a time of 28:02.
Hundreds of runners braved the below-freezing temperatures Saturday morning to compete in the Drumstix Dash 8k at Burke Lake Park.
Now in its fifth year, the popular post-Thanksgiving race benefits Housing and Community Services of Northern Virginia (HCSNV), a Springfield-based nonprofit that provides services to the homeless, including emergency housing assistance, case management, counseling and financial literacy training.[button-red url="http://www.albanyrunningexchange.org/results/search.php?ID=3619″ target="_self" position="left"] Results [/button-red]
The race raises money for HCSNV programs. In 2011 and 2012, the race raised a net profit of $20,000 for the organization, which comes from sponsor money and a small percentage of race registrations. The race is a key fundraiser that helps the organization continue to fulfill its mission, said race founder and HCSNV board member Jill Landsman. The organization also hosted the Everyone's Home Matters Fundraiser at the McLean Project for the Arts in October, which was another major fundraiser for  HCSNV.
"When counties provide funding for nonprofits they never do it completely," Landsman said. "If you can't prove you can fundraise then you can't keep your doors open. So the fundraising is essential to keeping nonprofits open."
This year's turnout was thinner than past years due to the weather and the number of other races taking place over Thanksgiving weekend, Landsman said. She said that 206 people participated in 8k and accompanying fun run.
Board President José Paíz said HCSNV appreciates the community support for the race.
"It's for a great cause and we are really grateful for all the folks who come out here and support the organization, and shed some of the extra pounds they gained over Thanksgiving," Paíz said.
First-place finisher Andrews is the director and co-owner of STRIVE Trips, which offers service travel opportunities for student athletes. Andrews recently launched STRIVE Racing, a team of semi-elite post-collegiate athletes based in New York. He ran the Drumstix Dash to show support for HCSNV.
"I work a lot with nonprofits and I try to support that as much as I can," Andrews said. "A portion of my team's proceeds go towards NGO projects we work on. So it's important for me to find races to support projects that are like-minded."
Second-place finisher Ryan Hughes of Ashburn finished more than 30 seconds after Andrews with a time of 28:34. Third-place overall finisher Patrick Spahn trailed after Hughes, coming in at 29:44.
Handcycle athlete Rebecca Rollick, 11, of Chesapeake, Va. traveled with her parents to compete in the Drumstix Dash. Rollick was born with arthrogryposis, a rare congenital disorder that affects her muscles. Rebecca has had numerous surgeries that have enabled her to walk with leg braces, and she has been going to physical therapy sessions since birth. She participated in the 8k just a few months after receiving a racing handcycle from Preston's March for Energy and plans to enter between 15 and 20 races per year.
"She's just absolutely determined," mom Jessie Rollick commented while waiting for her daughter to complete the race. "She'll get up at 5 o'clock in the morning to go do a race and not even complain about it. She just loves it so much. She's an absolute go-getter."
Cathy Ross of Burke claimed her second consecutive first-place finish in the women's division with a time of 35:38. Lauren Burke of Oakton finished in second place with a time of 37:04 and Chloe Shaltanis followed Burke in third place with a time of 37:43.
Recent Stories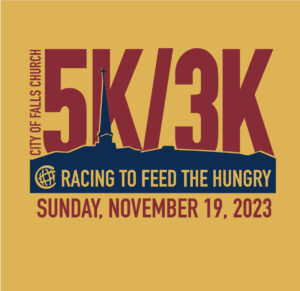 The out and back Falls Church City 5K/3K course is mostly flat on the W&OD Trail starting and finishing at 103 Columbia Street. Overall male and female winners earn free shoes and medals are awarded to all categories. Great family